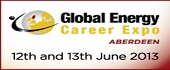 The Global Energy Career Expo Aberdeen has been created to fill the recognised skills gap in the oil and gas industry by providing a crucial platform for jobseekers and recruiting companies to meet and discuss the latest employment opportunities.
Leading organisations from across the oil and gas industry will use the Expo as the place to network and meet thousands of qualified professionals who are actively seeking recruitment opportunities for the next step in their career.
Date(s)
:
12th - 13th June 2013
Time(s)
:
11:00 to 19:00 (GMT) Greenwich Mean Time; Dublin, Lisbon, London
Venue
:
Aberdeen Exhibition and Conference Centre
Program
:
Theatre 1: Presentations - where companies will have the opportunity to promote their company as an employer of choice; focussing on what employment packages are available, the types of roles which are being recruited for and what their most recent project developments can offer in terms of roles, both within and outside of the UK. Theatre 2: will focus on Personal and Workforce Development; firstly, providing training sessions from leading industry associations. Secondly, providing several panels which will discuss issues related to the future of the industry's workforce.
Ticketing
:
Free to attend
Contact for booking / more info
:
laurenceallen@dmgevents.com
http://www.globalenergycareerexpo.com/aberdeen