Send this newsletter to an associate
| | |
| --- | --- |
| | Forkliftaction.com is in Shanghai this week for the eighth annual CeMAT Asia show. By the time the doors close this evening, organisers expect 60,000 visitors to have passed through the Shanghai New International Expo Centre, visiting 380 exhibitors. Since its launch in 2000, the Chinese version of the leading materials handling show has grown year on year. Last year, there were 350 exhibitors and 49,000 attendees. The organisers have realised that you can't just hope for growth and they have continued to innovate. This year, for example, visitors showed strong interest in two new displays – the "logistics system integration" and "automated guided vehicle" exhibits, both of which demonstrate the use of new technology for changing needs. A full report on the show will be included next week. |






Pallet stackers for low-cost lifting power

International
The range of materials handling equipment is vast and, depending on a business's requirements and budget, there is a piece of equipment out there that can handle most lifting jobs. With so many choices, it can be difficult to choose what is best for your business and lifting needs.

Customers are the driving force behind many changes introduced in pallet stackers. Manufacturers are focusing on better quality products and more safety features to ensure users get the most out of their machines.

Annette Densham reports. Read more

| | |
| --- | --- |
| | |
JCB staff vote to save jobs

Staffordshire, United Kingdom
JCB employees have voted for a shorter working week to protect the jobs of their workmates. The vote has saved about 500 jobs.

Two thirds of JCB's production staff voted in favour of a 34-hour week in response to news the company was planning massive job cuts. JCB has announced plans to cut UK production by 19% and reduce its workforce after a decline in sales. The action would have resulted in the loss of 800 jobs from the 5,500-strong workforce. The company has already cut 379 jobs. That included 184 voluntary redundancies.

Matthew Taylor, chief executive of JCB, applauded the actions of the company's staff, saying the ballot result reflects the unity of the JCB workforce and a great team spirit. "They have looked after the needs of one another rather than the needs of the individual and that is to be commended."

The new work schedule will start in November and is expected to last at least six months.

Taylor says the outcome means JCB will retain its skills base. "This is very positive because it means we retain the skills of a wider workforce who have contributed to the success this company has enjoyed over many years.

"It means we retain the fundamental strength of our workforce and this is welcome news as it puts us in a strong position to take advantage of the upturn in the market when it comes."

The GMB union negotiated the deal with JCB on the workers' behalf. The union says it hopes office staff will follow the lead of shop floor workers and accept a similar reduction in hours.

Mitsubishi bid for Rocla

Tokyo, Japan
Mitsubishi Heavy Industries (MHI) subsidiary Mitsubishi Caterpillar Forklift Europe (MCFE) has announced plans to take a controlling interest in Rocla. MCFE already owns 28.1% of the Finnish company.

MCFE and MHI have been major shareholders in Rocla since 2002 and have product sourcing agreements with the company for America and Europe (Forklifaction.com News #041).

Shigeru Tanemura, president of Mitsubishi Forklift Trucks, says the ownership of Rocla will strengthen MCFE's ability to design and manufacture warehouse products.

MHI aims to further expand its materials handling equipment portfolio and aggressively develop solution-oriented products and services for the European market through its purchase of Rocla.

Rocla's board of directors has unanimously recommend shareholders accept the offer of EUR13 (USD16.84) per share.

Tapio Rummukainen, CEO of Rocla, says as the European market sees steady high growth rates in the warehouse equipment industry, the acquisition of Rocla's warehouse equipment solutions will enhance the existing forklift business. "It will enable MHI and the MCFE companies to develop and expand their business in accordance with their European and overall growth strategy."

Rummukainen anticipates the combination of Mitsubishi Caterpillar Forklift Europe BV and Rocla will provide substantial growth opportunities for the company. "It (the purchase) will generate significant potential to improve operational excellence through sharing best practices, especially in areas such as purchasing, sourcing and manufacturing, technology, product development and R&D."

The acquisition will see Rocla positioned as the core of MHI's global forklift business in the warehouse equipment industry in Europe. Rummukainen says retaining Rocla's existing management team, employees, brand, service network and manufacturing facilities will be the key to best using Rocla's strengths.


FMH lands USD7.66 million order
Denver, CO, United States
Equipment dealer FMH Material Handling Solutions Inc has logged an order for USD7.66 million.

From January through to March, FMH is scheduled to deliver 22 Cat, Kalmar, Doosan and Clark forklift trucks, container handlers, personnel carriers, front-end loaders and Ford pickup trucks to an unidentified customer in the wind power industry.

The customer is building a Colorado wind plant that will go into operation in March and requires varied equipment for different applications.

Two FMH representatives flew from Denver to Europe in November 2007 to deliver the firm's proposal in three-inch-thick binders.

Notification of FMH's success arrived on September 26. FMH president John L Faulkner describes it as "my largest order ever".

The start was simple. "It came in as a phone call through our rental desk," Faulkner says.

See John Faulkner's profile (Forkliftaction.com News #384).



Equipment use suspended after incidents

Loch Ness, Scotland, United Kingdom
The UK's Health & Safety Executive (HSE) has suspended use of all vehicle and plant equipment at a Scottish worksite after two workplace incidents.

Hochtief UK, the main contractor on Scotland's GBP140 million (USD224 million) Glendoe hydroelectric project, was ordered to suspend use of all plant and construction vehicles following an incident that left a man with a broken leg.

The worker was injured when the roller he was driving overturned. An investigation revealed the seat belt was defective.

HSE served the company with a prohibition notice banning it from using all vehicles and rider-operated plant until they have been certified as safe.
It was the second incident on the site. A man died last month in a "suspected telehandler" incident.

Richard Shore, managing director of Mentor Training, says proper training of workers and employers can prevent incidents like these. "In the UK, we have well-established guidance, which was introduced in 1988, from our HSE for training operators.

"Companies should follow the recommendations of this guidance and use accredited training providers who are properly monitored to ensure high and consistent standards of training."

Shore says while telehandlers are a more recent innovation than traditional forklifts, their versatility has made them popular, particularly in the construction industry. "Companies looking to train operators on telehandlers should ensure the training company they select has a recognised, accredited course for this type of machine as they are more susceptible to tipping over if used improperly."

Telehandler equipment training generally takes a maximum of five days and is readily available. Shore says there is a wide choice of training organisations, from one-man bands to larger companies offering a nationwide service. "In 99% of cases, the instructor will travel to the customer's site so delegates are trained in the environment they will work in and on the equipment they will be using."

Shore told Forkliftaction.com News that a survey by the British Safety Council found British businesses are losing GBP250 (USD401) a second in costs and payouts for needless workplace incidents.

"The annual bill for employers is GBP7.8 billion (USD12.5 billion) and, for the economy as a whole, GBP31.8 billion (USD50.9 billion) in payouts and costs," Shore says. "Most companies issuing tenders for work are focusing on a supplier's health and safety record as a vital element of the selection process.

"Having accidents will have a significant impact on a supplier's ability to gain new and additional business."

Equipment Depot brand gains broader use

Waco, TX, United States
Three more regional forklift dealerships in the Pon North America (PNA) materials handling group are adopting the common brand name Equipment Depot.

Two dealerships currently carry that identity. The five entities will now operate under a single name at more than 40 locations in 12 states, covering about 25% of the US, says Don Moes, president of Waco-based PNA group. "Going to market using a common name better reflects our ability to offer customers more choices."

The three dealerships to get Equipment Depot signage by early November are Forklifts Inc (USA), of Mechanicsburg, Pennsylvania, founded in 1955; LeveeLift Inc, of Evansville, Indiana, founded in 1954; and Portman Equipment Co, of Cincinnati, Ohio, founded in 1960.

The original Waco-based Equipment Depot was founded as Central Texas Clarklift in 1975. It changed its name to Equipment Depot in 1995 and became part of PNA in 2000.

Elgin, Illinois-based Equipment Depot of Illinois, founded as Material Handling Services Inc in 1951, became part of PNA in November 2006 (Forkliftaction.com News #289).

Each dealership sells different products from original equipment manufacturers. Together, they represent at least 19 forklift and 11 aerial lift brands.

Moes says the revised identities do not impact the leadership or direction of any of the five operations. The organisation will distinguish between the five dealerships for accounting purposes but try to portray the unified image for marketing and other public purposes.

PNA is a division within the equipment and power systems group of privately held trading company Pon Holdings BV, of Nijkerk, the Netherlands. Pon Holdings employs more than 10,000 persons in 11 countries.

PNA acquired each of the dealerships, usually from long-time family owner-operators, over almost a decade.

Management weighed the value of the familiar identities against the advantages of a unified brand as the regional dealerships expanded their geographic base. "These are familiar, trusted names in our industry," Moes says.

The transition began on October 1.

Some multi-state customers work with more than one of the dealers but were unaware one company owned them all, Moes says. "As we expand our rental operations throughout our dealerships, it will make it easier for customers to rent products they need from people they already know."

The dealerships employ more than 1,750 people, including 900 technicians, maintain about 26,500 customer-owned units under service contracts and generate annual sales of more than USD420 million. Their short-term rental fleet has more than 7,500 forklifts, scissor lifts, boom lifts, telehandlers, skid steers and backhoes.



Spread your advertising dollar further
In the current tight economic conditions, you will be expecting maximum results from your marketing budget. And targeted online advertising delivers real results for a modest investment.

Forkliftaction.com has the biggest audience in the worldwide forklift industry, and at internet prices, its now easy to reach these professionals.

Over 39,000 industry professionals have registered with Forkliftaction.com while each week more than 125,000 industry players read the newsletter. The industry web portal gets over 250,000 visits every month.

Forkliftaction.com offers an exciting range of opportunities. Catering for both international and local advertising campaigns, there are options to advertise your products or to strengthen your brand. From media releases and product profiles to display ads (banners), your company can benefit from exposure on our web pages as well as in the newsletter.

We can tailor a campaign that meets your objectives and budget, backed with comprehensive web statistics, audience profiles and flexible advertising schedules – and without huge production costs.

For more information or a no-obligation quote, email marketing@forkliftaction.com, phone +61 7 3369 9090 or fax +61 7 3369 9096.

Kalmar wins three-year contract

Scandinavia, Sweden
Kalmar has been awarded a three-year contract to supply empty container handling capacity to a container terminal in Sweden.

The Port of Gothenburg will be supplied with seven of Kalmar's DRF100 reach stackers. The reach stackers offer the port a flexible solution to handling containers because of the remote monitoring interface. The interface can operate several machines remotely from a terminal control room.

Svante Alveronn, general sales manager, Kalmar Industries Sweden, says Kalmar has worked closely with the Port of Gothenburg for more than 40 years. "This deal makes it easy for both of us to expand our co-operation to more sophisticated solutions.

"The port has a mixed fleet of Kalmar straddle carriers, forklifts, reach stackers and terminal tractors. We feel this new contract is a breakthrough in providing customer-focused solutions."

The Port of Gothenburg, on Sweden's west coast, is Scandinavia's largest port.


Lowry joins Taylor Machine Works
Louisville, MS, United States
Taylor Machine Works Inc has hired Bill Lowry in a fulltime position as special projects manager.

The inventive industry veteran founded a namesake brand of heavy capacity, cushion-tyred forklifts that continue in production as a unit of Manitex International Inc.

Now Lowry will apply his expertise and knowledge of the materials handling industry on behalf of a former competitor.

"Mr Taylor has admired my work from afar for quite some time and we had an enormous amount of respect for each other," Lowry told Forkliftaction.com News. "At one time, we discussed a joint venture in North America."

Lowry was referring to the late William Taylor, whose sons, Lex and Robert, now operate the business as president and operations vice president, respectively.

"We welcome Bill and look forward to his expertise and assistance in advancing Taylor Machine Works' position in the world market of heavy capacity lift trucks and specialty material handling equipment," Robert Taylor says in a statement.

"Part of what I am doing remains confidential," says Lowry, who intends to split his time between his home near Toronto, Ontario, Canada, and Taylor's Louisville-based operations.

"A lot of what I bring to them will be new thoughts and new injections" and his knowledge, Lowry says. His work may include market development for Taylor in European countries. "They do not have a presence in Europe."

Taylor Machine Works, a business unit of family-owned Taylor Group Inc, designs, engineers and manufactures more than 100 models of industrial equipment with lift capacities between 16,000 pounds (7,200kg) and 120,000 pounds (54,000kg).

Lowry established his own business in 1984 and operated it for 22 years.
Liftking Industries Inc, of Woodbridge, Ontario, purchased the manufacturing rights of Lowry Industrial Lift Trucks Ltd in October 2006 (Forkliftaction.com News #281) and moved Lowry's heavy-capacity forklift production and other operations to Liftking's Woodbridge facility from Lowry's Georgetown, Ontario, site in 2007.

A subsidiary of Veri-Tek International Corp, of Bridgeview, Illinois, acquired Liftking's operating assets in November 2006 for about USD7.1 million. Veri-Tek changed its name to Manitex International last May 28 ( Forkliftaction.com News #376).

Lowry remained with the subsidiary, Manitex Liftking ULC, maintaining the integrity of, and marketing and support for, the Lowry product line. Lowry joined Taylor Machine Works on October 20.

Lowry commented on the current business environment: "We will see unprecedented movement and changes in our industry, (and) the bigger, stronger, better-financed, better-managed companies will come out of this."

UK forklift driver a whiz in the kitchen
Lowescroft, United Kingdom
Forklift drivers are not usually known for their creative culinary expertise, but one British bloke proved it is possible to be a whiz at both after showing off his cooking skills in a televised competition.

Alan Sinclair, a forklift driver at the Birds Eye factory in Lowescroft, put his skills to the test on the ITV show Britain's Best Dish. Sinclair cooked a summer fruit and meringue tart for the three judges. Sinclair was cooking off for the GBP10,000 (USD15,592) prize and was up against a smoked trout and watercress tart and a duck panhackelty. The smoked trout dish won the competition.

Sinclair has worked for Birds Eye for 10 years, after moving to Lowescroft from New Zealand, but his passion is cooking. He began cooking seriously two years ago after completing a catering course at Lowescroft College.
His dish was perfected in the development kitchens at Birds Eye and his lucky workmates were the taste testers.

Wisconsin Lift Truck resells automatic guided carts
Brookfield, WI, United States
Jervis B Webb Co has named Wisconsin Lift Truck Corp as a value-added reseller (VAR) to supply, install and service Webb's SmartCart automatic guided carts (AGCs) in Wisconsin.

Brookfield-based Wisconsin Lift Truck is the latest VAR dealer link for Webb.
Guided by magnetic tape, AGCs can move products on assembly lines or transport goods throughout plants or warehouses. Users can modify guide paths and customise or replace AGC load-handling frames to accommodate new products.

Webb manufactures in Harbor Springs and Boyne City, Michigan; Carlisle, South Carolina; Hamilton, Ontario, Canada; Bangalore, India; and Shanghai, China. Based in Farmington Hills, Michigan, Webb is a subsidiary of Daifuku Company Ltd, of Osaka, Japan.

Wisconsin Lift Truck was designated a 2008 gold dealer of excellence for Cat Lift Trucks and Mitsubishi Forklift Trucks. In addition to Brookfield, Wisconsin Lift Truck has facilities in Green Bay, Janesville, Germantown, Eau Claire, Wausau and La Crosse, Wisconsin.

Forklift champion a first time winner

Telford, United Kingdom
A Swansea forklift driver has won a national forklift competition, making him the safest operator in the UK.

Kenneth Saward beat nine of the best forklift operators in the first biannual RTITB and Sumo Glove competition to be recognised as the national lift truck operator of the year.

Saward, an operator with more than 15 years' experience, says winning the competition has changed his life. "The win has put me on a new career path. Sumo Glove and RTITB sponsored me to take part in an instructor's course so I can train other people to be safe."

More than 80,000 operators were invited to take part in the competition. Saward says the first step was to demonstrate formal training as a forklift operator. "All the people who passed the basic training with good marks on the theory test were invited to take part in the competition."

The top scoring competitors from five regions then competed in practical regional finals held over five days in June/July in West Bromwich. Saward says that part of the competition tested operators' practical skills. "We had to do various tests – theory tests on safety - and we had to manoeuvre trucks on a course [and] do various lifting challenges without dropping the pallet or pushing it out of the way.

"The top two from the regional finals then went to the national finals where we did a lot of the same but a bit more difficult."

Saward won a new Ford Fiesta car. "I have never won anything in my life and this is the first competition I have entered," he says. "But I gave the car to my wife as a present."

Steven Hall, from Coventry, came second and won a luxury holiday. Third place went to Daniel Giles, from Cambridgeshire, who also won a holiday.

The competition was designed to highlight the importance of properly trained operators in enhanced workplace safety and damage reduction.

Alex Nelson, managing director of RTITB, says forklifts are potentially lethal in the wrong hands. "Something like 7,000 injuries are reported each year and this is costing industry GBP8 million (USD12.5 million) annually, which would pay for a lot of training."

Briefs

International
Konecranes moves into Canada
Allanburg, ON, Canada

Konecranes' purchase of a Canadian crane service company will help the Finnish company expand its services into other industries, such as steel and mining.

Provincial Services Crane Specialists sells its products and services to end-users in the steel, mining, power and general manufacturing industries. It specialises in overhead crane inspections, maintenance, repairs, spare parts, modernisation and lifting equipment.

Keith King, president of Konecranes Canada, says Provincial Services' market coverage is complementary to Konecranes. "Provincial Services will provide us with entry to the primary steel industry."

Vp buys Brighton company
Brighton, UK

Vp has purchased Power Tool Supplies (PTS) to expand its Hire Station branch network. Vp paid GBP1.1 million (USD1.71 million) for the outstanding shares of the tool hire business. Vp's Hire Station subsidiary focuses on supplying small tools and specialist equipment for the industrial and construction markets.

Jeremy Pilkington, chairman of Vp, says the purchase of PTS provides Hire Station with a high-quality addition to its branch network.

Movers and Shakers

International
Santa Fe Springs, CA
Jeff Elder has been promoted to chief operating officer at Trojan Battery. He has been with Trojan for more than three years and was previously chief financial officer. Before joining Trojan, he worked for Dynamic Cooking Systems as chief operating officer and chief financial officer. He has worked for Arthur Andersen, Emerson Electric and Avery Dennison.

Bryan Godber has been promoted to vice president of renewable energy and new business development at Trojan Battery. He was previously director of new business development. He has worked for the company for eight years in planning, purchasing and customer services.

Irvine, CA, US
lan Dotts has been appointed manager of aerial work platforms for Toyota Material Handling. Dotts has 18 years' experience in the aerial lift business. He has been general manager of Aichi USA since 2006. Before that, he worked for Haulotte US Inc.

Chicago, IL, US
Sauer-Danfoss has appointed Sven Ruder as president and chief executive officer. Ruder takes up the position on January 1, 2009. He succeeds David J Anderson, who is retiring. Ruder has been president of the Danfoss A/S Motion Controls Division since 2001 and a member of the Sauer-Danfoss board since July 2008. Before that, he managed Danfoss's Latin American operations for 10 years.

Cat launches new website design

Houston, TX, United States
Cat Lift Trucks has invested in a redesign of its customer website.

Web design company 4 Guys Interactive Inc, of Houston, handled the project. It infused a new appearance, feel and enhanced navigation tools and business content on quality, customer service and reliability of owning a forklift from the manufacturer associated with the Caterpillar Inc family of earth-moving and heavy construction equipment.

The new website includes a solutions section with suggestions on how to avoid forklift abuse, choose the best forklift for an application and effectively manage a forklift fleet.

Houston-based Cat Lift Trucks operates under the auspices of joint venture Mitsubishi Caterpillar Forklift America Inc.

Cat-Lift website: www.cat-lift.com.

| | |
| --- | --- |
| | |
Linde secures national forklift contract

HUNTINGWOOD, New South Wales, Australia
Linde Material Handling Australia has secured a national contract to supply materials handling equipment to cold storage and logistics specialist VersaCold Logistics.

The contract, signed in September, involves supplying more than 400 forklifts to the company's warehouses in Queensland, New South Wales, Victoria and Western Australia.

VersaCold Logistics provides a wide range of services to producers, manufacturers, food service operators and retailers, from traditional pallet storage and product transport to high-volume carton picking, packing and distribution.

Rod Chapman, general manager, sales and marketing, tells Forkliftaction.com News the order includes order picking pallet trucks, walk behind pallet trucks, reach trucks and electric counterbalance trucks.

Linde's national account manager, Ben Newey, says that, before delivery of the units in the first quarter of 2009, Linde representatives will visit the warehouses to conduct on-site surveys and make recommendations to help VersaCold streamline its operations through best use of the equipment.

Cash flow help available to small business

BRISBANE, Queensland, Australia
A raft of measures aimed at improving cash flow for small business was launched at a summit in Brisbane last week.

Special measures include:
• support and advice during the financial crisis from Business Enterprise Centres and other registered business organisations, through a AUD4 million government investment over 2008-09 and 2009-10;
• a guarantee of on-time payment for new small business contracts with Federal Government departments. Contracts up to AUD1 million will, from December 1, be paid within 30 days, otherwise small business will have the right to charge penalty interest; and
• a commitment to developing standard procurement documents to make it cheaper and easier for small businesses to sell to the government.

The Australian Tax Office has committed to working with small businesses that are having difficulty meeting their tax obligations, which may include allowing tax debts to be paid by instalments over time.

Every year the Commonwealth has more than 65,000 contracts under AUD1 million and spends almost AUD30 billion on goods and services.

Small businesses are encouraged to register on AusTender (www.tenders.gov.au) to get automatic notification of new Australian Government business opportunities in their industry.

Forklifts smooth way for lubricant firm

NEWCASTLE, New South Wales, Australia
Toyota Material Handling has supplied a major lubricant supplier with six new forklifts on lease.

Fuchs Lubricants, which blends and packs lubricants for the mining, automotive and industrial industries, replaced its five 7-series Toyota forklifts with six new Toyota 8-series machines.

Operations manager Dean Butterworth says Fuchs leased the new forklifts based on the reliability of Toyota forklifts and the service back-up from the TMH branch at Beresford.

Buttersworth says the company prefers leasing forklifts as it enables Fuchs to update its materials handling equipment more frequently to ensure it has modern machines that meet current safety standards.

The six Toyota forklifts include speed alerts, speed limiters and the additional safety of travel and load-handling controllers.

Other safety features of the 8-Series range include Toyota's exclusive system of active stability and operator presence sensing as standard equipment.

Summit focuses on transport and logistics
MELBOURNE, Victoria, Australia
The sixth Victorian Transport Infrastructure Summit is on November 12-13 at Sofitel, Melbourne.

The event will focus on the state's intermodal capacities and the social and environmental consequences of growth in the industry. It will feature case studies of the latest rail, road, port and airport projects and review the impact of current legislation, investment trends and financial partnerships.

Also taking place in Melbourne is a conference called Green Transport & Logistics that will focus on innovation and highlight what leaders in the sector are doing to drive sustainability and efficiency.

The December 3-4 conference at Hilton on the Park will provide an in-depth look at government policy, the emissions trading scheme and how climate change regulations will impact on the supply chain.

The conference will include case studies from major companies discussing what is being done to reduce their impact on the environment and strategies for 'greening' the supply chain.

Rail to the rescue

MELBOURNE, Victoria, Australia
Rail will become more important in the Australian economy as exports, trade between the states and passenger traffic expand, says Bryan Nye, CEO of the Australasian Rail Association, in an interview with AusRAIL.

Nye will chair the AusRAIL 2008 conference in Melbourne on December 1-2, which will examine capacity, climate change and culture.

Nye says rail will come to the fore in terms of climate change as it is four times more energy efficient than any other form of land transport. "Rail will be a key solution to how Australia will tackle the climate change problem. Any emissions trading scheme will have transport in it and rail will be a key feature of that."

Briefs
Australia
Forklift promotion
MILPERRA, New South Wales

Powerlift Nissan is running a promotion from October to the end of December to promote sales of its range of Nissan Forklifts. Anyone purchasing a forklift directly from the company will go into a draw, with three winners from each state getting to experience the thrill of driving a V8 race car.

Drugs found in forklift batteries
Australia

Police in Canada and Australia have cracked a drug ring that concealed drugs in footbaths and forklift batteries transported in containers by ship to Australia.


Send this newsletter to an associate

Rico Equipment Knows No Limits When It Comes To Pallet Stackers

Whether you know them as straddle trucks, pallet stackers, reach trucks, or high lifts, RICO Equipment has the market cornered on these versatile lift trucks to innovatively solve problems that material handlers face everyday. Each space shuttle has SRB's designed to produce the main thrust to lift the space shuttle off the pad and up to an altitude of about 150,000 feet, or 24 nautical miles. The two SRB's carry the entire weight of the external tank and orbiter. The SRBs are the largest solid-propellant motors ever flown and the first designed for reuse. Each is 149.16 feet long and 12.17 feet in diameter.

Click here for more information on this product, including pictures.






Tip off Forkliftaction.com
Do you know something our readers should know? Write to
news@forkliftaction.com
or provide information anonymously
here
.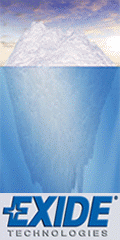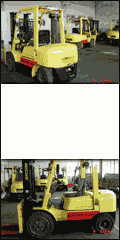 Editorial Calendar 2008
January
Review of 2007
February
Forklift safety in warehouses
March
Forklifts in the construction industry
April
Materials Handling in the Benelux
May
Straddle Carriers
June
Attachments: clamps
July
ICE forklifts - trends
August
The forklift market in Australia
September
Batteries and chargers
October
Pallet stackers
November
The forklift market in Russia