Send this newsletter to an associate
We're very rapidly approaching the big four-oh. This week's newsletter is going out to more than 39,500 members – a significant jump from the 34,000 registered subscribers in January. If the growth rates continue, we'll hit 40,000 within three weeks' time. But wait, there's more. Our web reporting shows that last month, our portal received more than 4 million page views.
Interestingly, we are noting changes in the profile of our visitors. Over the years, the proportion of forklift end-users such as fleet owners has been creeping up, now accounting for almost 40% of our audience. Our general manager Ann Hofmans attributes the shift to the growing use by business people of the internet to find news and product information. Of course, our solid position with the leading search engines also helps. And finally, we'd argue that we must be doing something right if visitors keep coming back. If you have any comments, feel free to let us know what you like - and we'd also be interested to hear about your dislikes .





| | |
| --- | --- |
| | |
Hoist Liftruck expands its UK presence

Bedford Park, IL, United States
Hoist Liftruck's new UK partnerships will be the key to opening up new sales opportunities to the region's ports. Five new dealerships have recently been established in the UK and Ireland, bringing the total to six.

Hoist's director of marketing, Dan Peter, says the partnership with the new UK dealers is key to selling heavy-duty pneumatic forklifts and the new empty container handler to the ports in the UK.

The signing of five new dealers is part of Hoist's European expansion plans. "The company has been in the process of expanding the Hoist name and product internationally for a few months."

Forktec GmbH signed a deal in Germany earlier this year to be the exclusive Hoist Liftruck dealer in Germany.

"The UK was one of the first areas where we wanted to establish a new presence," Peter adds. "In addition to receiving much interest from the UK in our products, we wanted to ensure the best possible service support for not only our new customers, but our current customers as well."

The Carrylift Group will represent Hoist in northern England, the north west Midlands and Scotland. HFT Forklifts will cover the West Midlands and Northern Wales and Mexmast will cover Sussex, Surrey, Kent and South London. Southwest Wales Industrial Equipment will cover South Wales and Carryduff Forklift will cover Northern Ireland.

Peter says having reputable dealers in the UK and Germany allows companies in Europe and surrounding regions, which may not know the Hoist Liftruck name or products, to talk with Hoist representatives and view the products in person.

Julie Houghton, marketing supervisor of Carrylift Group, says selling Hoist's products will not only strengthen Carrylift's product range and reinforce its position in the market, it will enable Hoist and Carrylift to expand into new markets.

Each of the dealerships will provide sales and service support for the Hoist product. An aftermarket parts hub is being established among the UK dealer network.

Hoist's existing dealer in the UK, Locators Ltd, has been representing the company for more than two years. Peter comments Locators has taken tremendous steps in successfully marketing and selling the Neptune Series marina forklift in the UK.

"With notable deals with MDL Marinas and Dean & Reddyhoff, as well as excellent customer service and support, Locators has replicated our reputation in the United States perfectly in the UK," he says. "We look to have Carrylift Group, HFT Forklifts, Mexmast, Southwest Wales Industrial Equipment and Carryduff Forklift follow the same path."

Alta acquires Van's Industrial Equipment

Wixon, MI, United States
Alta Lift Truck Services Inc extended its presence in the Michigan market with its 1 October acquisition of the assets of Van's Industrial Equipment Co. Terms were not disclosed.

A desire to continue to grow was Wixom-based Alta Lift's motivation for the deal.

"Van's has a solid reputation based on years of high quality service and dedication to its customers," says Robert Kohler, Alta executive vice president of sales and marketing, noting that Van's has been in business for 76 years.

Under the purchase agreement with Bob and Jack Vander Sloot, Alta will retain the majority of Van's employees and assets. Alta did not purchase the Van's facility in Wyoming, Michigan.

About 11 miles (17.6km) separate the Van's building and a 30,000-square-foot (2,700sm) Alta site in Kentwood, Michigan.
President Steven Greenawalt founded Alta Lift Truck Services in 1984.

Since 1999, Alta has invested in seven state-of-the-art material handling equipment facilities in Kentwood, Saginaw, Romulus, Muskegon, Zeeland, Battle Creek and Sterling Heights, Michigan. In addition to those sites and Wixom, another branch is located in Lansing, Michigan.
Including retained Van's workers, Alta now employs about 240 staff.

As a full-service dealership, Alta sells, rents and trades material handling equipment of the Yale, Sellick, Combilift, Taylor, Landoll Bendi and Drexel, Rico, Big Joe and Motrec brands.

Recently, Alta received dealer of excellence honours from both Yale Materials Handling Corp of Greenville, South Carolina and Combilift Inc of Monaghan, Ireland.



UK forklift dealer joins Mitsubishi dealer network

East Yorkshire, United Kingdom
UK forklift dealer Malcolm West Forklifts has teamed up with Mitsubishi Forklift Trucks in a move that will allow the family-owned company to offer its customers a more comprehensive range of forklifts.

For over 29 years, Malcolm West has sold one brand of forklifts and Nick West, managing director of the company, admits taking such a bold step to expand the range was a "little daunting".

"Mitsubishi allows us to offer our customers a considerably larger range of equipment – all from one company. Whether they want a hand pallet truck, a reach-truck, a low-level order picker or even a 16 tonne counter-balance machine, we have everything they need.

"After viewing the most impressive range to date, complemented by excellent after-sales service and warranty commitments, our mind was made up that becoming an authorised Mitsubishi dealer was the way forward."

Martyn Davies, regional UK manager for Mitsubishi Forklift Trucks, says Malcolm West Forklifts was a good fit for Mitsubishi because of its customer service. "Luckily, at the same time, Nick West realised that partnering with Mitsubishi could provide the support and – more importantly – the products necessary to reach his business goals."

Davies says Malcolm West Forklifts have been selling forklifts in the Hull area for over 50 years and the company's reputation will benefit Mitsubishi's plans for growth. "To say the company is well-established is an understatement. Its excellent reputation and high levels of customer care will add strength to the Mitsubishi dealer network."

Davies adds that Malcolm West Forklifts and Mitsubishi Forklift Trucks share a commitment to a common goal: "providing customers with the most reliable materials handling equipment and the most dependable service".


Yale dealer hosts candidate for Congress

Green Bay, WI, United States
A congressional candidate used a visit to a Yale forklift dealership in Wisconsin to outline his advocacy of oil exploration, federal worker training programs and financial regulations.

Gary Fairchild, president and owner of Yale Materials Handling–Green Bay Inc, arranged for the visit of Republican John Gard, who challenges incumbent Democrat Steve Kagen in the 4 November general election. Kagen narrowly defeated Gard in their previous contest in Wisconsin's 8th congressional district in 2006.

Gard used Yale as an example for his campaign position that export taxes should be either reduced or enforced fairly in all countries. He said Japan applies a tax on a US-made Yale forklift sold in Japan but does not tax a Japan-manufactured forklift that is sold in Japan.

Gard calls for a comprehensive approach to making America energy-independent, strengthening and providing adequate taxpayer protection and regulation of the financial markets and only supporting trade agreements that are fair to American workers and are tough on countries like China that he says "don't play by the rules".

During the event at Yale, the Green Bay Area Chamber of Commerce announced its endorsement of Gard. About 30 Yale employees participated.

Gard represented the 89th district in the Wisconsin state assembly from 1987 until 2007 and was the assembly speaker from 2003 until 2007.
Fairchild has owned and operated Yale Materials Handling in Green Bay since 1985 with branches now in Stevens Point, Marinette and Chippewa Falls, Wisconsin.

Separately, Fairchild acquired Yale Materials Handling–Minnesota Inc in Ham Lake, Minnesota in April 2001.

Together, Fairchild's dealerships employ more than 170, have annual sales in excess of USD50 million and sell and service Yale, Sellick and Landoll Bendi forklifts; Genie and JLG aerial lifts; and Cascade attachments.

Fairchild says his projected 2008 sales in the Minnesota operation are about the same as last year but those in Wisconsin may be 10% lower if current sales patterns continue through the end of the year.

Financing is not a problem at his bank. "We can get all the money we want for expansion," he notes. "They do not have a shortage of cash."

Hyundai launches warehouse equipment range

Geel, Belgium
A new warehouse equipment range from Hyundai Heavy Industries Europe (HHIE) will be available in Europe in November. The new range will complement the company's existing range of diesel, LPG and battery forklifts and reach-trucks.

The new range features new pallet trucks, vertical mast stackers and double-lift stackers. Jan Coemans, marketing engineer for HHIE, says the new range will give dealers the additional advantage of being able to offer a full range of quality products to customers.

"A good portion of our dealers already had warehouse equipment from other less competitive brands in their ranges. To be able to offer a full range of Hyundai equipment now sends a very strong signal to their existing customers and to prospects."

HHIE's plan is to provide dealers with the widest possible range so they can compete competively in all sectors of the market.

At the launch of the new range, HHIE's managing director, Su-Young Hwang, explained the new range offers customers a "spectrum of options and choices".

The range will be available in Europe but not in Russia and Turkey and Coemans says the company is "ready to take orders".

There are four new ET pallet trucks ranging in capacity from 1,600 kilograms (3,527 pounds) to 2,200 kilograms (4,850 pounds) and two new EP models that offer a fold-down, ride-on platform.

There are two new compact, lightweight, single-mast ES stackers ranging in capacity from 1,000 kilograms (2,204 pounds) with a 2.8-metre (9.1 feet) lift height to 1,400 kilograms (3,086 pounds) with a 900 mm (2.9 feet) lift height.

HHIE has also released three new light LS models with capacities of 1,000 kilograms (2,204 pounds), 1,200 kilograms (2,645 pounds) and 1,400 kilograms (3,086 pounds). In the medium category, four new MS models are available – 1,400 kilograms (3,086 pounds) with a 1,500 mm (4.9 feet) lift height, 1,600 kilogram (3,527 pounds) with a 4,720 mm (15.4 feet) lift height, and two with duplex or triplex masts and an optional full free lift.

In the heavy-duty stacker range, two new HS models have been released with capacities from 1,000 kilograms (2,204 pounds) to 2,000 kilograms (4,409 pounds). Lift heights for this model range from 1,510 mm (4.95 feet) to 5,400 mm (17.71 feet). There are also two double-lift DS models in the 2,000-kilogram (4,409 pounds) range with lift heights ranging from 1,725 mm (5.65 feet) to 2,125 mm (6.97 feet).

Coemans says customer preferences are instrumental in the launch of this range and any other Hyundai range. "Together with precision, performance and profitability, preference is one of our product values, so it was very instrumental. Our customers can now choose from a wide range of machines – one for each application.

"What differentiates us from competition – and this goes for the Hyundai range – is what we'd like to describe as "operator pleasure" because an operator who takes pleasure in work, does a better job. Sound quality is the basis to that idea, but preference, precision and performance completes it."


New fuel cell forklift developed

Tokyo, Japan
A new general-purpose fuel cell (FC) forklift equipped with a portable cassette for supplying hydrogen has been developed in a partnership between three companies.

Mitsubishi Heavy Industries (MHI), Nichiyu and JFE Container Co worked together to develop the FC forklift. MHI developed the vehicle system, JFE Container the cassette and Nichiyu supplied the battery forklift.

The forklift's development was funded by a grant from the Japanese ministry of environment's global warming program.

A portable hydrogen cassette is used to supply hydrogen to the fuel cell that is mounted on the forklift. The units have been tested in a range of different environments including cold storage rooms and outdoors.

A Mitsubishi spokesperson says the forklift is available now in Japan and will be available globally in the first half of 2010.

"The main features of the forklift are operator comfort, it will be economical and safe to use, and will be environmentally friendly," the spokesperson says.

Forkliftaction.com News has been following hydrogen fuel cells advancements and recently reported on GenDrive fuel cell units from Plug Power Inc that featured on the US Hydrogen Road Tour (Forkliftaction.com News #374).

Skyjack and Pape form partnership

Ontario, Canada
Skyjack and Pape Material Handling have finalised a partnership that will allow Pape to carry the complete Skyjack VR telehandler line. Skyjack's VR line ranges from 6,000 pounds (2,721 kilograms) to 10,000 pounds (4,535 kilograms) with lifting heights from 42 feet to 56 feet (12.8 metres to 17.06 metres).

Chris Wetle, president of Pape, says the partnership will help his company carry on its proud tradition of representing high quality products in the US.

David Bristow, vice president of telehandler sales at Skyjack, adds Skyjack is excited to be aligned with such a solid and well-established support network.


Forklift rodeo entries close soon

Springfield, OH, United States
Organisers are expecting more than 70 competitors at the 2008 US Open Forklift Rodeo and Safety Expo to be held at the Clark County Fairgrounds on November 7 and 8.

Event spokesman Dick Higgins says while the Rodeo is not the only one of its type, it is the biggest and most sophisticated.

"That's what's setting us apart from other rodeos," he says.

Last year, 75 individuals competed and there have been as many as 105 in the event sponsored by the Safety Council, which is supported by the Greater Springfield Chamber of Commerce.

"For a lot of companies, the forklift is the number one way they get in trouble by having mishaps and having people hurt, so it draws quite a bit of attention from a safety standpoint," says Higgins, who relinquished the title of chairman this year to Don Amburgey, safety and facility manager at Kreider Corp.

Originally, the rodeo was for Clark County companies but that changed after Fox River Paper in Champaign County called and asked if it could enter. Before long, teams from Sidney and Piqua entered, then Middletown, Canton, Newark and other parts of the state.

Kraft, the winner the last two years, is from Groveport. A Kraft plant in Florida has shown interest, as have three teams from Miller Brewing in Milwaukee.

Other teams have come from as far as Indiana, Kentucky and Iowa. Higgins laughs at the memory of the Iowa team that came in thinking they were going to dominate the competition, but went home empty-handed.

So impressed was the Bureau of Workers' Compensation's Division of Hygiene and Safety with the idea, that it created a state competition based on the local rodeo. The state rodeo has since been discontinued, after which the local event changed its name to the US Open, expanding its reach to all who want to participate.

Organisers have paid tribute to Forkliftaction.com, saying the portal's sponsorship has helped publicise the event and helped raise awareness.

One of the recent changes in the competition was to move from four- to two-person teams, allowing smaller companies an opportunity to compete. Even though there are teams, individual points are also accumulated and awards given.

Other sponsors are KMH Systems of Dayton, the area Yale dealer, which provides the forklifts, Cascade Corp., the Springfield-Clark County Safety Council, Sentry Protection Products and the Higgins Group.

Entries close soon, and for more information or to register, phone 937-325-7858.


Are you open for business? Then tell the world!!
In the current tight economic conditions, you will be expecting maximum results from your marketing budget. And targeted online advertising delivers real results for a modest investment.

Forkliftaction.com has the biggest audience in the worldwide forklift industry, and at internet prices, its now easy to reach these professionals.

Over 39,000 industry professionals have registered with Forkliftaction.com while each week more than 125,000 industry players read the newsletter. The industry web portal gets over 250,000 visits every month.

Forkliftaction.com offers an exciting range of opportunities. Catering for both international and local advertising campaigns, there are options to advertise your products or to strengthen your brand. From media releases and product profiles to display ads (banners), your company can benefit from exposure on our web pages as well as in the newsletter.

We can tailor a campaign that meets your objectives and budget, backed with comprehensive web statistics, audience profiles and flexible advertising schedules – and without huge production costs.

For more information or a no-obligation quote, email marketing@forkliftaction.com, phone +61 7 3369 9090 or fax +61 7 3369 9096.

Southern Material marks 60 years in business

Tulsa, OK, United States
Operating in heartland fossil fuel-dominant markets, milestone-marking Southern Material Handling Company is positioned with the Toyota brand to deal with the changing economy in eastern Oklahoma and south western Missouri.

Herb Arst established the Tulsa-based dealership on 1 September, 1948.

Now, the dealership employs 84 and has completed 60 years of service.

The economy will pass through the current turmoil, which is "largely of the media's making", Mark Segress says. "We saw it before. We talk ourselves into slowdowns."

Segress, 52, president and chief executive officer, and Jim McDonough, 56, executive vice president, co-own the business now. Segress joined the firm in 1978 and McDonough in 1979.

Getting financing is not an issue. "We have the benefit of using the captive Toyota Financial (Services) if a customer wants financing," Segress notes.

Much of the volume for Southern's market involves forklifts with internal combustion engines.

Representing Clark in Oklahoma, Arst sold the dealership in 1976 to Carl Monroe and Cal Bakel. Carl's son, David Monroe, ran the business after his father's death in 1991. "Carl Monroe was an old Clark guy and was in Battle Creek (Michigan) with the Clark factory," Segress recalls.

David Monroe, Segress and McDonough purchased the business in 2002, and Monroe retired and sold his interest in early 2008.

Southern expanded to a second site in Muskogee, Oklahoma for Clark in 1979 and began representing the Crown line in both Oklahoma locations in 1981. The Toyota line was added in 1994.

Another expansion in 2002 positioned a Southern branch in Springfield, Missouri exclusively representing Toyota. The CEO's brother, Kent Segress, is vice president of branch operations and runs the Springfield site.

"Our employees are the strength of our company," Mark Segress observes. For several Southern employees, "it is the only job they have ever had."

Compact telehandlers improved

Breganze, Italy
Italian telehandler specialist Faresin has updated its compacts to improve the comfort and safety of the operator, increase fuel efficiency and make service and maintenance easier. The new compacts will be available at the end of the year.

The FH 6.28 and FH 7.30 now feature functions that were only available in Farsein's larger machines. Changes have been made to the machines' boom, chassis design, engine layout and wheelbase.

Faresin has lowered the bonnet on both models to improve operator visibility. The chassis is now stronger and distributes stress more evenly. The arms' suspension system has been redesigned to absorb shocks more effectively on rough terrain.

The compacts' wheelbase has been to increase stability and fuel consumption will be reduced because of the new lower operating weight. The radiator is located at the front and in line with the engine. The engine has been rotated 180 degrees for improved cooling and access for service and maintenance.

The machines are also easier to operate with the two-button joystick with crossover movement, and rollers to control the extension and retraction of the boom.

TVH upgrades software

Waregem, Belgium
TVH Group has added new functionalities to its customer software, Quick Source, making it easier for customers to contact the company through VoIP.

Quick Source 5.3 has been updated to allow the user to register and follow up all complaints and returns online. It also has a VoIP program incorporated into the software so customers can call TVH at no cost through the internet.

Another new feature allows printing of part labels with a customer's logo. The product search function has also been updated to be more user–friendly, making it easier to find tyres, forks, chains and handling equipment.

The software is now available in nine additional languages – Turkish, Lithuanian, Hungarian, Norwegian, Finnish, Danish, Swedish, Slovenian and Croatian. Quick Source was updated last year to include Polish, Czech and Romanian.

Kristof Bolle, assistant sales manager for ecommerce and external sales support at TVH, says the program is being continuously updated and TVH will continue to apply innovative applications to meet the growing needs of customers.

"The language barriers with our customers worldwide have been removed by designing the program in 19 languages," he says. "We are already planning the next version with extra languages.

"The extra features allow the customers to work more intensively with TVH via the ecommerce software instead of via the classic email, phone or fax communication. Almost every service is now available online."

Forkliftaction.com News reported on the release of version 5.2 in September last year (Forkliftaction.com News #329).

Movers and Shakers

International
Westport, CT, USA

Terex Aerial Work Platforms has appointed Debbie George to the newly created position of global brand marketing leader. George will have creative oversight of the Genie and Terex AWP brands, both internally and externally. George has worked at Genie for 23 years, serving 20 years as global director of marketing.

Redmond, WA, USA

Genie has appointed Mike Samora as global director of marketing solutions. In his new role, Samora will manage all marketing communication functions and the Genie and Terex brands. Prior to joining Genie, he founded Premier Postage, where he was president for two years. Prior to that, Samora served in key marketing roles with Procter and Gamble, Coca-Cola and Campbell Soup Company.

Aschaffenburg, Germany

Ralf Dingeldein has been appointed head of the central marketing department at Linde Material Handling. He succeeds Harald Wozniak who has been appointed head of international services. For over 12 months, Dingeldein has been responsible for the strategic marketing of the KION Group in the area of service strategies and competitor intelligence. Prior to that, he worked for the Frankfurt office of McKinsey & Co.

Over Hulton, Bolton, UK

Exide Technologies (CMP Batteries) has appointed Richard Jones as senior key account manager and Jon Wells as technical projects manager. They will be based at Exide Technologies' traction battery manufacturing plant at Over Hulton, Bolton. Jones was the key account manager for Henkel Loctite for 16 years. He has worked extensively with the MoD, the railway sector and nationalised industries. Wells worked for Norco for over seven years. His role at Exide will be to help major customers develop large materials handling power projects – particularly battery changing systems.

Farmington Hills, MI, USA

Susan M. Webb, president and co-CEO of Jervis B. Webb, is retiring from the role she has held since 2003. Webb will continue to serve on Webb's board of directors. Ryuichi Kitaguchi, who will continue as president of Daifuku America Corporation, will succeed her. Webb is the granddaughter of founder Jervis B. Webb. She succeeded her uncle, George H. Webb, in 2003.

| | |
| --- | --- |
| | |
Manitou supplies Qantas with telehandler

SYDNEY, New South Wales, Australia
The arrival of the world's largest passenger jet in Australia this month presented Qantas with unique maintenance challenges.

The Airbus A380 is 73m long with a wingspan of 79.8m and a tail height of 24.1m, some 30% higher than the Boeing 747, which makes inspections difficult.

Maintenance staff required a machine that would enable them to access heights of up to 24m with up to five staff with tooling and an 800kg capacity basket.

After extensive consultation with the access industry, the company chose Manitou Australia to provide a Manitou MRT 2540 Telescopic Handler fitted with a 3m wide, 800kg work basket.

The Manitou was chosen due to its impressive platform capacity with options up to 1,000kg available and its rigidity at full height.

"After thoroughly evaluating submissions and proposals from across the industry, Manitou presented a tailor-made solution that ticked all our boxes," says Phil Bailey, Qantas Engineering.

Other features of the telehandler are its anti-collision system to prevent the work platform coming into contact with any part of the Qantas A380. This system first gives a visual warning of an obstacle then locks out platform controls to prevent accidental collision.

According to Stuart Walker, commercial manager, Manitou Australia, the solution not only meets the airline's specific application requirements but also has the flexibility to solve other access and maintenance issues in the industry.

Financial turmoil hits local shores

MELBOURNE, Victoria, Australia
Australia's risk rating has been downgraded, along those of other countries, as financial turmoil continues to affect the global economy.

Dun & Bradstreet's latest report reveals that Australia has had its GDP growth forecast revised down from 2.8% to 1.8%, and its country risk rating has been downgraded to DB1d with a deteriorating outlook.

The D&B report states that a negative shock to consumer and investor sentiment, a fall in GDP growth and economic stagnation are the threats that have impacted the Australian economy to date.

The local economy is also facing housing-sector pressures and slowing expansion, with GDP growth at its slowest for over three years in the second quarter of this year.

Payment problems are becoming a significant issue around the globe, with 33 countries, including eight in the Asia Pacific region, paying in excess of 30% of their bills at 30 days or more past terms. In the past quarter alone, an additional six countries have increased their percentage of overdue payments to more than 30%. This trend is having significant impacts on business cashflow at a time when funding to cover shortfalls is difficult to access.

But, says D&B's chief executive officer Christine Christian, despite the rating downgrade, Australia remains one of the few OECD economies in which central bank rates can still influence the day-to-day functioning of national credit markets.

"Australia will stay in the DB1 risk bracket unless there is evidence of a hard landing occurring. However, the deteriorating outlook indicates that economic conditions will remain challenging for some time.

"Businesses cannot afford to ignore any warning signs that economic and fiscal circumstances could impact customers or suppliers and ultimately cause financial distress," she notes.


B&B is Expanding!

The leading attachments supplier to the UK & Ireland, B&B Attachments Ltd, continues to boost its range of equipment available for casual short term hire. B&B Attachments has also expanded its range of refurbished attachments available for sale. Besides competitive rates, all products are backed up by B&B's unrivalled service support for attachments. Full application support is provided, including site survey in the UK if required. For further information on the product range and our competitive prices, please contact sales@bandbattachments.com or telephone +44 (0)1670 737373 and ask for "The Hire Desk"

Work safety under spotlight
MELBOURNE, Victoria, Australia
Nearly 12,000 people have registered for events during Work Safe Week, which runs from October 27 to 31 and is aimed at highlighting the importance of workplace health and safety.

WorkSafe's executive director John Merritt, says the week is about giving people skills and knowledge to take back to their workplace.

"The fact that demand for places is up reflects the growing awareness that health and safety outcomes can be improved, and more importantly, that managers, supervisors and workers want to play their part."

This year's theme, 'Learn the latest and stay up to date', encourages people to attend one or more of the free, practical seminars and events being run in their region.

More than 80 workshops are being held at the Melbourne Museum. Another 40 are being run in suburban and regional areas. The workshops cover a wide range of safety issues, occupations and industries including construction, manufacturing, mining, transport, education, farming and small business.

Topics include Return To Work for injured workers, manual handling, health and safety consultation, employing young workers, fatigue and a range of general OHS topics relevant to all employers.

For the full calendar and to register for these activities visit www.worksafe.vic.gov.au

Inquiry into Australia's coastal shipping

CANBERRA, ACT, Australia
A bipartisan report from the parliamentary inquiry into Coastal Shipping Policy and Regulation has been tabled in the House of Representatives.

It offers practical solutions to the critical challenges facing the Australian industry - a declining number of Australian registered trading vessels; an ageing fleet; a shortage of skilled maritime employees; and growing demands from industry for greater policy certainty from government.

The submissions covered a broad range of issues, demonstrating the complexity of the issues involved in strengthening the industry's competitiveness and sustainability.

Coastal shipping is a key sector of the transport industry and a vital contributor to the national economy, given that Australia's international trade is dependent upon shipping.

Industry honours logistics star

Australia
The annual Logistics Development Award has been won by Silvia Estrada-Flores, principal consultant at Food Chain Intelligence of New South Wales.

Applicants for the LDA were required to submit a paper of approximately 1,500 words on either:
• The most significant supply-chain trend that they see affecting business in Australia, or
• The most successful innovation in logistics or supply chain in which they have been involved.

Estrada's paper looked at Sustainable Co-innovation in the Australian Food Supply Chain.

NTP to host forklift auction
ADELAIDE, South Australia, Australia
The Adelaide branch of NTP Forklifts Australia will hold an auction and open day on 8 November.

Damien Garvey, national marketing manager, tells Forkliftaction.com News that this is the first time that NTP will have tried an auction, but having seen other forklift companies use this sales channel, he believes it creates a lot of interest in the market.

"We have canvassed many potential customers in the small to medium-sized business sectors who we believe are the users of second-hand equipment, and are price-conscious buyers.

"We are expecting up to 100 people to attend the auction."

Garvey says there will be good bargains on used equipment with some late model units available. "We'll also have some of the units unreserved."

There will be promotions on the day, with some free services, sets of tyres and pallet trucks on offer through a participants' draw to be held for all registered bidders.


Send this newsletter to an associate






Tip off Forkliftaction.com
Do you know something our readers should know? Write to
news@forkliftaction.com
or provide information anonymously
here
.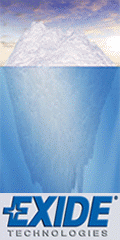 Jobs
1. General Manager - Full time
United States, Carol Stream
2. Territory Sales Manager - Full time
United States, Detroit
3. Director Field Service Operations - Full time
United States, Santa Fe Springs, CA
4. Service Manager - Full time
United States, Oregon
5. Jumbo Truck Sales - Full time
United States, Jacksonville, FL
6. Product Support Manager - Full time
United States, Boise Idaho
7. Service Manager - Full time
United States, Oklahoma city
8. District Service Representative (International) - Full time
United States, Lexington
9. District Service Representative - Full time
United States, Denver, Portland, or other Northwest US city
10. Sales Representative - Full time
United States, Raleigh, NC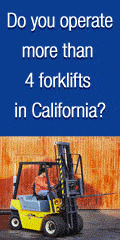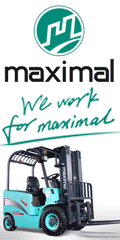 Fast Facts

Editorial Calendar 2008
January
Review of 2007
February
Forklift safety in warehouses
March
Forklifts in the construction industry
April
Materials Handling in the Benelux
May
Straddle Carriers
June
Attachments: clamps
July
ICE forklifts - trends
August
The forklift market in Australia
September
Batteries and chargers
October
Pallet stackers
November
The forklift market in Russia