Send this newsletter to an associate

In the wake of Hurricane Ike, it's probably best to avoid talking about clouds and silver linings, especially as the natural disaster was not the only challenge of the past few days. The collapse of Lehman Brothers and the Fed's bail-out of insurance giant American International Group indicate that the credit crunch is far from over, and many economies are at risk. None of this helps business confidence and the current uncertainties are sure to have some impact on equipment purchase decisions. Cost-cutting is likely to be the order of the day, and all but the most successful of operators will be thinking twice about buying additional equipment or replacing current fleets. But if there is one minor silver lining, it would have to be the fall of global oil prices which are now back under USD100 a barrel. Under different market conditions, the price drop would be headline news, but for now, it has been drowned out in a sea of red ink.








Send this newsletter to an associate






Tip off Forkliftaction.com
Do you know something our readers should know? Write to
news@forkliftaction.com
or provide information anonymously
here
.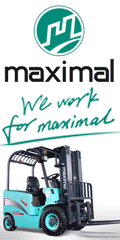 Fast Facts

Editorial Calendar 2008
January
Review of 2007
February
Forklift safety in warehouses
March
Forklifts in the construction industry
April
Materials Handling in the Benelux
May
Straddle Carriers
June
Attachments: clamps
July
ICE forklifts - trends
August
The forklift market in Australia
September
Batteries and chargers
October
Pallet stackers
November
The forklift market in Russia