Send this newsletter to an associate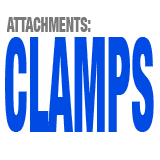 This week's wisdom from the Discussion Forums centres around the future of fuel cells. As we reported last week, alternative fuels are gaining momentum, and one of our members this week notes that major corporations in the US are starting to change over their fleet. Dougster points out that hydrogen is becoming more affordable ? especially as fuel prices rise. "The gas surcharges are increasing everywhere, including your electric bill," he says. "This trend favours hydrogen fuel cells as the primary forklift energy source of the future. For large companies, no cranes, no chargers, no battery cleaners, no waiting for battery changes, no slow lifting when battery gets low, no battery employees, no big room to store batteries, etc. Looks like a future no-brainer to me," he says. A no-brainer indeed!











Send this newsletter to an associate






Tip off Forkliftaction.com
Do you know something our readers should know? Write to
news@forkliftaction.com
or provide information anonymously
here
.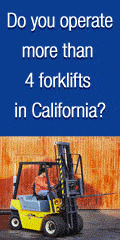 Jobs
1. Customer Service Representative - Full time
United States, Savannah Ga.
2. Branch Manager - Full time
United States, Muncie
3. Service Manager - Full time
United States, Terre Haute, IN
4. Industrial Equipment Sales Rep - Full time
United States, Greensboro, NC
5. Industrial Equipment Sales Rep - Full time
United States, Wilmington, NC
6. Industrial Equipment Sales Rep - Full time
United States, Fayetteville, NC
7. Industrial Equipment Sales Rep - Full time
United States, Raleigh, NC
8. Territory Salesperson - Full time
United States, Tampa
9. Major Account Manager - Full time
United Kingdom, Fleet, Hampshire
10. Territory Manager - Full time
United States, Minneapolis
11. Technician - Full time
United States, Myrtle Beach/ Florence, SC
12. Facility Manager - Full time
United States, San Antonio
13. Senior Account Executive, Europe - Full time
United Kingdom, Europe
14. Material Handling Sales - Full time
United States, Charlotte, NC


Fast Facts

Editorial Calendar 2008
January
Review of 2007
February
Forklift safety in warehouses
March
Forklifts in the construction industry
April
Materials Handling in the Benelux
May
Straddle Carriers
June
Attachments: clamps
July
ICE forklifts - trends
August
The forklift market in Australia
September
Batteries and chargers
October
Pallet stackers
November
The forklift market in Russia