Send this newsletter to an associate

Welcome to our first newsletter for 2008. The year ahead promises to be an interesting one, with rising fuel costs, a changing global economy and technological advances creating new challenges and opportunities. It's clear that we're well and truly in the era of "triple bottom line" performance assessment, with management focused on financial success, staff satisfaction and social/environmental responsibilities. And Forkliftaction.com News will continue to focus on all these dimensions.
For our own organisation, the year ahead heralds many exciting developments including a revamp of the newsletter format, increased local and regional coverage and, perhaps most importantly, new initiatives in news customisation to make sure readers get the news they need – quickly and in a user-friendly format. As usual, you can help us by providing your suggestions, comments and feedback to info@forkliftaction.com.





Send this newsletter to an associate





Tip off Forkliftaction.com
Do you know something our readers should know? Write to
news@forkliftaction.com
or provide information anonymously
here
.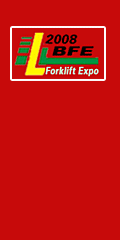 Jobs
1. Sales Representative - Full time
United States, Virginia Area
2. Parts & Service Sales Representative - Full time
United States, St. Louis, MO
3. Parts Manager - Full time
United States, Indianapolis
4. Sales Representative - Full time
United States, Columbia, SC
5. Service Manager - Full time
United States, Tulsa Oklahoma
6. International Sales Representative - Full time
United States, Chicago, Illinois
7. Battery & Charger Repair Technician - Full time
United States, Bristol, PA
8. Forklift Technician - Full time
United States, Myrtle Beach/Florence, SC Area
9. Service Manager - Full time
United States, Allentown PA
10. Regional Sales & European Key Accounts Manager - Full time
Netherlands, Amsterdam
11. Sales & Product Support Specialist Warehouse Equipment - Full time
Netherlands, Amsterdam
12. Technical Engineer / After Sales Engineer Warehouse Equipment - Full time
Netherlands, Amsterdam
13. Service Manager - Full time
United States, Joplin, MO
14. Manager - Full time
China, Yancheng
15. Sales Department - Full time
United States, Fort Myers
16. Technical Trainer - Full time
United States, Greenville, NC


Resumes
1. Parts Assistant, Service Coordinator - Full time
Europe, USA, United States
2. Service Manager/Engineer - Full time
Europe, North America,Midle East, Asia, India
3. Service Manager and/or Technical Trainer - Full time
Southwestern U.S. (incl AZ, UT, NM, CO, TX, OK), United States
4. Small Management or Technician - Full time
Relocating is not out of the question., United States
5. Inventory Controller - Full time
Capital, Venezuela
6. Service Manager - Full time
Western United States, United States
7. Sales Consultant/ Representative - Full time
USA, United States
8. Manager/Sales/Training - Full time
USA/Worldwide, United States

Fast Facts

Editorial Calendar 2008
January
Review of 2007
February
Forklift safety in warehouses
March
Forklifts in the construction industry
April
Materials Handling in the Benelux
May
Straddle Carriers
June
Attachments: clamps
July
ICE forklifts - trends
August
The forklift market in Australia
September
Batteries and chargers
October
Pallet stackers
November
The forklift market in Russia