Send this newsletter to an associate

You're in good company as you read this newsletter. The weekly news update is going out to more than 32,000 recipients this week as our member base continues to grow and to spread geographically. And it's not just newsletter subscriptions that are soaring. Last month, the Forkliftaction.com portal had almost 45,000 unique visitors, each of whom visited more than four times, viewing 2.2 million pages. In October, the site enjoyed more than 6.1 million "hits". And there was obviously plenty to keep them interested, as most visitors spend a lot of time on the site. So, if you're looking for the latest industry news, searching for equipment or just keen for a quick online chat, make sure you take advantage of the wealth of information on our portal.








Send this newsletter to an associate





Tip off Forkliftaction.com
Do you know something our readers should know? Write to
news@forkliftaction.com
or provide information anonymously
here
.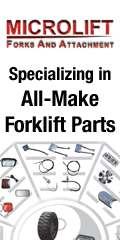 Fast Facts

Editorial Calendar 2007
January
Review of 2006
February
US forklift market
March
Turret trucks and order pickers
April
Forklifts and global warming
May
Fleet management systems
June
The global attachments market
July
Forklifts in harsh applications
August
Materials handling in Eastern Europe
September
Engines and drive trains
October
Forklifts in cold rooms
November
China's forklift market
December
End of Year review