Send this newsletter to an associate

We are committed to continually improving our web portal and have in recent months added to our growing team of professionals dedicated to tracking down relevant information from around the globe. But it's not enough to gather information, it's also crucial that it's presented in a way that meets the needs of our growing audience. To that end, we recently welcomed Saeid Hosseini to our team. Saeid is a real wizard with asp.net technologies and will work his way through the whole website, making nips and tucks and adding a bit of sparkle. Already, the fruits of our web guru's labour are evident. If you go to any of the stories with images in this week's newsletter and click on the picture, you'll see some of the new magic. Let us know what you think.








Send this newsletter to an associate





Tip off Forkliftaction.com
Do you know something our readers should know? Write to
news@forkliftaction.com
or provide information anonymously
here
.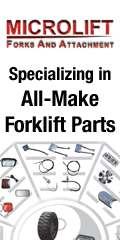 Jobs
1. Technical Trainer - Full time
United States, Carol Stream
2. Forklift Service Technician - Full time
Canada, Edmonton, Alberta
3. Sales Manager - Full time
United States, Philadelphia, PA
4. Industrial Tire Sales person - Full time
United States, Grand Prarie
5. Material Handling Service Manager - Full time
United States, Grand Prarie,Texas
6. Lift truck Technician - Full time
United States, Grand Praire Texas
7. Service Manager - Full time
United States, Peoria, IL
8. Service Manager - Full time
United States, Indianapolis, IN



Editorial Calendar 2007
January
Review of 2006
February
US forklift market
March
Turret trucks and order pickers
April
Forklifts and global warming
May
Fleet management systems
June
The global attachments market
July
Forklifts in harsh applications
August
Materials handling in Eastern Europe
September
Engines and drive trains
October
Forklifts in cold rooms
November
China's forklift market
December
End of Year review