Send this newsletter to an associate

There's an enormous amount of information out there, and one way to tap into it is through our forums. There you'll find discussions about training issues, information about mechanical modifications and some heated debate about various issues. Often, the discussions which begin in the forums gain momentum, and from time to time, they provide the impetus for news stories in the Forkliftaction.com newsletter. So, if there's something you want to get on the agenda, share your thoughts on the forkliftaction.com forums.








Send this newsletter to an associate






Tip off Forkliftaction.com
Do you know something our readers should know? Write to
news@forkliftaction.com
or provide information anonymously
here
.


Upcoming Events
1. United States Open Forklift Safety Rodeo
Springfield, Ohio, United States
12th and 13th October 2007
2. World Logistics Expo
Jeonbuk, Korea, South
10th to 14th October 2007
3. The National Safety Council Expo
Chicago, United States
15th to 17th October 2007
4. ICHCA National Conference
Adelaide, Australia
10th and 11th October 2007
5. Global Freight Logistics Conference & Exhibition
West Beach, Australia
10-11th October 2007
6. PPI Transport Symposium
Alabama, United States
15th to 17th October 2007
7. TOC Americas
Panama City, Panama
6th to 8th November 2007
8. NER / FBI-LEEDA Summit
Charlotte, United States
29th November 2007
9. Europort Maritime 2007
Rotterdam, Netherlands
6th-7th November 2007
10. SITL Asia
Shanghai, China
10th-12th December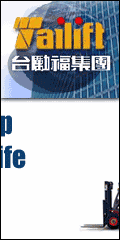 Fast Facts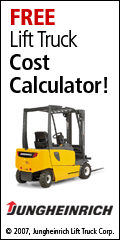 Editorial Calendar 2007
January
Review of 2006
February
US forklift market
March
Turret trucks and order pickers
April
Forklifts and global warming
May
Fleet management systems
June
The global attachments market
July
Forklifts in harsh applications
August
Materials handling in Eastern Europe
September
Engines and drive trains
October
Forklifts in cold rooms
November
China's forklift market
December
End of Year review