Send this newsletter to an associate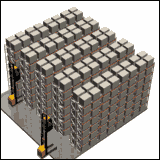 This month's feature article is on the special forklifts that work in very narrow aisles. Forkliftaction.com would like to thank Jungheinrich AG, Raymond Corp, Narrow Aisle Ltd, Yale Europe and Crown Equipment Corp for providing editorial input.

Look out for these upcoming Forkliftaction.com feature articles.
Apr Forklifts and global warming
May Fleet management systems
Jun The global attachments market
Jul Forklifts in harsh applications
Aug Materials handling in Eastern Europe
Sep Engines and drive trains
Oct Forklifts in cold rooms
Nov China's forklift market
Dec End of year review

The Forkliftaction.com team
Email info@forkliftaction.com for any queries.







Send this newsletter to an associate




Tip off Forkliftaction.com
Do you know something our readers should know? Write to
news@forkliftaction.com
or provide information anonymously
here
.


Jobs
1. Dispatcher - Full time
United States, South Plainfield
2. Service Technician - Full time
United States, South Plainfield
3. Parts Manager - Full time
United States, Greenville, NC
4. Technical Illustrator/Writer - Full time
United States, Summerville, South Carolina
5. Forklift Technician - Full time
United States, Winchester, VA
6. Product Support Specialist - Full time
United States, Irvine, CA




Editorial Calendar 2007
January
Review of 2006
February
US forklift market
March
Turret trucks and order pickers
April
Forklifts and global warming
May
Fleet management systems
June
The global attachments market
July
Forklifts in harsh applications
August
Materials handling in Eastern Europe
September
Engines and drive trains
October
Forklifts in cold rooms
November
China's forklift market
December
End of Year review