Send this newsletter to an associate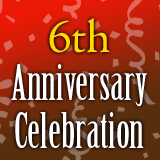 Forkliftaction.com celebrates its sixth anniversary this week and we're proud of it. So, for the occasion we have attempted to satisfy the curiosity of some of our most active members: click here to view our faces and read our little bio's. The new "OUR TEAM" page will be permanently available through the "About Us" page in our website.

Check out the new unit converter we added to our website: click the button in the orange search bar at the top of all web pages and start converting measurement units, currencies and timezones! We hope this new feature is useful to your business.

Email us at info@forkliftaction.com to tell us what you think of our website.








Send this newsletter to an associate





Tip off Forkliftaction.com
Do you know something our readers should know? Write to
news@forkliftaction.com
or provide information anonymously
here
.



Jobs
1. Service Tech - Full time
Hartland / Milwaukee, United States
2. Equipment Sales Representative - Full time
Charleston, SC, United States
3. Service Manager - Full time
Charleston, SC, United States
4. Forklift Road Mechanic - Full time
San Antonio, Texas, United States
5. Battery Service Technician - Full time
Milwaukee, WI, United States
6. Senior Buyer - Full time
Summerville, SC, United States
7. Planner/Scheduler - Full time
Summerville, SC, United States
8. Quality Technician/Auditor - Full time
Summerville, SC, United States
9. Field Service Tech - Full time
Pearl, MS, United States
10. Design Engineer - Full time
Summerville, SC, United States
11. Field Service Engineer - Internal Combustion power - Full time
Lower Midwest, United States





Editorial Calendar
January
Explosion proof forklifts
February
Forklifts in the logging and timber industry
March
Industrial batteries and chargers
April
The forklift market in China
May
Reach stackers
June
Forklift tyres, wheels and castors
July
The German forklift industry
August
Container attachments
September
Truck mounted forklifts
October
Bad vibrations
November
The forklift market in Canada
December
End of year review