Send this newsletter to an associate

Forkliftaction.com helps you plan your advertising by providing a calendar of editorial features appearing in Forkliftaction.com News in the coming months. This week's feature is on the logging and timber industry.
Features planned are:
March: Industrial batteries & chargers
April: The forklift market in China
May: Reach stackers
For the full editorial calendar, click here.

Editorial features are an excellent way for your company to share the spotlight of these features. Feature advertising rates start at USD330! Contact marketing@forkliftaction.com for more information.



The Logging and Timber Industry

The Swedish Forestry Industries Federation asked forest industry consultants Jaako Pöyry to calculate how important the industry was to Sweden and the results were startling. The machines that keep this industry moving have a role to play.
Read more


Forklift tyre manufacturers under pressure
BRISBANE, Australia
The escalating cost of natural rubber is giving forklift tyre manufacturers a headache.
Richard Blacker, of Bearcat Tyres Pty Ltd, Australia, said natural rubber cost about USD0.60 a lb (USD1.32/kg) in January 2005 but now cost USD1 a lb (USD2.20/kg).
He said forklift manufacturers did not understand the cost of tyre production.
"Most forklift manufacturers usually play one major tyre manufacturer against the other to have prices reduced. Once this is achieved, the tyre manufacturer reduces quality to align with the tyre price.
"The forklift manufacturer loses confidence when the tyre does not perform well and will then pay the extra money for a quality product with their original supplier," he said.
Phil Perry, from UK-based Watts Industrial Tyres, said a "panic buying" reaction among natural rubber users was common when commodity prices began trading out of norm.
"Most manufacturers forward buy to ease the effect of unusual trading but this has been difficult recently. Any unusual increase has an effect on company margins because it is difficult to gauge long-term pricing. In a market that is used to price changes annually, it is difficult to then move to a monthly change.
"Forklift manufacturers forward buy their OE requirements so any change [for them] will come later," Perry said.
Daniel Hanssens, founder of Belgian-based OMG forklift importer ACD Handling, said it wasn't just the cost of natural rubber that was increasing but other commodities, like steel and fuel.
"The problem for each manufacturer is to maximise production to reduce the final cost," he said.
Dan Zielinski, from the US-based Rubber Manufacturers' Association, said tyre manufacturers were concerned with price increases of all rubber materials.
The price of synthetic rubber had gone up, as had fuel, an ingredient in tyre manufacturing.
Tim Hubbert, from the US Industrial Truck Association's tyre, wheel & casters committee, said unfortunately the rising rubber pricing would continue and industrial tyre manufacturers would have to institute price increases.
Rubber Trade Association of Europe secretary-general Howard Evans said the market was now "volatile and erratic".
"Rubber prices have risen around 60 per cent during 2005 and we have seen a further rise of 17 per cent since January 1, 2006. Also, there has been increased risk of interruption of supply at some origins accompanying the price rise," he said.
Kelvin Banks, director of Australian forklift tyre specialist Solid Service, said the price of natural rubber for Malaysian grade SMR 20 achieved a record high of USD1.943 a kg on February 7.
He said China's increasing demand for raw materials put pressure on the prices of natural rubber and steel.

Exclusive: Interview with ranking list author


STUTTGART, Germany
Wolfgang Degenhard, editor of
dhf-intralogistik magazine
, has helped Dr Walter Rödig put together the annual world ranking list of forklift manufacturers since 1999 (
Forkliftaction.com News #242
). This year, Rödig retired from his work of compiling the list and Degenhard is now the single author of the list. Forkliftaction.com News will publish the English version of the list and an exclusive interview with Degenhard next month. Here's a special preview of our interview with him.
Forkliftaction.com News:
Mr Degenhard, how many world ranking lists of forklift manufacturers are there and what sets your list apart?
Degenhard:
In Germany there is another world ranking list in the
Logistic Journal
. They started when Dr. Rödig went to the
dhf-intralogistik
magazine. Another magazine I heard about, called
Material Handling
, published in the USA, produces a list too. Our list is different because our world ranking list table shows the individual companies in descending order in terms of sales of materials handling vehicles for the last five years. We show the sales and the number of employees of the industrial truck division and of the corporation for the last five years. The main table not only includes the euro values but also the value date values. The values in euro alone would reflect an inaccurate picture due to the variable exchange rate. We have seven diagrams representing the situation on the industrial truck market. They show the break down of deliveries according to continents, industrialised countries, international associations and model types.
Forkliftaction.com News:
Do you have any comments about the newcomers to the list for 2004/05?
Degenhard:
Anhui Heli and Hangzhou are Chinese companies, which grew rapidly in the last few years. So we in Europe had to learn that these companies exist. I think, they are good manufacturers, but regarding special innovations, own components and - very important - a good global service, they need some years to get this under control. Founded in 1998, Combilift is a very new company in Ireland. The Irish have managed to increase their turnover almost fivefold within five years. In the year under review alone, Combilift achieved an increase in sales of over 57 per cent compared to the prior year.
Forkliftaction.com News:
How do you see the top 10 rankings changing in five years' time?
Degenhard:
That's a hard question and five years is a long time. A lot of things can happen in our global economy. At the moment the "dark clouds over the economy" have parted in many areas. Many companies are speaking positively about themselves, especially after CeMAT 2005 in Hannover. But the risks cannot be overlooked. Competition among the manufacturers is set to intensify. Therefore, the orientation of the large-scale companies towards the supplier system and the service provider will continue to grow. Jungheinrich is a good example.
Be sure to look out for the full interview next month!

Lost UK forklift found down under
LEICESTERSHIRE, United Kingdom
Almost a year after being stolen in the United Kingdom, an agricultural company's tractor and forklift have turned up at an Australian dealership.
The vehicles, worth GBP120,000 (USD209,100), were stolen from Sharmans Agricultural Ltd in Leicester Road, Melton Mowbray, in March 2005,
Farmers Weekly
reported.
Sharmans managing director Roger Barclay said he heard from Staffordshire police about the vehicles' existence in Australia.
"We heard nothing about them until last week," Barclay said, adding that other Staffordshire vehicles were found in the dealership, too.
Staff at Sharmans did not have further details when contacted by Forkliftaction.com News.

| | | | | | |
| --- | --- | --- | --- | --- | --- |
| Yale | GLC40AF | 2000 | United States | USD 12075 | Details |
| Caterpillar | DP40 | 1999 | Germany | EUR 12000 | Details |
| Linde | H 16 D | 1996 | United Kingdom | GBP 5250 | Details |
| Raymond | EASI R45TT | 1999 | Australia | AUD 16500 | Details |
| Raymond | OPC30TT | 1999 | United States | USD 8666 | Details |
| Hyster | H50H | - | Australia | AUD 8800 | Details |
| Traverse | 8042 | 1999 | United States | USD 31000 | Details |
| Caterpillar | EP25K | 2001 | Netherlands | EUR 18500 | Details |
| Komatsu | FB30SH-4-31599A | 1997 | United States | USD 11900 | Details |
| Skytrak | 6042T | 2004 | United States | USD 54000 | Details |
| Caterpillar | GP40 | 1999 | Canada | USD 13900 | Details |
| Raymond | OPC30TT | 1999 | United States | USD 9116 | Details |
| Hyster | H80XL2BCS | 1996 | United States | USD 6750 | Details |
| Hyster | E50XM2 | 2001 | New Zealand | NZD 35000 | Details |
and thousands more...
Click here
to include your used forklifts, stackers, telehandlers, container handlers, attachments etc.

New forklift models launched in Australia


MELBOURNE, Australia
TCM has released new forklift models and a new series of three-wheel battery electric forklifts in Australia, just before an official world launch in Thailand next month.
At an event hosted by its Australian distributor, NTP Forklifts Australia, in Melbourne, TCM introduced the iNOMA four-wheel counterbalance IC forklifts and the FTB 7 Series of three-wheel battery electric forklifts.
The iNOMA (an acronym from the words innovative machine) range has two-tonne, 2.5-tonne and three-tonne models. New features include the Nissan K-Series engine, a 45 per cent roomier interior, an auto knob steering return system, a wider mast, an anti-roll mechanism, detachable side covers and other design elements, NTP said.
The FTB 7 Series forklifts have a significantly improved turning radius and battery power provides eight hours of continuous operation, says NTP Forklifts Australia marketing manager Tom Naffine. The series comprises the FTB16 (maximum capacity 1,600kg) and the FTB18 (maximum capacity 1,750kg).
TCM boasts the forklifts' three AC motors deliver "high performance, regenerative braking and simple maintenance".
The forklifts replace the FTB 6 Series, which was introduced to the European market around five years ago, Naffine said. The 6 Series was manufactured in Belgium but the new series is produced at TCM's main plant in Shiga, Japan.
TCM general manager of marketing Masa-aki Sumida said company intelligence suggested the Australian market for electric forklifts grew 40 per cent in 2005. The three-wheel electric forklift market increased almost 30 per cent.



RAEDER-VOGEL and MARZIN at Manutention 2006

We will exhibit at
Manutention
in
Hall 6, booth no. 6 G 150
together with our French partner
Ets. MARZIN www.marzin.com.
The highlights of our exhibition programme are:
- wheels, castors and press-on tyres for industrial trucks
- electrically-conductive wheels and castors
- special patented wheel materials:
VULKOLLAN®-ELF, TRACTOTHAN®, VULKOSOFT®, TRACTOSOFT®
- heavy-duty wheels and castors.
We are looking forward to seeing you in Paris!
Contact:
RAEDER-VOGEL RAEDER- UND ROLLENFABRIK GMBH & CO. KG
Bernd Dolk
Sperlsdeicher Weg 19–23, 21109 Hamburg, Germany
Phone:
+49 40 75499172 /
Fax:
+49 40 75499253
E-Mail: bernd.dolk@raedervogel.de
Internet: www.raedervogel.de

Heli base home to big industry
ANHUI, China
The home of China's biggest forklift manufacturer, Hefei City in Anhui province, will invest RMB120 billion (USD14.9 billion) to develop local industries.
NewsTrak Daily
reported Hefei, where Anhui Heli Forklift Truck Group Corp is based, has named 2006 the year of industry and, over the next five years intends to spend RMB120 billion in industry development.
Hefei will support 10 major national "high-technology industry projects" and more than 20 private enterprises that have more than RMB100 million (USD12.4 million) in sales a year.
Hefei is focusing on eight major industries: equipment and facility manufacturing; household electronics; automobiles; petrochemical and tyres; food and agricultural product processing; pharmaceuticals and biotechnology; new materials; electronics and software.
Foreign capital is expected to speed development of these major industries and the report says Continental Group of Germany will invest EUR600 million (USD714 million) in a tyre project.


Surprise call for forklift repairs


WAREGEM, Belgium
A TVH Group dispatcher got a surprise when he answered a call to repair a forklift's leaking water pump.
Martin Ovaere, 44, who has been head of TVH's service & repair division for more than 15 years, had not expected to see a Clark 1943 forklift.
"Never in the history of TVH has such an old truck been repaired … a unique event," he said.
The TVH team succeeded in repairing the aged forklift, which has a six cylinder engine and a three-ton capacity.
The truck belonged to a company selling fertilisers to local farmers.
TVH's service & repair division currently has 120 employees. Fifty technicians are based in Waregem's workshops in Belgium and 44 are on-the-road technicians.
On average, they repair more than 150 forklifts, scissor lifts and cherry pickers each day.


Jamco - Forklifts For Sale (Toyota, Hyster, Yale, Cat's) & more

Jamco
– Wholesalers to North America - Used Forklifts, Battery Chargers, Pallet Trucks and more. All forklifts get thorough inspection of major components & are stored in our clean, heated warehouses.
Contact us to be added to our "
New Arrivals
" listings.
Email us info@jamco1.com.
View our late model Toyota LPG's and Electrics, plus others at our
Forkliftaction.com ShopFront
. Click the '
Used Equipment
' tab.
www.jamco1.com


2005 a strong year for Konecranes
HYVINKÄÄ, Finland
KCI Konecranes experienced a strong year in 2005 with group total orders growing 44 per cent to EUR1,061.2 million (USD1,263.4 million).
Orders received grew in all business areas and 30 per cent of the growth was organic.
The strongest organic growth occurred in America, Australia and the Nordic Europe. Growth in other markets was attributed to acquisitions made in 2004 (
Forkliftaction.com News #174
), (
Forkliftaction.com News #191
).
At year end, the value of the group's total order backlog was EUR432.1 million (USD514.5 million), up 44.6 per cent from 2004. Fourth quarter orders of EUR287 million (USD341.7 million) set a new record, the group said in a statement.
Group sales were EUR970.8 million (USD1,155.8 million), increasing 33.4 per cent from 2004 sales of EUR728 million (USD866.8 million).
The group's operating income increased 57.6 per cent to EUR49.3 million (USD58.7 million). During the fourth quarter, costs for closing the group's special crane manufacturing operations in Germany amounted to EUR2.6 million (USD3.1 million). Taking that into account, the 41.4 per cent growth in operating income was EUR15.2 million (USD18.1 million).
Konecranes said its strong new equipment order backlog, growing maintenance services, and latest acquisition, gave it a "good starting point" for 2006.
"Based on the current market outlook, total sales growth is expected to exceed 20 per cent. Selected acquisitions will be considered in the future," the group said.
The acquisition of R Stahl Fördertechnik is expected to add EUR120 (USD142.9 million) to EUR130 million (USD154.8 million) to the group's sales in its standard lifting equipment business area.

"Faultless" 7-year-old spurs new fleet


MELBOURNE, Australia
The reliability of a seven-year-old forklift has prompted an Australian container logistics company to buy a fleet of eight new Toyota trucks.
Precision Container Services Pty Ltd and its sister business Precision Express Freighters Pty Ltd, have ordered eight new 2.4 tonne Toyota 7FG25 forklifts, four to be based in Melbourne and the rest in Sydney.
It was the experience Melbourne-based Precision Container Services had with a single rented Toyota forklift combined with the equipment cost that spurred the purchase, Precision Container Services operations manager Paul Heenan said.
"We had one Toyota machine, which we used as a paper clamp, carrying rolls of newsprint. In seven years that machine had never had a breakdown.
"That experience led us to Toyota and, when we did the figures, we realized we could buy new forklifts for what we were paying in rental with our previous brand," he said.
Four Toyota forklifts replaced Precision Container Services' Clark forklifts, which were used to load and unload containers.

Movers & Shakers

IRVINE, CA, United States
Brett Wood
has been appointed Toyota Material Handling USA Inc (TMHU) vice president of marketing, product planning & dealer development. Wood has been with TMHU for 16 years and recently served as national product development, strategic planning & marketing services manager. He is a member of Modern Materials Handling's editorial advisory board and the Electric Power Research Institute's industry advisory council. He has a mechanical engineering degree from Cornell University, New York.
SYDNEY, Australia
Manitou Australia Pty Ltd has appointed
Lee Falconer
as territory dealer manager. Falconer was formerly Queensland Manitou product manager for NTP Forklifts Australia, the Manitou industrial dealer for Queensland, New South Wales, Victoria, Tasmania and South Australia. He will now support and expand Manitou's agricultural dealers and "other specific duties".
QUEENSLAND, Australia
Mike Heidemann
is NTP Forklifts Australia's new Manitou product manager for Queensland. He is NTP's former service manager, having had a 30-year association with Manitou through various companies, the most recent being Forklift Sales and Rental in Sydney.


Send this newsletter to an associate

EV Alert - New Cost effective Safety systems for Forklifts and other Heavy Vehicles

EV Alert
started out as a single product 20 years ago for emergency services. It has been developed over the past three years into a range of units that cross multiple industries. There seems to be no end to what
EV Alert
&
EV Fork
can do in an industrial situation to assist with safety between forklifts, pedestrians and other fixed & moving plant and equipment.
Click here for the full text of this release, including pictures.

SVETRUCK LOGSTACKER type TMF - Heavy duty performance Logstacker

SVETRUCK AB
is one of the leading forklift truck manufacturers within the 10 - 52 ton range.
Svetruck
manufactures
forklifts,
Container handlers
and
LOGSTACKERS
. The
SVETRUCK LOGSTACKER - TMF
is a heavy duty high performance Log stacker with proven capabilities as easy handling, extremely good drivers comfort, high reliability, easy and cheap maintenance and high capacity.
Click here for the full text of this release, including pictures.

Superior Fabrication providing specialized masts for wheel loaders in the Canadian lumber industry

Superior Fabrication
has been providing specialized masts for wheel loaders used in the Canadian lumber industry. There appears to be an emerging market for this type of heavy-duty material handling vehicle as
Superior Fabrication
develops a third generation mast designed specifically to fill the need.
Superior Fabrication
has designed and manufactured masts for the Rough Terrain Forklift market since the early 1980s.
Click here for the full text of this release, including pictures.

Quick transport of long material through narrow aisles

Compact fourway side loader for loads up to 3,000 kg improves the storage capability and reduces costs. An outstanding feature of the new
Hubtex
series
3040 side loaders
is the possibility of using them in three different ways: as fourway narrow aisle-side loader, as side loader for transporting long loads or as conventional front loader for pallets and block stacking up to 3000 kg.
Click here for the full text of this release, including pictures.








Jobs
1. Technical Support Representative - Full time
Summerville, SC, United States
2. Controller/ CPA/ Accounting Manager - Full time
Oklahoma City, United States
3. Field Technician or Shop - Full time
Portland, Oregon or Southern Oregon, United States
4. Service Manager - Full time
Lubbock, Tx, United States
5. Journeyman Mechanics & Inside Mechanics - Full time
Chicago, United States
6. Business Development Representative - Major Accounts - Full time
Greene, United States
7. NUMMI Fleet Site Manager - Full time
Fremont, CA, United States
8. Sales Manager China - Full time
Xiamen, China
9. Design Manager - Full time
Xiamen, China
10. Production Manager - Full time
Xiamen, China
11. Dealership Sales Manager - Full time
New England Region (NH, MA, CT, VT, ME), United States


Fast Facts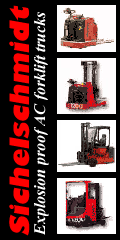 Editorial Calendar
January
Explosion proof forklifts
February
Forklifts in the logging and timber industry
March
Industrial batteries and chargers
April
The forklift market in China
May
Reach stackers
June
Forklift tyres, wheels and castors
July
The German forklift industry
August
Container attachments
September
Truck mounted forklifts
October
Engines and drive trains
November
The forklift market in Canada
December
End of year review