Send this newsletter to an associate

This week, in Forkliftaction.com News's industry profile, we speak to a very special person from the UK. Former BT-Rolatruc national resale manager James Brindley, has retired but he still finds time for forklifts. The enthusiastic engineer can be found in his workshop these days, lovingly restoring old machines for the forklift museum he opened in Ripley, Derbyshire, in 2004. We hope you enjoy reading his profile as much as we enjoyed putting it together.

If you know someone whom you think should be in our industry profiles, email us at info@forkliftaction.com.




Port operator and Kalmar to semi-automate terminal


STOCKHOLM, Sweden
Port of Hamburg's biggest container terminal operator, HHLA, is working with Kalmar Industries to convert its Container Terminal Burchardkai facility to a semi-automated operation.
In phase one, Kalmar will equip the terminal with 15 automatic stacking cranes (ASCs) with automation and control systems. The first cranes will arrive at the start of 2007.
HHLA intends to increase the terminal's throughput to 5.2 million TEUs by reengineering the operation and converting the main part of the conventional straddle carrier container storage area to an ASC system by 2015, Kalmar said.
Burchardkai terminal handled 2.7 million TEUs last year.
The contract includes an option for an additional 75 ASCs. New equipment is expected as the project develops.
Container Terminal Buchardkai managing director Christian Blauert said Kalmar had been a long-term HHLA partner.
"It makes life much easier for us to deal with one responsible supplier," he said.
Jorma Tirkkonen, president of Kalmar intelligence & automation, said: "Automation will be a solution for many terminals looking for ways to improve capacity and productivity in a safe, environmentally friendly way." Kalmar did not disclose the value of the contract.

Compact machines debut in Las Vegas


McCONNELLSBURG, PA, United States
JLG Industries unveiled its new line of compact telehandlers to the North American market at the World of Concrete trade show in Las Vegas this week.
The G5-19A and G6-23 A, manufactured at the Maasmechelen, Belgium, plant, were derived from JLG's models 266 and 307 that are marketed in Europe, JLG marketing director Dave Baxter said.
Baxter said the telehandlers had been well received at the trade show. "It was the largest level of inquiry of any product JLG displayed."
Model G5-19A has a maximum capacity of 5,000lbs (2,268kg) while model G6-23A has a maximum capacity of 6,600lbs (2,994kg).
The model on display, G5-19A, has a lifting height up to 19 feet (5.79 metres) and a forward reach of 10 feet 4 inches (3.15 metres). It is powered by a 100hp Deutz diesel engine and has four-wheel drive.
Its features include a cab design for improved operator vision with 140-degree carriage rotation and a mechanical switch that enables changes from forks to other attachments.
It has three steering modes – four-wheel steering used for circle steer, crab steer or the machine can be steered with the front-wheel steering.
The machines will next be seen at the American Rental Association's
The Rental Show
in Orlando, Florida, from February 6 to February 9.


Linde buys gas, sells forklift business?
WIESBADEN, Germany
After months of speculation, Linde AG has confirmed that it has made an all-cash bid for British gas group BOC Group plc (
Forkliftaction.com News #224
).
Dow Jones International News
reported BOC shares surged 21 per cent to GBP13.94 (USD24.91) after the UK company said it had rejected an unsolicited approach from Linde.
BOC said it had turned down the offer because it failed to value fully BOC's growth prospects. It did not say how much Linde had bid but that it was subject to several conditions.
In a later statement, Linde emphasised that its all-cash offer for BOC at GBP15 (USD26.81) a share was a friendly approach, noting that its gas & engineering arm and BOC complemented each other in terms of "products and regions".
An analyst said Linde's approach to BOC was a "decent strategic move" and the combination of the two companies could create the world's biggest industrial gases company.
"They would potentially be able to use Linde's cash flow in Germany to expand the industrial gas businesses in Asia, where BOC has a strong position," the analyst said.
Linde said in its statement that its banks were "highly confident" that financing for a possible acquisition could be arranged quickly.
Breaking News
A
Financial Times Deutschland
report says Linde AG may consider selling its forklift business to help finance a possible acquisition of BOC. The report cites unidentified sources involved with the takeover plans.
Chief Executive Officer Wolfgang Reitzle will seek potential buyers for the business if Linde's 7.54 billion pounds ($13.5 billion) offer, which BOC has rejected, goes through, the newspaper said. Linde Chief Financial Officer Peter Diesch is in talks with banks this week to discuss possible financing strategies, the FTD reported.
The report said Linde expects to fund 40 per cent of the acquisition with credit and the rest with the sale of new shares and its forklift business.
(source: Bloomberg.com)

| | | | | | |
| --- | --- | --- | --- | --- | --- |
| Caterpillar | TC100D | 1985 | Germany | EUR 3850 | Details |
| Mitsubishi | FGC25KLP | 1999 | United States | USD 12450 | Details |
| Still | EGD-S 16 | 2001 | Germany | EUR 2850 | Details |
| TCM | 43G 00429 | 2004 | Turkey | EUR 29000 | Details |
| Komatsu | FB25SH-4 | 1997 | United States | USD 10900 | Details |
| Toyota | 7FGCU30 | 2000 | United States | USD 7900 | Details |
| Caterpillar | GP40K | 2001 | United States | USD 22000 | Details |
| Nissan | CPJO2A25PV | 1998 | United States | USD 10995 | Details |
| Hyster | H80XL | 1998 | Canada | CAD 22900 | Details |
| MIC | QX25L-5E | 1997 | France | EUR 7800 | Details |
| Linde | T 20 | 2000 | Germany | EUR 1700 | Details |
| Gradall | 534D642 | 1998 | United States | USD 31500 | Details |
| Crown | ESR 4000 | 2000 | Germany | EUR 3650 | Details |
| OMG | 320KN | 2000 | Germany | EUR 770 | Details |
and thousands more...
Click here
to include your used forklifts, stackers, telehandlers, container handlers, attachments etc.

SMH moves to double-sized HQ


OLATHE, KS, United States
TVH Group's US division, Systems Material Handling Co (SMH), has moved to a new Kansas headquarters double its previous size.
Its new headquarters, at 16355 South Lone Elm Road, in Olathe, Kansas, is two miles from the previous location. The new SMH building totals 275,000 square feet (25,548 square metres), of which 50,000 square feet (4,645 square metres) is offices and 225,000 square feet (20,903 square metres) comprises the warehouse.
SMH has evolved from a company with limited products to a "one-stop shop" since it was acquired by TVH in 2003, a TVH statement said.
TVH remains a wholly family-run business. Founder Pascal Vanhalst is responsible for management of the forklift division while the two daughters of co-founder Paul Thermote run the forklift parts business.
Ann Thermote and her husband, Bernard De Meester, manage TVH forklift parts while Els Thermote and her husband, Laurent Vannest, manage SMH.


Briefs

Police appeal for assistance
SYDNEY, Australia
New South Wales police are seeking help on an attempted theft of a forklift at Darling Harbour, Sydney, last weekend.
Five men stole a forklift from a car park and drove it onto the light rail platform at Darling Harbour around 4am on Saturday, a police spokesperson said.
The men fled after the forklift rolled off the platform onto the track. Anyone with information should phone the City Commuter Crime Unit on +612 9218 3749 or Crime Stoppers on 1800 333 000.
Jining plant up and running
TOKYO, Japan
Komatsu Forklifts' new plant in Jining, Shandong province, is in full swing, producing 2.0 ton and 3.0 ton IC forklifts for the Chinese market.
The plant targets a 1,000-unit production for 2006 and expects production to grow to 3,500 units by 2008.
KCI gains new foothold
HYVINKÄÄ, Finland
APM Terminals, the world's third largest container terminal operator, has ordered four KCI Konecranes rubber tyred gantry cranes (RTGs) for its Yokohama container terminal in Japan.
The 16-wheel all-electric RTGs have 50 ton lifting capacities and can stack containers one-over-five high and six-plus-truck-lanes wide.
It is KCI's first order for a Japanese port terminal. Delivery is expected in August 2006.

First Hyster for Columbia Containers


VANCOUVER, Canada
Columbia Containers Ltd, an agricultural transload facility based at the Port of Vancouver, has received its first Hyster laden container handler.
The Hyster H1150HD-CH, to be commissioned on Canada's west coast , has a five-high stacking capability and a Cummins QSM-11, 330HP engine.
The container handler will be used to load and off load laden containers on the terminal and for storage in the yard up to five high.
Together with Columbia's fleet of older Taylor laden and empty container handlers, the H1150 is expected to increase productivity at the facility, said company president Randy Ferrario.



Forklifts in the logging and timber industry

Next month, February 16, Forkliftaction.com news looks at the forklifts and attachments used in the logging and timber industry.
Feature
your product, your brand
or
your company
in this special newsletter!
For more information, contact the marketing team:
Email: marketing@forkliftaction.com
Phone:
+61 7 3369 9090
OR Fax:
+61 7 3369 9096.
Other upcoming features:
March -
Industrial batteries & chargers
April -
Chinese forklift market
Click here for the Editorial Calendar 2006

Ten years for gun thief?


LEHI, UT, United States
A man who used a forklift to steal a safe full of guns has pleaded guilty in the US District Court.
Deseret Morning News
reported that Ryan Ferguson, 30, entered a guilty plea to one charge of possessing a firearm by a convicted felon.
He faces the possibility of 10 years in a federal prison when sentenced on April 3. His plea bargain spared him the possibility of 20 years in jail.
Lehi police said Ferguson stole a Utah Department of Transportation forklift, which he used to ram through the wall of a heating and cooling company. He then used the forklift to carry a safe containing 26 firearms (
Forkliftaction.com News #230
).
US District Court Judge Dee Benson asked him: "Why did you need 26 guns?", but Ferguson's defence attorney stopped him before he could answer.
She was concerned his answer would affect his sentence.



Send this newsletter to an associate
Freighter's Special


GREENVILLE, NC, United States
Hyster Company offers the Freighter's Special option, which includes shorter fork tips and a unique bumper profile making loads easier to maneuver inside trailers. In addition, three battery options and two battery compartments are available.
Click here for more information on this product, including pictures.

Meclift Variable Reach Truck ML 1612R

Oy Meclift Ltd
, a Finnish manufacturer of Variable Reach Trucks and Side Reach Stackers, introduced its
Variable Reach Truck ML 1612R
at CeMAT October 2005, in Hannover, Germany. Recent deliveries have been for container stuffing and handling applications in Europe and Africa.
Click here for more information on this product, including pictures.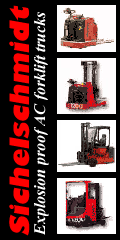 Editorial Calendar
January
Explosion proof forklifts
February
Forklifts in the logging and timber industry
March
Industrial batteries and chargers
April
The forklift market in China
May
Reach stackers
June
Forklift tyres, wheels and castors
July
The German forklift industry
August
Container attachments
September
Truck mounted forklifts
October
Engines and drive trains
November
The forklift market in Canada
December
End of year review