Send this newsletter to an associate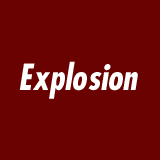 Increased awareness of explosion-proof (EX) forklifts, which occupy a small - but very important - market, is needed to prevent costly workplace accidents from happening. Our special report this month is on explosion-proof forklifts. Members can discuss this month's feature topic in the Discussion Forums. To receive our editorial calendar for 2006, please email news@forkliftaction.com.

We will be turning the spotlight on forklifts used in the logging and timber industry in February. If you have any comments to share about this industry, send the Forkliftaction.com team an email.



Explosion-proof forklifts

The explosion-proof forklift industry may be small but it is essential because it ensures forklifts do not spark disastrous workplace incidents. No organisation that counts the number of explosion-proof (EX) forklifts exists, but an industry source says the EX forklift market is around two per cent of the total forklift market.
by
Christine Liew
Read more


Certifier sets standard for fuel cells in forklifts
NORTHBROOK, IL, United Statesby US correspondent Roger Renstrom
Product safety certifier Underwriters Laboratories Inc (UL), of Northbrook, is creating a standard for an emerging power source for forklifts.
UL Standard 2267 will cover fuel cell power systems for installation in industrial electric trucks.
"Creation of this standard is a clear harbinger of what is to come," said Gus Block, chair of the Fuel Cell Working Group for the Industrial Truck Association (ITA), of Washington, DC, USA, and director of business development for Nuvera Fuel Cells Inc, of Cambridge, Massachusetts, USA.
"At every meeting of the ITA, the subject of fuel cells is definitely high on the agenda," Block said. "Use of fuel cells will cause a fairly significant transformation for the [forklift] industry."
Until now, UL has not addressed standards for any forklift or automotive fuel cell applications. Existing standards cover forklifts with internal combustion (UL 558) or electric battery (UL 583) powered engines.
During 2005, UL circulated an initial ballot in July and closed acceptance of votes on a second ballot in December. While the Standards Technical Panel (STP) for UL 2267 has reached a consensus, "we are currently working through the latest set of comments", said Susan Malohn, UL project manager.
"Once those are reviewed, the standard will probably be revised."
Members of separate STPs on industrial trucks and cleaning machines "will have a chance to change their previous votes in light of the revised requirements before moving forward to publication," Malohn said. No publication date has been set.
The proposal covers self-contained or integrated fuel cell power systems supplying a maximum power of 150 volts and installed in Type E, EE and ES forklifts for low and high-lift uses, guided and automated systems, rough terrain units, cranes and tow tractors. Hydrogen-gas-fuelled systems are included.
UL tests and certifies the safety of products as an independent, not-for-profit organisation.

Report: Thieves exploit hurricanes
NEW YORK, NY, United States
Construction equipment thefts in the US gulf states and surrounding areas rose sharply after Hurricane Katrina and were worse after hurricanes Rita and Wilma, a report says.
The National Equipment Register (NER) report said the number of thefts reported to the national database of equipment theft from the time Hurricane Katrina hit to the end of December was up 22 per cent from the same period in 2004.
NER president David Shillingford said: "In the aftermath of Hurricane Katrina we started to see a trend of greater theft in and around the gulf states and have been tracking this closely.
"Now that so much equipment is in the areas of reconstruction, we are concerned theft will continue to rise. This report is a way of raising awareness and suggesting solutions," he said.
The report explores trends in rental equipment theft, fraud and resale of flood-damaged equipment.
In a case study published in the report, a Mississippi buyer checked whether a piece of equipment offered below market price was stolen by calling the NER. That resulted in an investigation and the recovery of USD350,000 of equipment.
The report is available to law enforcement agencies, NER member insurers, the media and equipment owners. Email
info@NERusa.com
for a copy.


Tsunami memory can't spoil honeymoon


ROCESTER, United Kingdom
A JCB employee and his wife, who survived the tsunami disaster in December 2004, spent their honeymoon at the place they almost died (
Forkliftaction.com News #192
)
Richard Galley, JCB parts & service manager, based in Shanghai, returned to Phuket for a belated honeymoon with his American-born wife Kristin Meredith.
Galley said he and Meredith would have been swept out to sea had they not clung to palm trees.
"We want to spend our honeymoon at the same place because the Thai people are wonderful and, after the tsunami struck, they could not do enough for us," he said.
The couple's holiday was marred when they were catapulted out of their beachfront bungalow by the powerful tidal wave, which engulfed their holiday resort.

| | | | | | |
| --- | --- | --- | --- | --- | --- |
| Amiese | ETV20 | - | Australia | AUD 4000 | Details |
| Skytrak | 6036 | 2000 | United States | USD 38500 | Details |
| Jungheinrich | ETV216 | 1999 | Germany | EUR 4600 | Details |
| Toyota | 6FBRE12 | - | Australia | AUD 14000 | Details |
| Mitsubishi | F17AFG25 | - | Australia | AUD 7000 | Details |
| TCM | FB15H5 | 1994 | Belgium | EUR 6500 | Details |
| Jungheinrich | EKC-A12,5 | 2001 | Netherlands | EUR 2950 | Details |
| Raymond | OPC30TT | 1999 | United States | USD 10117 | Details |
| Kooi | RG4-35-1000 | 2000 | Netherlands | EUR 2350 | Details |
| Still | EGV 14 | 2001 | Germany | EUR 3250 | Details |
| Manitou | M426CP | 1996 | Belgium | EUR 15000 | Details |
| Yale | NR045AC | 1996 | Australia | AUD 10990 | Details |
| Linde | H30D | 1997 | Mexico | USD 10000 | Details |
| Jungheinrich | ETV-Q20 | 1992 | Germany | EUR 5600 | Details |
and thousands more...
Click here
to include your used forklifts, stackers, telehandlers, container handlers, attachments etc.

Briefs

Terex Euro business moved
WESTPORT, CT, United States
The European telehandler business of TerexLift, formerly part of the Terex construction segment, will be part of the Terex aerial work platforms segment, effective first quarter of 2006.
Ronald DeFeo, Terex chairman and CEO, said the changes would ultimately provide a better return to shareholders.
"Genie already manages the North American telehandler product, which has done quite well under its oversight," DeFeo said.
Sichelschmidt sales on the up
WETTER, Germany
German-based explosion-proof forklift manufacturer, Sichelschmidt's forklift sales achieved double digit growth in 2005.
Managing director Ralf Sichelschmidt told Forkliftaction.com News sales in the USA and western Europe increased 10 per cent for fiscal 2005.
The company plans to set up new dealerships in France and Spain this year.

Twenty-six clamps for waterfront warehouse


VANTAA, Finland
Bolzoni Auramo will supply forklift attachments for the "USA's largest single standing waterfront warehouse".
UPM, a leading paper company, will be the main tenant in the 55,000 square metre terminal in Jacksonville, Florida, the Jaxport Talleyrand Marine Terminal.
UPM ordered 18 rotating RA-series paper roll clamps for handling one to two rolls, four LA-series tower roll clamps for handling up to eight rolls at a time and four non-rotating A-NJJ roll clamps for handling one to three rolls.
Delivery is expected to be completed by April. The clamps will be mounted on Hyster and Taylor forklifts.


Your Product in "Product Watch" for USD $165

A photo, a few well considered words and only USD $165
...That's all it takes to make
Your Product
front page news all around the world.
Until 28 February 2006 you can advertise your products in Forkliftaction.com's newsletter and web portal at
half price!
For more information, email
marketing@forkliftaction.com.
Phone: +61 7 3369 9090 or Fax: +61 7 3369 9096
Click here to view Product Watch on the website.


JLG gets government help on key projects


McCONNELLSBURG, PA, United States
In central Pennsylvania, JLG Industries Inc is reopening a plant in Bedford, building a research-and-development (R&D) building in McConnellsburg and boosting operations in Shippensburg.
For the multiple projects, the State of Pennsylvania has offered JLG a financial package totalling USD4.78 million plus the possibility of a USD10.0 million loan through a job bank program.
Over several months, JLG discussed its needs with Governor Edward Rendell, other state officials and three Pennsylvanian economic development agencies. In the state, JLG currently employs 2,000 people and the number could exceed 3,000 in three years.
The Sunnyside Road facility in Bedford will make aerial work platforms, including vertical mast lifts and Tow-Pro towable boom lifts. It will reach full, first-shift production by mid-2006 and eventually employ up to 260 people. New equipment will cost USD1.2 million.
In Bedford, JLG is consolidating manufacturing, sales, marketing, engineering and administrative functions of its commercial solutions group, a strategic unit focusing on supplying lifts for major retail operations.
JLG began manufacturing scissor lifts in the Sunnyside Road plant in 1997 and idled the facility during a 2003 economic downturn. Production moved to Shippensburg.
Changes in McConnellsburg will add 335 jobs. JLG will invest at least USD7.0 million in constructing a 35,000-square-foot building for the R&D unit, spend USD300,000 on new equipment at its existing Fulton County Business Park military rebuild facility and expand its existing McConnellsburg manufacturing facility.
In Shippensburg, JLG plans to invest USD1.8 million for equipment to expand manufacturing operations. JLG expects to create at least 240 new jobs in Shippensburg.
The financial package includes USD2.25 million through the Pennsylvania Industrial Development Authority, USD1.48 million in job creation tax credits, a USD800,000 opportunity grant and USD250,000 in job training assistance.
"The state worked diligently with JLG to help our expansion plans move forward and create additional job opportunities," said Bill Lasky, chairman of McConnellsburg-based JLG.

KCI delivers to first mini mill


HYVINKÄÄ, Finland
KCI Konecranes will supply USD10 million of cranes to the first mini mill to produce exposed automotive grade steel in the USA.
SeverCorr LLC, a joint venture between John Correnti, former Nucor CEO, and Russian-based Severstal Group, will receive 19 SM Spacemaker cranes from May through to July 2006.
SeverCorr president & CEO John Correnti said Konecranes gave the best proposal and will build more than 75 per cent of the new facility's cranes.


Movers & Shakers

WESTPORT, CT, United States
Terex Corporation has appointed
Katia Facchetti
to a newly created position of senior vice president and chief marketing officer. Most recently, Facchetti was president of Fusion5, a marketing innovation consultancy serving major industrial and consumer clients. Before that, Facchetti held senior marketing positions with Nabisco and Kraft/General Foods in consumer and foodservice businesses.
Kevin Barr
has been named Terex Corporation's senior vice president for human resources. He was previously vice president for human resources.
WEST BEND, WI, United States
Gehl Company has appointed
Daniel L Miller
as vice president of manufacturing operations. Miller joined Gehl in October 2001 as director of manufacturing operations. Before joining Gehl, he held a management position at Woods Equipment Company.
CHICAGO, IL, United States
GNB - Motive Power has promoted
Stu Jacover
to the newly created position of director of OEM Sales. Jacover will have direct responsibility for the North American OEM sales organization.


Send this newsletter to an associate

INTRUPA Names New Sales & Marketing Director in Singapore

George Bitar
has been appointed as the new Sales & Marketing Director for
INTRUPA Asia Pacific Pte Ltd.
, based in Singapore.
Bitar
previously managed his own company, Rolotec, based in France, for more than four years before joining TVH Group for the last five years as Business Development Manager in Australia and New Zealand.
Click here for the full text of this release, including pictures.

Sichelschmidt completes reorganization manufacturing facilities

Returning to their core business of designing and building explosion proof forklift equipment,
Sichelschmidt
has completed an extensive reorganization of their manufacturing capabilities.
"The increasing cost of doing business forced us to take these drastic measures"
, Mr. Ralf Sichelschmidt said. Closing the German manufacturing plant and streamlining production in two new locations allows us to remain competitive for years to come. The new production facilities are located near Vienna, Austria and Waalwijk, The Netherlands.
Click here for the full text of this release, including pictures.

Explosion proof industry

Wheels and castors with Electrically Conducting
VULKOLLAN®-(ELF)
treads
RÄDER-VOGEL
offers wheels and castors with the patented material
VULKOLLAN®-ELF
for industrial trucks, materials handling and mechanical engineering applications in plants with a high risk of fire and explosion, e.g. those involving the production, and storage of chemicals, cosmetics, and pyrotechnics as well as paint and lacquer manufacturing and the petroleum and the automotive industries.
Click here for the full text of this release, including pictures.

VULKOLLAN® C (Electrically Conductive): A NEW Vulkoprin Product

Vulkoprin
has manufactured polyurethane elastomere
Vulkollan®
since 1964 and is known for high-quality wheels, castors, rollers, tyres and technical parts.
Vulkollan® C
(Conductive)
is a new product in the
Vulkoprin
range of materials. Thanks to an intensive research
Vulkoprin
has succeeded in developing a type of
Vulkollan®
which is electrically conductive.
Click here for the full text of this release, including pictures.



Cascade Introduces High-Visibility 45G, 55G and 65G Rotator

Portland, OR, USA
--
Cascade Corporation
introduces the new
High-Visibility G-Series Rotator
, with capacities of 4,500, 5,500 and 6,500 lbs. This new rotator design includes several excellent new features, such as a large visibility hole included as a standard feature!
Click here for more information on this product, including pictures.

Meclift Variable Reach Truck ML 1612R
Oy Meclift Ltd
, a Finnish manufacturer of Variable Reach Trucks and Side Reach Stackers, introduced its
Variable Reach Truck ML 1612R
at CeMAT October 2005, in Hannover, Germany. Recent deliveries have been for container stuffing and handling applications in Europe and Africa.
Click here for more information on this product, including pictures.

EV Alert's NEW cost effective safety systems

EV Alert
started out as a single product 20 years ago for emergency services. It has been developed over the past three years into a range of units that cross multiple industries. There seems to be no end to what
EV Alert
&
EV Fork
can do in an industrial situation to assist with safety between forklifts, pedestrians and other fixed & moving plant and equipment.
Click here for more information on this product, including pictures.

Driver ID

The Driver ID is a key pad entry system to forklifts. Whilst key pad entry is not unique to the market the Driver ID is unique as it prompts the first driver that keys on at the start of a shift to complete and log a full start up safety check. The Driver ID goes through the check list and the driver answers "YES" or "NO" to each question, should all the answers be "YES" the Driver ID will allow the forklift to be started.
Click here for more information on this product, including pictures.

Advertise here

A photo, a little text and USD $165
...That's all it takes to promote your product to thousands of OEMs, distributors, fleet managers and end users all around the world. Product Watch is the ideal way to drive traffic to your website. Show your product in the newsletter and in the Forkliftaction.com portal. This half price offer ends 28 February 2006.
Contact us
for more information.
Click here to view Product Watch on the website.
Click here for more information on this product, including pictures.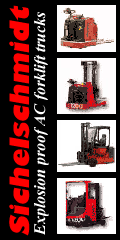 Jobs
1. Equipment Rental Coordinator - Full time
Schenectady, New York, United States
2. Product Support Sales Representative - Full time
Binghamton, New York, United States
3. Equipment Sales - Full time
Binghamton, New York, United States
4. Regional Sales Manager - Sales & Parts - Full time
Houston, United States
5. Sales Executive - Full time
Sharjah, United Arab Emirates
6. Forklift Mechanic - Full time
Hoschton, Georgia, United States
7. Senior Cost Accountant - Full time
Summerville, SC, United States
8. Forklift and Allied Sales - Full time
Greensboro, United States
9. Field Service Technician - Full time
Summerville, SC, United States
10. Used Equipment Manager - Full time
Nashville, TN, United States



Editorial Calendar
January
Explosion proof forklifts
February
Forklifts in the logging and timber industry
March
Industrial batteries and chargers
April
The forklift market in China
May
Reach stackers
June
Forklift tyres, wheels and castors
July
The German forklift industry
August
Container attachments
September
Truck mounted forklifts
October
Engines and drive trains
November
The forklift market in Canada
December
End of year review