Send this newsletter to an associate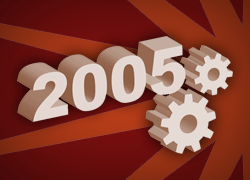 2005 has come to an end and the Forkliftaction.com team wishes all readers a successful 2006.

2005 was an eventful year for Forkliftaction.com.
In March, we published our 200th newsletter, in May we launched the Marketplace, in August the newsletter received a face-lift and last month the web portal was given a new and modern look. We added new content, columns, features and more.

Thank you to all members who contributed to this exciting year by sending news, by participating in our popular Discussion Forums and by using the Forkliftaction.com portal to grow their business. Useful leads and helpful information are contributed each day and many lively forum discussions have engaged others to join this global community.

Each week 120 industry professionals register with Forkliftaction.com to subscribe to our weekly newsletter and to become part of our community.

The used equipment Marketplace is growing rapidly. Thank you to all our participating dealers for your support and feedback. We aspire to become the one-stop shop for used materials handling equipment on the internet.

If you missed it, read our special end-of-the-year review of some of the top forklift manufacturers, which was published in the last newsletter for 2005.

In today's issue, we summarize the news we covered in 2005. For each month we highlight the interesting headlines. Click on the stories to read more.
The editorial team would like to thank all industry contacts for working with us to make our news relevant and timely for our readers. Keep sending your press releases to news@forkliftaction.com.

Finally we thank you for your kind and helpful messages throughout the past year and we invite you to keep telling us your comments and ideas. We want to hear from you!
Write to info@forkliftaction.com, phone us on +61 7 3369 9090 or fax to +61 7 3369 9096.

Happy New Year!
The Forkliftaction.com team
info@forkliftaction.com




Summary January 2005
Materials handling companies worldwide have rallied around tsunami victims with donations of cash and equipment.
Read more
LEXINGTON, KY, United States
The US Department of Commerce (DOC) has charged Clark Material Handling Company executive Robert Quinn with breaching a trade embargo with Iran.
Read more
WESTPORT, CT, United States
Equipment manufacturing powerhouse Terex Corporation plans to restate its 2001-2003 financial statements following an examination of intercompany transactions and apparent account imbalances, the Westport-based firm said in a January 13 filing with the US Securities and Exchange Commission.
Read more
GREENVILLE, NC, United States
Hyster Company set its aim on the global marketplace and turned a few heads at ProMat 2005 with the introduction of its Fortis line of forklifts.
Read more

Summary February 2005 TOKYO, Japan
The global release of Komatsu Forklift Co's new AX50/BX50 forklift this week marks the first time the company has simultaneously released a product at home and overseas.
Read more
OIRSCHOT, Netherlands
Forklift drivers can kiss neck aches goodbye, thanks to Jungheinrich AG's new rotating cabin forklift.
Read more
MISSISSAUGA, Canada
Hydrogenics Corporation and General Motors (GM) Canada are partnering up to develop the commercial viability of hydrogen-powered industrial vehicles.
Read more
BRUSSELS, Belgium
Toyota Industrial Equipment is now offering explosion-proof forklifts as a factory option.
Read more

Summary March 2005 BRUSSELS, Belgium
The European Commission (EC) has imposed a provisional anti-dumping duty on imports of hand pallet trucks and their essential parts from the People's Republic of China (PRC).
Read more
SOFIA, Bulgaria
The founder of what was once the largest per capita forklift manufacturer in the world has died.
Read more
WEST BENGAL, India
Macneill Engineering Ltd has secured a RS83.0 million (USD1.9 million) order for 54 of its new, battery-powered forklifts from Larsen & Toubro (L&T) for use by the Indian Oil Corporation at its purified terephthallic acid (PTA) plant at Panipat.
Read more
SYDNEY, Australia
The Australian Industrial Truck Association (AITA) council discussed adopting harmonised international standards for materials handling equipment at a recent meeting.
Read more

Summary April 2005 STOCKHOLM, Sweden
Toyota Material Handling Company (TMHC) and BT Group are integrating to create a single global organisation, the Toyota Material Handling Group (TMHG).
Read more
SEOUL, Korea, South
Daewoo Heavy Industries and Machinery Ltd will use a Turkish production line to manufacture forklifts for the Middle East and Eastern Europe.
Read more
HAMMONTON, NJ, United States
A South Jersey company is the first customer for Airtrax's Sidewinder ATX-3000, which the company says is the world's first omnidirectional forklift.
Read more
Redbank, NC, United States
Irish multi-directional forklift manufacturer Combilift has opened its first overseas, wholly-owned subsidiary company in Greensboro, North Carolina.
Read more

Summary May 2005 CORNWALL, United Kingdom
This year's Fork Lift Truck Association (FLTA) Lifetime Achievement Award winner will head Mitsubishi Forklift Trucks' new company.
Read more
TOKYO, Japan
Hitachi Construction Machinery Co Ltd (HCM) will turn Japanese forklift and wheel loader maker TCM Corp into a consolidated subsidiary.
Read more
SEOUL, Korea, South
Doosan Heavy Industries Inc has acquired a 51 per cent controlling stake in forklift manufacturer Daewoo Heavy Industries & Machinery (DHI) for 1.69 trillion won (USD1.7 billion).
Read more
ASHBURTON, New Zealand
A forklift has been used to rescue a teenager trapped in an avalanche of peas.
Read more

Summary June 2005 VANCOUVER, Canada
The British Columbia Workers' Compensation Board is reviewing the use of seat belts on forklifts after an accident in which a forklift operator and his forklift fell off a barge into the frigid waters of Vancouver's port
Read more
MARKARYD, Sweden
SMV UK Ltd, an SMV Konecranes dealer, will deliver two 60-tonne forklifts with 1,200mm load centres to MultiServ's Corus Steel facility in Aldwarke, Rotherham.
Read more
WAREGEM, Belgium
The TVH group has published a book about the history of forklifts.
Read more
MIDDLESEX COUNTY, NJ, United States
A former mechanic for a forklift rental company, who was disabled in 2000 after being exposed to a toxic pesticide while repairing a forklift, has been awarded USD46.7 million by a US Superior Court jury.
Read more

| | | | | | |
| --- | --- | --- | --- | --- | --- |
| Linde | R 14 | 1994 | Germany | EUR 1450 | Details |
| Linde | H 35 T-04 | 2000 | Germany | EUR 8600 | Details |
| Caterpillar | H45T | 1999 | United States | USD 19500 | Details |
| Still | R 60-35 | 1998 | Germany | EUR 7550 | Details |
| Meyer | 50205K | 2002 | Netherlands | EUR 2500 | Details |
| Nissan | WGF03A40U | 2000 | Belgium | EUR 15500 | Details |
| Caterpillar | TH103 | 1999 | United States | USD 42000 | Details |
| Hyster | N45XMR | 1997 | Australia | AUD 16000 | Details |
| Nissan | CWP02L25S | 1998 | United States | USD 8250 | Details |
| Toyota | 5FG25 | 1991 | Australia | AUD 13000 | Details |
| Nissan | H01A15 | 1989 | New Zealand | AUD 8420 | Details |
| Raymond | OPC30TT | 1999 | United States | USD 9056 | Details |
| Toyota | 5FGL20 | - | Australia | AUD 9000 | Details |
| Taylor | TCO300S | 2000 | United States | USD 44900 | Details |
and thousands more...
Click here
to include your used forklifts, stackers, telehandlers, container handlers, attachments etc.

Summary July 2005 STOCKHOLM, Sweden
Kalmar's North American dealers are pleased that the company has started a forklift assembly line at its Ottawa, Kansas, plant, which originally built and marketed terminal tractors.
Read more
LEXINGTON, KY, United States
Clark Material Handling Company's 2004 results showed a net profit, the second consecutive year of profitability under ownership by the Young An Group.
Read more
DORSET, United Kingdom
A gigantic cheese, which could be Britain's biggest ever, will be transported by forklift to Harrods for the store's Truly British promotion in September.
Read more
BEIJING, China
The Chinese engineering machinery manufacturing industry consumes around 4.5 million tons of steel annually, says the China Construction Machinery Association (CCMA).
Read more

Summary August 2005 GRAYSLAKE, IL, United States
INTRUPA International Holding bv and LTE SpA have announced a merger of their businesses that they expect will enhance their ability to deliver forklift parts and service to the European market.
Read more
WAREGEM, Belgium
The TVH group has bought Norwegian forklift spares distributor Bruco Maskin for an undisclosed price.
Read more
AUCKLAND, New Zealand
A business focusing exclusively on painting forklifts has won a small business award.
Read more
HAMBURG, Germany
Jungheinrich has delivered its 100,000th electric forklift with three-phase AC technology since pioneering the technology 10 years ago.
Read more


Summary September 2005 SYDNEY, Australia
Sydney thieves have been busy using forklifts to steal automated teller machines (ATMs) during ram-raids.
Read more
OXON, United Kingdom
Atlet has won a contract to supply 153 forklifts to a nine hectare (90,000 square metre) national distribution centre (NDC) of one of the UK's top 10 supermarket chains.
Read more
FRANKFURT, Germany
Linde's chief executive has been quoted as saying the German industrial gases and forklifts group is not in merger talks with British gas manufacturer BOC.
Read more
XIAMEN, China
Linde-Xiamen Forklift Truck Co Ltd has changed its name to Linde (China) Forklift Truck Corp Ltd, as part of Linde Group's strategy to expand its reach in the Chinese market.
Read more

Summary October 2005 McCONNELLSBURG, PA, United States
Forklift manufacturers and dealers face adjustments and dislocations in the wake of hurricanes Katrina and Rita hitting Louisiana, Mississippi and Texas in the USA.
Read more
HANNOVER, Germany
Toyota Industries Corporation (TICO) has developed a prototype forklift powered by a fuel cell hybrid system.
Read more
HANGZHOU, China
A forklift driver discovered a 1,700-year-old tomb in the east China province of Zhejiang this week.
Read more
SURREY, United Kingdom
Ashtead Group plc, a British equipment rental group, has acquired Northridge Equipment Services Inc from the Groff family, through its US subsidiary Sunbelt Rentals, for USD69.6 million.
Read more

Summary November 2005 Rancho Mirage, CA, United States
Civilian forklift demand in the US and Canada in 2006 was forecast as "basically flat", Industrial Truck Association (ITA) president James Malvaso told the ITA's 54th annual meeting.
Read more
WARWICKSHIRE, United Kingdom
An independent UK distributor for SMV Konecranes wants to lift the esteem of heavy forklift customers with a new, specialised rental service that it claims is the country's first.
Read more
Johannesburg, South Africa
TCM distributor Criterion Equipment is South Africa's first major black-owned materials handling company after being bought by J&J Group.
Read more
VANTAA, Finland
Konekesko Ltd, a Kesko Agro Ltd subsidiary has agreed to sell its warehouse technology business in Finland to the Swedish company BT Industries AB.
Read more

Summary December 2005 McCONNELLSBURG, PA, United States
JLG Industries Inc and Caterpillar Inc have concluded an agreement for JLG to produce Caterpillar-branded telehandlers for distribution exclusively through Caterpillar dealers.
Read more
WASHINGTON, DC, United States
A federal court jury has convicted a Clark Material Handling Co executive of conspiracy and five counts of violating the US trade embargo with Iran and acquitted another of the same charges.
Read more
VANCOUVER, Canada
Sixty-eight per cent of 801 participating union members approved a three-year collective agreement with Finning's Canadian division during voting over five days.
Read more
HOUSTON, TX, United States
The opening of Lone Star Lift in Texas last week marks the first factory-direct store for Mitsubishi Forklift Trucks in the United States.
Read more


Send this newsletter to an associate



Jobs
1. Branch Manager - Full time
Greenville, United States
2. Territory Parts & Service Manager - Full time
Field - Southwest, United States
3. Parts & CSSR Training Administrator - Full time
Irvine, CA, United States
4. National Account Sales Coordinator - Full time
Columbus, IN, United States
5. Sales - Territory Manager - Full time
Santa Fe Springs, United States
6. Service Technician - Part time
Atlanta Georgia Area, United States
7. Log Stacker Operator - Full time
Tacoma/Pierce County, United States
8. Technical Communicator Specialist - Full time
Raleigh, NC, United States
9. Field Service Technician - Full time
Raleigh, United States
10. Parts Manager - Full time
Renton, United States
11. Service Technician - Full time
Renton, WA, United States
12. Sales Representative - Full time
Greensboro, United States

Editorial Calendar
January
Explosion proof forklifts
February
Forklifts in the logging and timber industry
March
Industrial batteries and chargers
April
The forklift market in China
May
Reach stackers
June
Forklift tyres, wheels and castors
July
The German forklift industry
August
Container attachments
September
Truck mounted forklifts
October
Engines and drive trains
November
The forklift market in Canada
December
End of year review