Send this newsletter to an associate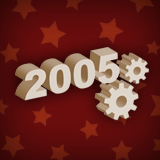 The year 2005 is drawing to a close. We would like to take this opportunity to wish all our readers happy holidays and success for the new year! Forkliftaction.com will be sending out a special new year's message in January and our weekly e-newsletter resumes publication on January 12.

Do read our special end-of-the-year report on some of the industry's leading forklift manufacturers in this issue. Our warmest wishes to you for the holiday season and we will be back with the industry's latest news next year.



2005: A year in review

In this special feature, Forkliftaction.com News invited some of the world's top forklift manufacturers to share with our readers what 2005 has meant for their businesses. Christine Liew reports on the business activities of Linde, Jungheinrich, Kalmar, Yale, Hyster, Mitsubishi, Cat Lift Trucks, Crown and Toyota.
Read more


First factory-direct store for Mitsubishi
HOUSTON, TX, United States
The opening of Lone Star Lift in Texas last week marks the first factory-direct store for Mitsubishi Forklift Trucks in the United States.
Located at 10795 Hammerly Boulevard, Houston, the Mitsubishi Caterpillar Forklift America-owned dealership will service a 24-county area across the Texas gulf coast.
Headed by company president Jack Sipola, Lone Star offers factory-direct support and products, including Mitsubishi parts and other brands. There is also a range of forklifts for rent and factory-reconditioned used forklifts for sale.
"With Mitsubishi forklifts being manufactured in Houston, it gives us a strong base here and we want to support that base as effectively as possible," Sipola said.
A Mitsubishi spokesperson said the store would sell Mastersource parts that fitted other forklift brands so Lone Star could be a single supplier and service provider for its customers' forklift needs.
The dealership offers more than 50 forklift configurations, including electric, gas, LP gas and diesel.

Texan companies join forces


WACO, TX, United States
Waco-based Equipment Depot has acquired Houston-based Southline Equipment Company for an undisclosed price.
Both are Texas-based, began as Clark forklift dealers, and share the same business ethos.
Equipment Depot founder and president Don Moes said the acquisition extended the company's reach into the Houston market.
"We now have the regional reach we need to service and support our large customers that have operations throughout Texas," Moes said.
Southline has been a Clark forklift dealer since 1962. For more than 10 years it has also been a dealer for Linde, Daewoo and Princeton forklifts and, in 2002, became one of the first US Combilift dealers.
It has more than 100 employees at its Houston, Beaumont and Freeport locations.
Equipment Depot is a rapidly growing materials handling company in southwest USA. Following the acquisition, it now has more than 560 employees operating from 12 facilities and four service depots along the Interstate 35 corridor, the Rio Grande valley and the Gulf Coast. With annual revenues exceeding USD150 million, it is one of Texas's largest materials handling companies.
Moes said Equipment Depot was also a major construction rental company in the region.
The acquisition allows Equipment Depot to deploy forklifts closer to its Houston and Gulf Coast customers and to add more rental construction equipment at Southline locations.
That could help Southline locations weather fluctuations in the local materials handling market, Moes said.
Southline president Bob McClell said customers would not see major changes resulting from the acquisition.
The acquisition is Equipment Depot's third major purchase since 2002. It previously bought Clarklift, of Forth Worth, Powr-Lift, of Dallas and Sherman, and three Mustang Equipment southern Texas branches.
Founded as Central Texas Clarklift in 1975, Equipment Depot is a dealer for Barrett, Caterpillar, Clark, Combi-Lift, Daewoo, Drexel, Linde, Mitsubishi, Nissan and Princeton forklifts. It also sells and rents aerial lifts by SkyTrak, Genie, Terex and JLG and light construction equipment by New Holland and Thomas.


| | | | | | |
| --- | --- | --- | --- | --- | --- |
| Linde | R 14 | 1994 | Germany | EUR 1450 | Details |
| Linde | H 35 T-04 | 2000 | Germany | EUR 8600 | Details |
| Caterpillar | H45T | 1999 | United States | USD 19500 | Details |
| Still | R 60-35 | 1998 | Germany | EUR 7550 | Details |
| Meyer | 50205K | 2002 | Netherlands | EUR 2500 | Details |
| Nissan | WGF03A40U | 2000 | Belgium | EUR 15500 | Details |
| Caterpillar | TH103 | 1999 | United States | USD 42000 | Details |
| Hyster | N45XMR | 1997 | Australia | AUD 16000 | Details |
| Nissan | CWP02L25S | 1998 | United States | USD 8250 | Details |
| Toyota | 5FG25 | 1991 | Australia | AUD 13000 | Details |
| Nissan | H01A15 | 1989 | New Zealand | AUD 8420 | Details |
| Raymond | OPC30TT | 1999 | United States | USD 9056 | Details |
| Toyota | 5FGL20 | - | Australia | AUD 9000 | Details |
| Taylor | TCO300S | 2000 | United States | USD 44900 | Details |
and thousands more...
Click here
to include your used forklifts, stackers, telehandlers, container handlers, attachments etc.

Toyota explains genesis of test program
IRVINE, CA, United Statesby US correspondent Roger Renstrom
Some readers raised their eyebrows about the fairness of forklift-truck-performance tests that Toyota Material Handling USA Inc (TMHU) sponsored (
Forkliftaction.com News #239
).
The testing compared the fuel efficiency and productivity of five current comparable production models. They included a Toyota 7FGCU25 and rented competitor forklifts: a Caterpillar C5000, a Komatsu FG25ST-14, a Nissan MCPL02A25LV and a Yale GLC050VXNVSE083 Veracitor. Each featured a three-stage mast.
Independent testing organisation USAC Properties Inc made the comparisons in September in a warehouse environment on the premises of the Toyota Industrial Equipment Manufacturing (TIEM) plant in Columbus, Indiana, said David Petrali, vice president of testing operations for USAC Properties, a subsidiary of the United States Auto Club.
In the results, USAC Properties determined the Toyota model was most fuel efficient and productive.
"TMHU regularly uses USAC's reliable and proven testing services to gauge where our products rank in relation to our main competitors in the US market," said Martin Boyd, national product planning manager with Irvine-based TMHU. "Whether testing results are favourable or unfavourable, TMHU primarily uses the results in its ongoing product development discussions with the Toyota design engineers."
Boyd underscored the need for fairness.
For the tests, TMHU temporarily hired certified forklift operators with no other Toyota affiliation. Each truck ran on factory standard tyres, had service life of less than 450 hours and was configured with factory-installed, three-way catalytic systems meeting US emission standards.
"Nothing prevents our competitors from using USAC's services to confirm the results," Boyd said.
He declined to disclose how much TMHU paid USAC Properties for performing the tests.
For Toyota, over 14 years, "USAC Properties has done 14 of these" tests on competing forklifts with internal combustion engines and a 15th on competing forklifts with electric motors, Petrali said. "We have never been contacted by anybody else" in the forklift industry to perform such tests.
For automotive original equipment manufacturers, USAC Properties has tested the performance of snow tyres, batteries and fuel, acceleration and braking systems.
This story has been discussed at
the Forkliftaction.com Discussion Forums
.

High standards for forklift technicians
TORONTO, Canadaby US correspondent Roger Renstrom
An Ontario forklift industry committee has submitted a 77-page document encouraging a provincial ministry to advocate for higher technician training and standards.
A 1998 provincial law set the groundwork for establishing the Powered Lift Truck Technician Industry Committee. The proposals culminate numerous meetings leading to the committee's recommendation for the trade of forklift technician to qualify as a restricted skill set.
Such a change would require new legislation.
The report was submitted to the Ministry of Training, Colleges & Universities in early December, said Vasco Rebuli, committee chairman and parts and service manager with the industrial equipment division of Toyota Canada Inc, in Scarborough, Ontario.
Brian Garry, program coordinator with the agency's workplace training branch, said the Toronto-based ministry was reviewing the document. The proposal involving forklift technicians "is one of many suggested for restricted skill sets", Garry said.
He said what the committee had achieved over several years was remarkable, including, development of job training standards, in-school apprentice curricula and certification examinations. Representatives of nine companies and one person from Centennial College constitute the committee.
Currently Ontario has 50 people registered as apprentices in forklift-related positions, Garry said. Over the full gamut of 140 trades, the province has more than 72,000 active apprentices, including large contingents in automotive, hair styling and construction electrician positions.
The document includes 22 photographs of forklifts in industrial applications, seven photographs of accident scenes involving forklifts and 13 Ontario Ministry of Labour press releases about 2002-2005 fines for violations of the Occupational Health & Safety Act.
In March, Ontario said it would add 100 health and safety inspectors by 2008. "The new inspectors will allow the government to target 6,000 workplaces with the highest lost-time injury rates," a report said. "Inspectors will visit these sites four times a year, focusing on workplace hazards to help firms reduce on-the-job injuries."
About 240,000 forklifts operate daily in the province.


CMH would like to wish everyone, a very Merry Christmas! CMH would like to wish everyone, a very Merry Christmas!
CMH is a provider of unique and specialized products, fabrications and services...
Contact:
James Woolston
Phone:
+1 607 760 6582
Email: jimw@cmhp-f.com
Website: www.cmhp-f.com
Located:
Greene, New York, U.S.A.

Forklift saves Chinese national


MELBOURNE, Australia
A forklift was an angel in disguise for a Chinese tourist trapped under a bus on Victoria's famous Great Ocean Road this week.
The Age
newspaper reported the bus was travelling south on Princeton Road, about 10km north of the Twelve Apostles, when it overturned.
Police said the bus skidded out of control on a right-hand bend before hitting an embankment on the other side of the road and overturning.
A dairy farmer helped free a passenger whose arm was trapped by moving the bus with a forklift.
Initially Rod Lindsay used a tractor but could not move the bus.
"That didn't work very well, so myself and another guy up the road used a forklift to lift the bus up and get the bloke's arm out," Lindsay said.
"People were running around everywhere. I just couldn't understand anyone, which was the hardest."
The 28 passengers were Chinese Government employees on an educational trip.


Movers & Shakers

OWATONNA, MN, United States
Mustang Manufacturing Co Inc has promoted Steve Meschke to a newly created position of customer support manager. He heads Team Mustang, a new customer service department. Meschke was formerly sales coordinator for the company.
Team Mustang consists of six expert staff members trained to handle questions related to Mustang parts, service, invoicing, and marketing. The team has set a goal to answer 100 per cent of all calls received and to provide immediate attention to queries.
Stephen Fulton has been promoted to Mustang region sales manager. He was previously a salesman for Gehl Company. Fulton will be in charge of distribution in Tennessee, Kentucky, Arkansas, Louisiana, Mississippi and Alabama. His territory will also cover parts of Missouri, Indiana, Ohio and the western panhandle of Florida.
Fulton has more than 27 years' 'experience in the agricultural and construction industries. Before joining Gehl, he covered the same territory with Deere & Company as district sales manager.
FARMINTON HILLS, MI, United States
Materials handling solutions provider Jervis B Webb Company has promoted Brian G Stewart to senior vice president and chief executive officer. Stewart has worked for the Webb Company for more than 24 years and held executive positions for the past 14 years. Most recently, he was senior vice president of corporate operations.

Free forklift classes
McHENRY COUNTY, IL, United States
If you are jobless and hold no high school diploma, why not learn to drive a forklift?
According to the Chicago Tribune, a USD59,400 grant from the Illinois Community College Board will allow McHenry County College in Crystal Lake to offer free classes to teach people to drive trucks and forklifts.
College officials said preparatory classes for a written exam for an Illinois commercial driver's llicence would be available for 20 people. The classes start on January 31 and end on March 23.
For more information call +1 815 479 7679.



Hyundai Heavy Industries Europe Wishes a Merry Christmas! Hyundai Heavy Industries Europe wishes all of its customers and partners - past, present, and future a Merry Christmas and a prosperous New Year...
Hyundai Heavy Industries Europe
Tel.:
+32 (0)14 56 22 00
Fax.:
+32 (0)14 59 34 06
Email: info@hyundai.be
Website: www.hyundai.be
-
New Website Launching Jan. 2006.

Double-digit export for Japan
TOKYO, Japan
Latest industry statistics show that Japanese domestic forklift sales from January to October 2005 increased 8.2 per cent compared to the previous year.
The Japan Industrial Vehicles Association (JIVA) attributed the growth to strong recovery in Japan's economy, in particular "active investment in plant and equipment for the private sector".
Electric trucks now dominate 48 per cent of the domestic market, with more consumers replacing internal combustion forklifts with electric forklifts.
Ten years ago, electric forklifts constituted around 35 per cent of the Japanese forklift market, Ken'ichiro Takase, JIVA senior manager, said.
Exports of forklifts have seen double-digit growth this year although Takase said the number of exports according to destination would not be disclosed until March 2006.
"As you know, every market in the world has been in good condition and this is why export has increased," he said.

Safety first for Aussies
SYDNEY, Australia
Free forklift safety seminars are planned for next year in Victoria, New South Wales and other parts of Australia.
Ausfork Pty Ltd, Victoria, and Forkpro Australia, New South Wales, will co-ordinate the seminars. Worksafe Victoria is one of the sponsors of the seminars, which will have limited places
The seminars will discuss changes in legislation affecting forklift activities, current best practice, forklift stability and operator certification and safeguarding pedestrians at work.
For information, email
enquiries@ausfork.com.au
or
enquiries@forkpro.com.au
.


Send this newsletter to an associate







Fast Facts

Editorial Calendar
January
Explosion proof forklifts
February
Forklifts in the logging and timber industry
March
Industrial batteries and chargers
April
The forklift market in China
May
Reach stackers
June
Forklift tyres, wheels and castors
July
The German forklift industry
August
Container attachments
September
Truck mounted forklifts
October
Engines and drive trains
November
The forklift market in Canada
December
End of year review