Send this newsletter to an associate

In two weeks' time we will be publishing our final feature article: a review of the business activities of the world's top 10 forklift manufacturers for 2005. For a preview of what's coming in 2006, take a look at Forkliftaction.com News's 2006 editorial calendar:


| | |
| --- | --- |
| Jan | Explosion proof forklifts |
| Feb | Forklifts in the logging and timber industry |
| Mar | Industrial batteries and chargers |
| Apr | The forklift market in China |
| May | Reach stackers |
| Jun | Forklift tyres, wheels and castors |
| Jul | The German forklift industry |
| Aug | Container attachments |
| Sep | Truck mounted forklifts |
| Oct | Engines and drive trains |
| Nov | The forklift market in Canada |
| Dec | End of year review |

Email info@forkliftaction.com for more information.




Jury convicts Clark VP
WASHINGTON, DC, United Statesby US correspondent Roger Renstrom
A federal court jury has convicted a Clark Material Handling Co executive of conspiracy and five counts of violating the US trade embargo with Iran and acquitted another of the same charges.
The jury in Washington delivered its verdict on December 7.
Robert E Quinn, who was convicted, is a vice president with Clark Material Handling Co, based in Lexington, Kentucky. Michael Holland, a Clark parts sales representative, was acquitted.
"Bob Quinn will appeal," said Larry Mackey, a defence attorney who represented Quinn in the trial.
Laura Ingersoll, assistant US attorney with the national security section of the office for the District of Columbia, said Quinn's sentencing was scheduled for February 23. US District Court Judge John D Bates could sentence Quinn to 10 years' jail and fine him up to USD250,000 on each count.
Prosecutors said Clark Material Handling exported forklift parts worth USD32,000 to Iran. The parts were shipped to Sharp Line Trading Co, in Dubai, United Arab Emirates, then forwarded to Sepahan Lifter Co, of Esfahan, Iran, a forklift truck manufacturing and distribution firm.
In December 2004, federal agents searched Clark headquarters in Lexington and found emails and other records that were among documents used in making the prosecution's case (
Forkliftaction.com News #208
).
In May, a federal grand jury indicted Quinn, Holland and two Sepahan Lifter employees, president Mohammad A Sharbaf and Gharzal Zarmani Sharbaf. Neither can be extradited from Iran for trial.
The government charged Quinn and Holland with conspiracy and violating the US embargo to export, re-export, sell or supply goods, technology or services to Iran. The November 1979 Iranian seizure of the US embassy in Tehran led to imposition of the embargo.
Jury selection occurred on November 21, and the trial started on November 28.
Sharp Line owner Khalid Mahmood, who acted as the conduit for the Clark shipments, testified for the prosecution at the trial. Separately, Mahmood awaits sentencing for an attempt to ship radiators to Iran from a US company in Indiana.
Clark president & CEO Dennis J Lawrence said in a statement to North American dealer principals yesterday that Clark had cooperated fully with the prosecution and would move forward.
"While our community and our Clark family were saddened by the conviction of Robert Quinn, we are encouraged that the jury acquitted Mike Holland.
"Clark has cooperated fully and successfully with the United States in this prosecution. Our customers/dealers and our entire Clark family can expect that we will continue to provide the highest quality service and the market's best products as Clark moves forward."

Union approves agreement with Finning


VANCOUVER, Canada
Sixty-eight per cent of 801 participating union members approved a three-year collective agreement with Finning's Canadian division during voting over five days (
Forkliftaction.com News #237
).
On December 5, workers began returning to their jobs, which include servicing forklifts for Finning in the Alberta and Northwest Territories provinces.
The agreement, ending a strike that began on October 20, provides for wage increases of 4.5 per cent in year one, retroactive to May 1, 2005, and 4 per cent in each of years two and three.
Finning management retained the right to contract out work but accepted a stipulation calling for "no contracting out for the purposes of eroding the bargaining unit". The stipulation would prevent Finning from using contracting out to undermine the workers' union, the International Association of Machinists & Aerospace Workers (IAMAW).
The agreement created principles for contracting out decisions and the rights of those directly affected, the company said. Workers gained some protection, including 120-days notice of a layoff, an extra week's severance pay and an education allowance for affected employees, said Jason Rockwell, organiser and communications director for Local Lodge 99 of the IAMAW.
Vancouver-based Finning International Inc said the agreement applied to 1,070 hourly workers, but Rockwell said some workers left during the strike for other employment.
"We are not positive how many people quit," he said.
The new agreement expires on April 30, 2008.


Forkliftaction.com updates its looks…
Four years ago
Forkliftaction.com's
internet portal was launched (
19 December 2001
). Since then the web portal has grown exponentially in both content and traffic.
Today we are happy to present the biggest materials handling industry portal with a new and modern look. The new style combines modern design elements with increased download speeds and maximized readability.
Go and check it out: www.forkliftaction.com
and let us know what you think. We are keen to hear from you:
write to us
info@forkliftaction.com.
Our leading industry portal features:
•
Used equipment Marketplace:
featuring +8600 used forklifts, rough terrains, container handlers, stackers and attachments
•
Business Directory:
listing +21,000 companies active in the materials handling industry
•
Discussion Forums:
meeting place of professionals sharing ideas and expertise
•
Spec-Checker:
equipment specifications for thousands of forklift models
•
News Archive:
with thousands of stories, features, industry profiles and media releases
•
Events Calendar:
global calendar of industry events such as conferences, trade shows and seminars
•
Business Tenders:
business opportunities in your area or abroad
•
Jobs & Resumes:
very focused and fast growing industry job market
•
Photo Galleries:
materials handling in images: photos of spectacular machines, creative handling of materials, trade shows etc.
Forgot your password?
Click here to receive a reminder by email.
Tell us how you use
Forkliftaction.com
in your business and share your ideas with us:
write to
info@forkliftaction.com.

Patrick introduces world-first AutoStrad


BRISBANE, Australia
After years of intensive research and testing, a fully automated straddle carrier system, started operations in Patrick Corporation's Fisherman Islands' facility in Brisbane, Australia, when three new berths opened on December 1.
The AutoStrad system was developed by Patrick Technology & Services (PTS), a joint venture between Patrick and Kalmar Industries. PTS claims the AutoStrad system is a world first.
Research on the automated straddle project began in 1996 and, in 2001, Kalmar joined PTS as an equity partner. Patrick, as majority shareholder, owns intellectual property rights for most of the on-board technology and all the essential real-time control systems.
The 65-tonne straddles are fitted with motion control and navigation systems that allow them to operate unmanned 24 hours a day, 365 days a year, and in all weather conditions. They move containers with pin-point accuracy.
Unlike other automated systems, the AutoStrad is free ranging. It can move freely on a computer-generated virtual grid and does not require installation of in-ground guidance or communication systems to operate, PTS said.
Kalmar's role was to apply its knowledge and experience to developing machine control systems that move, brake and steer the straddle carriers and ensure precise picking and placing of containers.
Patrick terminals division Brisbane manager Matt Hollamby told a business lunch last week the cost was not a factor because AutoStrads used in trials were essentially late-generation Kalmar machines with "bolt-on" automation packages.
"Whatever Kalmar model you have we can bolt on all the components to make it automated. One of the models used in our trials was the 4011135-80-T, built in 1997," said Patrick terminal division operations manager Isnan Rahman.
Eighteen AutoStrads service the Brisbane terminal's new berths 7, 8 and 9, and will handle an estimated 350,000 TEUs in the first year of operation on the 25 hectare site. They will move containers from the 750 metre quay, stack them in holding yards and load them onto vehicles.
The machines are Kalmar EDRIVE straddle carriers, the first to be purpose-built for unmanned operations.
At the terminal's official opening, Patrick managing director Chris Corrigan said there was potential to on-sell the technology globally.
"The AutoStrad offers a very long list of significant benefits from 24-hour operation, more efficient use of sometimes limited portside land, greatly improved workplace safety, and a range of other cost savings that will be attractive to terminal operators around the world," he said.


Second factory to double Chinese output


HYVINKÄÄ, Finland
KCI Konecranes aims to double its Chinese production capacity with a new factory in Shanghai.
At last week's opening celebration for the second Chinese factory, Konecranes president and CEO Pekka Lundmark said the new factory would strengthen the company's position in a fast-growing market.
"We have been growing fast. Local manufacture of components will shorten delivery times in China and provide a competitive manufacturing concept for our global customers," Lundmark said.
Konecranes has operated a hoist assembly factory in Shanghai since November 2002 that produces wire rope hoists and lower lifting capacity cranes' components. The new factory will produce heavy-duty lifting trolleys for special cranes and assemble crane electrics.
Located next to the first factory, in Taopu Putuo District, at Futurity Island industrial park, the new factory houses a state-of-the-art testing facility and has a planned annual capacity of 400 to 500 trolleys. Its key customers are companies operating steel, paper, power and general manufacturing facilities.
As one of the world's leading crane companies, KCI Konecranes was committed to long-term partnerships in China, a company statement said. KCI Konecranes has established three joint ventures and a wide network of partnerships and certified suppliers in China. KCI Konecranes currently employs 360 people in China.

| | | | | | |
| --- | --- | --- | --- | --- | --- |
| Linde | H 80 D | 1998 | Germany | EUR 24800 | Details |
| Skytrak | 10054 | 2000 | United States | USD 57000 | Details |
| Komatsu | FGC45S-4 | 1990 | Australia | AUD 17950 | Details |
| Komatsu | FG 25 HT-12 | 1998 | Germany | EUR 6600 | Details |
| Traverse | TL6035 | 1997 | United States | USD 24500 | Details |
| Nissan | NHF01M09 | 1989 | Australia | AUD 6850 | Details |
| TCM | FD30Z7S | - | Australia | AUD 16000 | Details |
| Caterpillar | GP30K | 2001 | Mexico | USD 12000 | Details |
| Mitsubishi | FG25K | 1999 | United States | USD 12000 | Details |
| Rocla | REC-16 | 1998 | Finland | EUR 2500 | Details |
| Still | R50/15 | 1997 | France | EUR 6900 | Details |
| Caterpillar | DP50 | 1999 | Mexico | USD 17500 | Details |
| Hyster | H12.00XL | 1997 | Australia | AUD 110000 | Details |
| Mitsubishi | FG25 | 1991 | Australia | AUD 13750 | Details |
and thousands more...
Click here
to include your used forklifts, stackers, telehandlers, container handlers, attachments etc.

Finning cautions sector on fuel
STAFFORDSHIRE, United Kingdom
A UK forklift supplier is cautioning the materials handling sector to adopt stringent fuel management techniques for diesel-powered forklifts to combat the soaring price of crude oil.
Finning Materials Handling, the UK's Caterpillar dealership, is urging customers to follow guidelines that could potentially reduce fuel costs up to 20 per cent.
Technical manager Trevor Clifton said inadequate truck care and poor driving could have a severely detrimental effect on fuel efficiency.
Deflated pneumatic tyres could create rolling resistance, which can increase fuel consumption up to 8 per cent. Leaving a truck running over a meal break was also a common habit that inflated fuel costs, Clifton said.
Finning's fuel management tips
Ensure tyres are properly inflated to the manufacturer's guidelines
Regularly change engine lubricants to reduce component wear and tear.
Don't leave an idle truck ticking over for longer than 10 minutes.
Consider, where appropriate, use of speed limiters to help reduce fuel use.


Briefs

CSS swings on with DAF
BRISBANE, Australia
A family-owned Brisbane container handling provider has bought a new fleet of DAF trucks to work with its swinglifts (sideloaders).
Brisbane-based Container Swinglift Services (CSS), operated by the Tapper family, was an early adopter of swinglift technology in the 1970s in New Zealand. Swinglifts can lift and transport 20-foot or 40-foot containers weighing up to 45 tonnes, without forklifts.
CSS managing director Maria Tapper said CSS had had problems in the past with other truck brands but, since changing to DAF trucks three years ago, CSS's productivity had improved significantly.
EnerSys hikes price
READING, PA, United States
Industrial battery maker EnerSys has announced a general price increase of six per cent. The increase will be effective for orders of motive power and reserve power products from January 1, 2006.
EnerSys president Europe Ray Kubis said: "The action is necessitated by the sustained increase in commodity costs, especially lead, copper and plastics, coupled with dramatically higher transport and utility costs."
Kubis said electricity costs also contributed to the price increase.
Chinese forklift imports declining
BEIJING, China
From January to October 2005, China's imports of engineering and lifting equipment declined while exports increased significantly.
Xinhua's China Economic Information Service reported customs statistics showed forklift imports totalled USD162 million, down 3.5 per cent from last year. Exports totalled USD207 million, up 32.1 per cent, with a trade surplus of USD45 million.

Charity gifts follow forklift death
MELBOURNE, Australia
A court has ordered a railway maintenance company to donate AUD30,000 (USD22,404) to charity after a workplace accident saw a forklift driver crushed to death by an overturned forklift.
Rail Technical Support Group (Australia) Pty Ltd pleaded guilty in the Victorian County Court to two counts of failing to provide a safe workplace. A part-time labourer was killed on January 15, 2003, Australian Associated Press reported.
Judge Peter Gebhardt ordered the company to pay AUD15,000 (USD11,202) to the Royal Children's Hospital Fund and AUD15,000 (USD11,202) to the Cambodian Community Welfare Centre. He adjourned the case without conviction for three years.
In sentencing, the judge said he was satisfied Rail Technical was not a delinquent company. "It was an accident arising from inadvertence rather than a negligent failure to adhere to safe systems."
The court heard that the driver was trying to crush 44 gallon (193.8 litre) drums to place in a bin when he drove the forklift over an uneven part of railway line.
The driver jumped out as the forklift became unstable but was crushed to death beneath the overhead guard when the forklift overturned.


Movers & Shakers

IRVINE, CA, United States
Adam Hughes
has been appointed Toyota Material Handling USA Inc (TMHU) national dealer sales manager. He will oversee Toyota forklift sales in all authorised TMHU dealerships and design and promote sales incentive programs. He also continues as warehouse product manager.
TMHU has named
Larry Sanders
as fleet services manager. Sanders will be responsible for operations at New United Motor Manufacturing Inc and all new fleet account operations. He has been in the materials handling industry for more than 30 years.
Former IT director at Hudson RCI,
Eric Robinson
is now TMHU's national IT manager. Robinson was responsible for providing business solutions in SAP R/3, Unidata and UNIX at Hudson. He is a Brown University graduate.
Curt Rhoades
is TMHU's new rental and remarketing manager. He will be responsible for development and growth of TMHU's rental business and manage the remarketing of all national account lease return units.
OLATHE, KS, United States
SMH has added
Jay McNichols
to its business development team. He has worked as a product support representative, sales manager, national accounts manager and OEM sales manager. McNichols is based in Chicago.


Send this newsletter to an associate


Issue #7
ESSEX, United Kingdom

The question of whether seat belts should be provided by owners and worn by drivers is a difficult and contentious issue. Many countries require cars and other passenger vehicles to be fitted with them and most also require that drivers and passengers use seat belts when travelling. If vehicles may be travelling at some speed and potentially be involved in severe collisions or roll-overs, the provision and use of belts makes sense. Use of belts, at least by drivers and front-seat passengers, is widely followed. Should such an approach be applied to workplace machinery?

Click here for the full text of this Cargo Chat feature.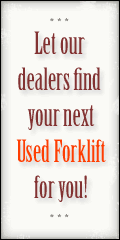 Fast Facts