Send this newsletter to an associate


JLG completes Caterpillar deal


McCONNELLSBURG, PA, United States
JLG Industries Inc and Caterpillar Inc have concluded an agreement for JLG to produce Caterpillar-branded telehandlers for distribution exclusively through Caterpillar dealers.
JLG disclosed the global alliance with Caterpillar on October 27 ((
Forkliftaction.com News #233
) and said on November 29 the transaction was completed. "We are pleased this transaction has been closed in such a short time," JLG chairman Bill Lasky said in a news release. "This alliance will improve sales and our global market position."
JLG acquired certain telehandler-related equipment, tooling and intellectual property and gains access to 200 Caterpillar dealers with more than 3,100 locations.
"We have formed a dedicated alliance team and comprehensive plan to fully integrate Cat-branded telehandlers into JLG's (Maasmechelen) Belgium and (McConnellsburg) Pennsylvania operations," Lasky said.
Meanwhile, JLG has introduced eight die-cast replica models of five telehandlers, an articulated boom lift, a rough terrain scissor lift and an excavator. Each model, in 1/32nd scale, is painted in a brand's colours.
Fully operable model components include movable booms, adjustable steering and control stations.
JLG authorised dealers and company websites can accept orders for the die-cast models.

Fantuzzi manager rejects rumours


HANNOVER, Germanyby European correspondent Luc de Smet
A Fantuzzi sales manager has rejected an industry rumour that the Italian company planned to stop manufacturing sideloaders or change strategy.
"We want these rumours to stop," Corrada Faccini, sales manager for Fantuzzi sideloaders worldwide and big trucks in German speaking countries, said at CeMAT (
Forkliftaction.com News #231
). "That is why we are here, to confirm that Fantuzzi continues its activities in all ranges and segments of its products."
Faccini said the rumours may have surfaced after the departure of Davide Bertozzi, former CEO of the Fantuzzi Group. "Mr Bertozzi chose a different career opportunity. Staff within the company and the group are, however, unchanged." Forkliftaction.com News understands Bertozzi is now active in Linde.
On its 200sq m CeMAT stand, Fantuzzi showed two of its most representative products, the CS 7.5 reach stacker and the CS 45 for full container handling. After the show, the CS 7.5 empty container handler was being freighted to Finland.
Both machines were particularly successful in Northern Germany, Faccini said. Four years ago a branch was established in Bremen to focus on container handling. "Since then we've sold more than 100 heavy machines."
Fantuzzi produces about 150 sideloaders a year. "We want to push that number to 200 and even 250 in two to three years' time," Faccini said. Currently sideloaders are mainly sold in Europe. "As the concept becomes more popular, we will target new countries with growing economies worldwide."
He said CeMAT was quite successful for the contacts it produced in Eastern Europe. Fantuzzi has branches in most major countries but still seeks footholds in new or alternative markets.
The Fantuzzi Group employs more than 1,500 people and has an annual turnover of EUR400 million (USD471 million) to EUR500 (USD589 million). There are factories in Italy, Germany and China. The latter two were taken over from Noell.
Noell Mobile Systems GmbH produces straddle carriers and Noell Crane Systems GmbH is active in container cranes. Both are in Würzburg, Germany. The products are still branded as Noell. The Chinese operation in Xiamen, Noell China, is a joint venture between the Fantuzzi Group and China Merchants Heavy Industries. It produces port equipment, RTGs (rubber tyre gantries) and STS (ship-to-shore) cranes.
Container handling trucks, the 45 ton reach stacker and the empty container handling truck, are produced in China for the Chinese and Asian markets. "These are 'clones' with exactly the same design as the machines built in Italy," Faccini said.
The machines are marketed as Fantuzzi even though they are built in the Noell factory. Most components for them come from Italy.
There is only a slight difference in price. The same machines are produced in Italy for the rest of the world and for made-to-measure orders in Asia.
To build the machines in China "releases pressure on production in Italy", Faccini said. Apart from the price difference, the advantage of Chinese production was prompt delivery.


Atlet forklifts for USD17.3 million warehouse


OXON, United Kingdom
Atlet has supplied a fleet of 72 forklifts for retailer Instore's new distribution centre in Huddersfield, UK.
Instore's new Huddersfield distribution centre (DC) is part of an investment of more than GBP10 million (USD17.3 million) to streamline its distribution operations. It now has five Omni DCR man-up VNA stacker/pickers, seven Presto PLP pallet transporters, 37 Select PPL low-level order pickers and 17 UNS Tergo reach trucks.
Atlet has also supplied six LPG counterbalanced forklifts and around 100 hand pallet trucks to the DC.
The DC currently despatches more than 1,000 pallet loads or orders a day, with a retail value of around GBP1 million (USD1.73 million), to Instore's 330-plus stores across the UK.
Instore has undertaken a major restructure of its warehousing and distribution activities. It has consolidated several older warehouses into the new, custom-built, 32,500sq m DC in Huddersfield.
The value of the order was not disclosed.


Material Handling Business Wanted – Chicago Illinois
We are interested to expand activities and take an equity position or outright purchase for an established material handling operation in the greater Chicago, IL market.
Prefer business operation focused in the sale, service and rentals of material handling equipment with an emphasis on forklifts. Owner searching for a mature operation with documented profitability and a commitment from senior staff to continue in their existing positions.
Please email a brief description of your business including earnings and your purchasing requirements for consideration to
materialhandlingbusiness@comcast.net
and the principal will contact you directly in return.


Union members vote on Finning agreement
VANCOUVER, Canadaby US correspondent Roger Renstrom
Union members are voting this week on whether to accept an agreement that would end a strike against Finning's Canadian division. The parties reached a tentative agreement on November 25.
The union's negotiating team recommended acceptance. "We made a lot of concessions to get contracting-out removed from the proposal, " said Jason Rockwell, organiser and communications director for Local Lodge 99 of the International Association of Machinists & Aerospace Workers (IAMAW). "Finning's practice of contracting-out was our major issue".
Workers went on strike on October 20 and rejected a previous Finning offer on November 10 (
Forkliftaction.com News #235
).
Union information meetings and voting in seven locations on the three-year negotiated collective agreement started on November 28 and are scheduled to end on December 2.
"After six weeks (on strike), we have to be given direction from members," Rockwell said in a telephone interview.
Meanwhile, union picketing continues at Finning sites. The 1,070 hourly Finning workers in the Alberta and Northwest Territories provinces are members of the IAMAW lodge.
"Upon receiving a positive ratification from union members, Finning (Canada) will begin bringing all employees back to work as expeditiously as possible," the company said in a statement. Vancouver, British Columbia-based Finning International Inc is among the largest dealers of Caterpillar Inc equipment, including forklift trucks.
Separately, a Finning forklift business segment faces difficulties. In the United Kingdom (UK), "materials handling is a big challenge", said Finning president Douglas Whitehead.
The company said the UK materials handling business "experienced another disappointing quarter in a very competitive market. Rental revenues decreased in the quarter, partially due to a lower demand for short-term rental of materials handling fleet units."
For the quarter ended September 30, the Finning UK unit reduced its short-term rental fleet for materials handling to 2,600 units from 3,050 a year earlier and reduced its long-term rental fleet by about 6%.
Nicholas Lloyd, managing director of Finning UK, reported on ongoing discussions with managers of forklift supplier Mitsubishi Caterpillar Forklifts Europe. "They well understand our business challenges and our positions this operation needs to have in the future to be successful," he said.

Merlo opens in key export market


PERTH, Australia
Italian telehandler manufacturer Merlo SpA has opened its first non-European sister company in Western Australia, Merlo Group Australia Pty Ltd.
In a statement this week, Merlo said the Australian company was established and began trading in October 2005. The AUD5 million (USD3.7 million) investment includes purpose-built premises at Welshpool for imports and spare parts distribution and a training centre for Australia-wide sales and service.
The new company's directors are Craig Puddy, former managing director of WA Access, the previous Merlo importer in Australia, and Paolo Merlo and Guido Costamagna, in Italy.
Merlo Group Australia Pty Ltd is a joint venture company with Merlo SpA as the majority shareholder.
Puddy, Merlo Group Australia Pty Ltd's new managing director, said Australia needed a specialised company for the telehandler market.
"It is our goal to set the benchmark standard in product and industry knowledge and service. This is only made possible by a company such as Merlo investing in a true sister company, bringing all the benefits of being factory backed and part of the Merlo Group," Puddy said.
"Australia has been a key export market for Merlo for several years and Australian customers have shown loyalty to our product throughout that time," Amilcare Merlo, president of Merlo Group, said.
"With Mr Puddy we have built a relationship over recent years and discussed for some time this possibility. Recent events provided the ideal moment to start this venture.
"We have made a large investment from the outset as we have a large client base to support and we want the benefits of being part of the Merlo Group to be seen straight away," Merlo said.
The dealer network in Australia remains unchanged, apart from the addition of the United Equipment, which is responsible for sales to the construction industry in major Australian cities, excluding Brisbane (
Forkliftaction.com News #227
).


Toyota is favourite
YORKSHIRE, United Kingdom
A new, independent, national survey in the UK shows Toyota is one of the country's favourite forklift brands.
The 2005 Handling & Storage Survey, by Benchmark Research, involved 300 interviews with chief engineers and warehouse and transport managers. It has 94 per cent of respondents rating Toyota's overall performance as good, very good or excellent.
Respondents cited a forklift's reliability and robustness as the most important performance considerations. According to the survey, the company outscored its competitors by nearly 40 per cent on that point.
TIE managing director Steve Hodkinson said it was excellent that the survey also revealed health and safety was one of the most important considerations in forklift purchase.
"Toyota has been rated higher than the average of all brands in this category, which is testament to our innovative technologies such as SAS (system of active stability) and our dedication to training," he said.

Kalmar responds to North American need


STOCKHOLM, Sweden
Kalmar has responded to North American market demand by launching the DCF series of toplifts, a new generation machine it says combines "high productivity and uptime with low operating costs and increased driver confidence".
The DCF toplifts were designed to respond to the needs of the most demanding terminal operators in North America, a Kalmar statement said.
Kalmar said the machines offered improved cycle times through travelling and lifting speeds up to 50 per cent faster than the series' predecessor and a lifting capacity of up to 45 tonnes when lifting a nine foot six inch box to a five-high position.
Its faster lifting speed is due to use of a re-generation system, the same technical solution adopted in reach stacker lifting cylinders.
"The new DCF series is truly setting new standards in North American toplift applications and is built to meet and exceed customer expectations in this market," Dan Pettersson, Kalmar Industries' heavy lift trucks product manager, said.
"With optional lifting capacities of 36 tonnes, 41 tonnes and 45 tonnes, customers get the best lifting power currently available on the market," he said.
The machines' ergonomics include low vibration and noise levels of 70 dB, improved 360-degree visibility from the cabin and "fingertip" handling. The longer, six-metre wheelbase and wider steering axle provide increased driver stability.
Kalmar claims the machines' scheduled maintenance, at 500-hour intervals, is the best in the industry.

| | | | | | |
| --- | --- | --- | --- | --- | --- |
| Still | R50-12 | > 15 years | Netherlands | EUR 1900 | Details |
| Crown | 45RRTT | 1995 | Australia | AUD 14500 | Details |
| Cascade | 25F-RC-06A | 1990 | Malaysia | USD 2500 | Details |
| Nissan | PF02A25U | - | Australia | AUD 11550 | Details |
| Hoist Liftruck | FKE10 | 1997 | United States | USD 24900 | Details |
| Still | EGD-S 16 | 2001 | Germany | EUR 2850 | Details |
| Toyota | 62-6FDF 25 | 1998 | Germany | EUR 8900 | Details |
| Hoist Liftruck | F160 | 2000 | United States | USD 28900 | Details |
| Nissan | CSP01 | 1999 | United States | USD 11495 | Details |
| Caterpillar | TH63 | 1998 | United States | USD 32000 | Details |
| TCM | 11J 06232 | 1995 | Turkey | EUR 9500 | Details |
| Steinbock | WN 20 | 2001 | Germany | EUR 1100 | Details |
| Skytrak | 10054 | 2000 | United States | USD 56000 | Details |
| Bollnas | BT30T | - | Australia | AUD 75000 | Details |
and thousands more...
Click here
to include your used forklifts, stackers, telehandlers, container handlers, attachments etc.

P&O sale recommended
SYDNEY, Australia
Dubai Ports World appears to have secured a GBP3.3 billion (USD5.7 billion) bid for The Peninsular and Oriental Steam Navigation Company (P&O) after the P&O board recommended shareholders accept the offer.
According to
Lloyd's List Daily Commercial News
, the recommended deal will create the world's third largest container terminal operator and will boast 51 terminals in 30 countries with a combined capacity of 50 million TEUs.
State-owned DP World has offered 443 pence (USD7.67) per share in an all-cash bid for P&O.
DP World chairman Sultan Ahmed bin Sulayem said P&O would complement his group well. "We are strong in many areas but not so strong in other areas, mainly America, Australia and Europe," he said. "They are already in that market."
While some analysts did not rule out a counter-bid even at this advanced stage, the market seems to suspect that DP World will win the day,
Lloyd's List
in London reports.
P&O and DP World emphasised the takeover was not a cost-cutting exercise.
"We don't anticipate job losses," Sulayem said. "On the contrary there will be more hiring because there is a lot of growth in the business."

Movers & Shakers

MUSCATINE, IA, United States
IIidio Alves
has been named general manager, sales & marketing, for BT-Prime Mover. He has more than 15 years' experience with Komatsu, MCFA and Clark. Before his promotion, Alves was national support manager for BT-Prime Mover. BT-Prime Mover is part of the Toyota Material Handling Group, which includes Raymond, BT, Prime Mover and Toyota.
WESTPORT, CT, United States
Terex Corporation has promoted
Colin Robertson
to executive vice president for operations, effective from January 1, 2006. He will be responsible for developing and implementing world-class capabilities in supply chain management, logistics and global purchasing and for improving manufacturing facility use around the world. Robertson, who was previously president of Terex Construction, will report directly to Terex chairman and CEO Ronald M DeFeo.
MILWAUKEE, WI, United States
Group president of Caterpillar Inc, Peoria, Illinois,
Gerald Shaheen
has been elected 2006 chairman of the Association of Equipment Manufacturers (AEM). Other new AEM officers include second vice chairman
William Lasky
, JLG Industries president and CEO and treasurer
William Desmond
vice president for distribution planning & development of Komatsu America Corp, Vernon Hills, Illinois,
AEM has selected industry executives to serve on its board of directors. They are
Helmut Peters
, president of JCB Inc, Pooler, Georgia;
Howard Sellick
, president of Sellick Equipment Ltd, Harrow, Ontario, Canada; and
Duana Wilder
, president of Liebherr Construction Equipment Company, Newport News, Virgina.


Feature your company in Forkliftaction.com's Business Directory!
The
ShopFront
is your company's showroom in one of the busiest business portals on the internet. Check out its capabilities with these examples (click a link below to view the
ShopFront
):
North America:
•
Certified Curtis Service Centre in the United States
•
Leading load transfer systems – United States
•
Dealer for TCM forklifts in Connecticut, United States
Europe:
•
Suppliers of leaf and roller chain, United Kingdom
•
Manufacturer of the Clift Forklift Brand, Turkey
•
Explosion protection specialists, United Kingdom
Asia & Middle East:
•
Leaders in India
•
Exporter of Used Equipment, Japan
•
Outsource your CAD/CAM/CAE needs to India
Australia:
•
Major Used Forklift dealer in Queensland, NSW & Victoria, Australia
•
Moving machines and people are an accident waiting to be prevented, Australia
•
Used Forklift dealer in WA, Australia
Want to search the
Business Directory?
Visit
www.forkliftaction.com/directory.
For more information or to list your company, email us @
info@forkliftaction.com
–
Phone:
+61 7 3369 9090 –
Fax:
+61 7 3369 9096.


Send this newsletter to an associate





Tenders
1. Toyota 7FD20
Damascus, Syria
Closing
: 01 December 2005
Contract
: +963-94-648887

Jobs
1. Mobile Engineer - Full time
Newtownabbey, United Kingdom
2. Application Engineer - Full time
Monrovia, California, United States
3. Inside Sales - Full time
Portland, Oregon, United States
4. Technical Support Representative - Full time
Summerville, SC, United States
5. National Sales Representative - Full time
Summerville, SC, United States
6. Forklift technicians-road and shop - Full time
Orlando, Lakeland, and Tampa, United States
7. Inside parts person for sales - Full time
Orlando, United States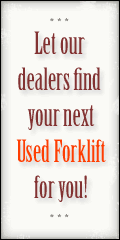 Fast Facts