Send this newsletter to an associate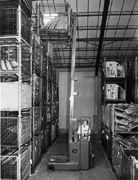 Who reads Forkliftaction.com News?
Here is a representation of where you will find the +16,900 registered Forkliftaction.com members:
46% North America

28% Europe
11% Asia and Middle East
11% Australasia
3% Latin America
1% Africa
Our news stories reflect this regional spread. Forkliftaction.com works with local correspondents and has an established editorial network which covers the globe. Forkliftaction.com news originates from all regions:
48% North America, 37% Europe, 7% Asia and Middle East, 6% Australasia, 1% Latin America and 1% Africa.
Forkliftaction.com is a global medium reaching all local markets. Send your news leads to news@forkliftaction.com. Every week 129 new professionals register with Forkliftaction.com. We hope you keep enjoying our news and web portal.




50 years of narrow aisle

While narrow aisle forklifts or reach trucks do not make up a large percentage of warehouse forklift sales, they play vital roles in stacking pallets and loading and unloading of trucks. Forkliftaction.com News reporter Christine Liew speaks to two leading European manufacturers about their recent reach truck innovations.
Read more


Doosan Group ex-chairman indicted


SEOUL, Korea, South
Former Doosan Group chairman Park Yong-sung and his three brothers have been indicted for allegedly embezzling 32.6 billion won (USD31.5 million) in company funds over 10 years.
The Korea Times
reported Park and two of his brothers, Yong-oh and Yong-maan, are suspected of manipulating Doosan Industrial Development and Donghyun Engineering from 1995 until recently to raise 28.6 billion won (USD27.6 million) in slush funds.
Park Yong-wook, another brother, is charged with embezzling 3.98 billion won (USD3.85 million) from the group's affiliate Nefs Co from 1998.
However, the prosecution decided not to detain the four brothers along with 10 other Doosan executives.
Investigators said arresting the former chairman and other key family members would have a negative impact on South Korea's international image and credibility and destabilise the Doosan Group's business operations.
Rep Shim Sang-jung, of the Democratic Labour Party, has criticised the prosecution's decision.
"Equity before the law should be preserved and conglomerates should bring management transparency up to global standards to drive out any irregularities once and for all," she said.
Park delivered his resignation from Doosan at an emergency presidential board meeting on November 4.
In an announcement on Doosan's website last week, Park said: "I deeply apologise for Doosan's recent situation that developed into a social controversy. I assume full responsibility and hereby resign from the management of Doosan and all public positions."
After Doosan acquired a controlling stake in forklift manufacturer Doosan Infracore, formerly known as Daewoo Heavy Industries & Machinery, Park assumed the position of Doosan Infracore chairman (
Forkliftaction.com News #210
).
Doosan Infracore spokesperson JY Moon said Park had resigned from his position as Doosan Infracore chairman and an emergency management committee had been formed to control all Doosan Group companies.
"At this moment there is no other person taking over the position," Moon said. "This will have no influence in our business and we believe all business units including our forklift business will continue in its direction of growth according to management strategies and projects launched after Doosan took over from the former company on April 29, 2005."
Moon affirmed his confidence in Doosan Infracore's management by pointing to the company's stock price.
"It was 8,160 won (USD7.90) in April 2005 before the Doosan acquisition and it rose up to 12,950 (USD12.50) won in October. The stock price is now at 14,650 won (USD14.13)."

Forklift death fine raises controversy
SYDNEY, Australia
A peak lawyers' body has urged the Tasmanian Government to introduce industrial manslaughter laws after a workplace was fined just AUD25,000 (USD18.3 million) for a fatal forklift accident involving a 16-year-old youth.
The Australian Lawyers' Alliance (ALA) says the case of Matthew Hudson is a "startling illustration of the failings of our workplace safety laws".
The Hobart Mercury reported Hudson, who worked for a contractor, was killed when the forklift he was driving toppled over at the Australian Food Group's Blue Ribbon meatworks at Killafaddy, in the state of Tasmania, last year.
Hudson did not have a forklift licence.
Launceston Magistrates' Court chief magistrate Arnold Shott imposed the AUD25,000 (USD18.3 million) fine on the Australian Food Group last week for two breaches of Tasmania's Workplace Health & Safety Act.
Hudson's father, Guy Hudson, leapt to his feet in court when the magistrate handed down the fine.
"Their insurance will cover AUD25,000 (USD18.3 million)and we're left with a life full of grief," he said.
ALA president Sandra Taglieri said other Australian states had crimes of industrial manslaughter and a wider range of penalties.
"Modest fines representing not even 20 per cent of the maximum fine available, as in this instance, send the wrong message to employers," she said. "Fines must be big enough to encourage spending on safety instead of allowing employers to pay a modest fine if caught out, charged and convicted of safety breaches."

California law now includes forklift industry
SACRAMENTO, CA, United Statesby US correspondent Roger Renstrom
A Californian equipment dealer law that sets guidelines on contractual relationships between dealers and manufacturers of almost all off-road equipment now includes forklifts.
The law earlier omitted mention of the materials handling industry.
Two forklift dealers have applauded the change.
"The new law calls for full retail labour rate reimbursement for warranty work at reasonable times and stronger parts and freight reimbursement than most manufacturers were paying," said Joe Hensler, president of Sacramento-based Clarklift-West Inc, which trades as Team Power Forklifts.
Hensler said the legislation "encourages manufacturers to make their product fault free. Most products have improved dramatically in the last few years, but there was a time where we felt some manufacturers shipped poorly assembled products as they could be fixed in the field at discounted rates".
Jay Waugh, head of Graylift Inc, in Fresno, said: "We are still reviewing the legislation but are pleased it specifically includes materials handling dealers...The warranty reimbursement and annual parts return provisions are reasonable and long overdue."
Waugh credited the Far West Equipment Dealers' Association (FWEDA), of Dixon, California, for shepherding the bill through the legislative process. FWEDA contract lobbyist Louie Brown, a Sacramento lawyer, praised dealers for pressing their elected state legislators and helping secure passage.
Among its provisions, the law expands the definition of businesses covered by the law, adding construction, all-terrain vehicles, mining and forestry businesses and materials handling.
Under sections 4 and 6 of the new law, a supplier may not coerce or compel a dealer to refuse to buy equipment from another supplier or penalise a dealer who purchases equipment or parts from another supplier. Dealers have a minimum of one year to cure performance deficiencies with major lines.
Governor Arnold Schwarzenegger signed the bill on October 7 and the Fair Practices of Equipment Manufacturers, Distributors, Wholesalers & Dealers Act is now effective.


Large (used) tyre handler attachment wanted

• Forklift and attachment preferred
• Will consider attachment only
• Must be able to handle 40.00 – R57 tyres
• Typical tyre used on Caterpillar rigid dump truck model 793C
• Opening range would be approx 3600mm
• Any age and location considered
Please send your offer to
equipment@forkliftaction.com
and we will send details on to our customer.


JLG awarded army order


McCONNELLSBURG, PA, United States
JLG Industries has been awarded a USD7.6 million order from the US Army for its all-terrain lifter army system (ATLAS) vehicles for delivery to the Iraqi military.
The two-year contract to support the Iraqi military's requirements under the Iraqi Supplemental Acquisition Military program is due for completion in October 2007.
The first delivery is scheduled for January 2006.
Greg Fries, JLG manager, investor relations & analysis, said the company did not disclose the number of machines sold under a contract.
Congressman Bill Shuster, an armed services committee member, said:
"Right here in central Pennsylvania we are doing our part to equip and prepare the Iraqi Security Forces to defend themselves while also creating good jobs and economic development."

Konekesko to sell to BT
VANTAA, Finland
Konekesko Ltd, a Kesko Agro Ltd subsidiary has agreed to sell its warehouse technology business in Finland to the Swedish company BT Industries AB.
BT Industries will establish a new subsidiary in Finland, in which Konekesko will hold a minority interest. The name of the company will be BT Varastotekniikka Oy and it will operate in the existing Konekesko premises in Vantaa.
The warehouse technology business includes Konekesko's forklift and warehouse racking sales and after-sales operations. All Konekesko warehouse technology product line employees will be transferred to the new company under their previous conditions.
Kesko Agro Ltd has also signed a letter of intent with BT Industries AB to sell its warehouse technology businesses in the Baltics to BT's Baltic subsidiaries, that is, BT Eesti AS, BT Latvija SIA and BT Lietuva UAB.
The business arrangements in the Baltic countries will involve around 15 persons, said a Konekesko statement.
Konekesko Ltd is a product sales and service company specialising in the import, marketing and ancillary services of heavy duty and recreational machinery. In 2004, its net sales totalled EUR173.2 million (USD202.2 million) and it employed around 290 persons.
The main products offered in Konekesko's warehouse technology product line include BT warehouse trucks, Hyster counterbalanced forklifts and Mecalux warehouse racking.



Material Handling Business Wanted
Experienced material handling venture is interested to expand activities and take an equity position or outright purchase for an established material handling operation in the greater Chicago, IL market.
Prefer business operation focused in the sale, service and rentals of material handling equipment with an emphasis on forklifts. Owner searching for a mature operation with documented profitability and a commitment from senior staff to continue in their existing positions.
Please email a brief description of your business including earnings and your purchasing requirements for consideration to
materialhandlingbusiness@comcast.net
and the principal will contact you directly in return.

Workers reject Finning offer
VANCOUVER, Canadaby US correspondent Roger Renstrom
The strike against Finning's Canadian division is continuing (
Forkliftaction.com News #232
).
Local Lodge 99 of the International Association of Machinists & Aerospace Workers (IAMAW) began the strike on October 20 and rejected Finning's latest offer on November 10.
The labour action involves 1,070 hourly workers in the Alberta and Northwest Territories provinces.
Jason Rockwell, organiser and communications director for the local lodge, said Finning issued the same offer as it had on August 25. He said 92 per cent of voting members turned down the proposal. "Contracting out is a major issue."
Finning implemented a strike contingency plan to continue equipment sales and rental and parts distribution but has restricted shop and field services during the labour action.
"Despite the Canadian labour situation and the materials handling challenges, we are optimistic," said Douglas Whitehead, Finning International Inc president and CEO.

Marketplace notes
The Marketplace features forklifts, pallet handlers, telehandlers, rough terrains, container handlers, reach stackers, tow tractors, cranes and attachments.
Most dealers and fleet managers with used forklifts also have a few used attachments lying in their yard: clamps, pallet handlers, container handlers, side shifters and fork positioners, load pushes, push/pulls, bulk and cargo handlers, grabs, tyre handlers, rotators, etc.
The Marketplace currently features 320 used attachments from both attachment and forklift dealers. Click
here
to view these listings. With 2649 listing views each day, you can't go wrong.
So next time you update your stock list, make sure you include the attachments.
For more information on how you can update your stock list, fast and easy, have a look at our '
dealer manual
' or email us on
dealers@forkliftaction.com
.
Have a great week!
The Marketplace team -
marketplace@forkliftaction.com
– Phone: +61 7 3369 9090 – Fax: +61 7 3369 9096.

Dalian's Indian dealer receives first forklift orders


CHENNAI, India
Dalian Forklift Co Ltd's exclusive forklift and reach stacker dealer in India has just received its first forklift orders.
Chennai-based GMMCO Ltd formed Allied Equipment Division in June this year to represent Dalian forklifts and reach stackers in India and has announced orders for four three-tonne diesel forklifts from the Reliance group.
The forklifts are now working at Reliance Industries Ltd, in Jamnagar.
Rumit Dave, who staffs the new division, is optimistic about growth in India's ports and logistics and manufacturing sectors.
"We plan to sell around 100 forklift units in the next six months," he said.
GMMCO Ltd is a Caterpillar dealer in India and a part of the CK Birla Group Co, one of the "second largest Indian business groups", Dave said.
GMMCO has a network of 17 offices throughout India and more than 850 employees.

Briefs

JCB receives 16th royal award
ROCESTER, United Kingdom
Telehandler manufacturer JCB has been presented with a Queen's Award for its success in exporting its most famous product – backhoe loaders.
Princess Anne presented JCB chairman Sir Anthony Bamford the Queen's Award for Export, the 16th Queen's Award the company has received.
"The backhoe loader made by this division of the company is the machine we all know as the JCB, the digger that not only your customers, but even my two-year-old grandson, think is marvellous," Bamford said at the ceremony.
Hoist implements new engine
BEDFORD PARK, IL, United States
Hoist Liftruck is integrating the new GM 4.3litre Spectrum Series II engine into its product line.
Company president Marty Flaska said many of its dealers and end users were already familiar with the engine.
"Numerous major manufacturers of forklifts outside Hoist have implemented this engine as well. Our customers will benefit from their existing training and experience with the 4.3litre Spectrum Series II," he said. Hoist will upgrade the 5.7litre engine in 2006.


Send this newsletter to an associate

Superior Turret Master – Give your machine Narrow Aisle features
The Superior Turret Master Attachment can be installed onto most lift truck brands and allows the operators to work in aisles as narrow as 66 inches. In most applications a 72 inch aisle is recommended. The standard day to day operation of the Turret Master attachment is easier than any turret design on the market today as it allows the operator to drive to the load to be retrieved and pull it directly out of the rack without trying to steer the forks into the pallet opening...
Click here to visit Superior Engineering on the web
OR
call them toll free
1-800-359-3052
for a sales manual or just to ask a few questions...
OR
Click here to send Matt Lusk at Superior Engineering a direct email...
Click here for the full text of this release, including pictures.

Landoll Introduces Very Narrow Aisle (VNA) Bendi Model
The Landoll Corporation Bendi 180 degree articulating electric forklift now officially has entered the Very Narrow Aisle marketplace. This market is defined as customers having storage aisles 6' (1.8M) wide and under with loads 48" (1200mm) long x 40" (1000mm) wide. Up until recently the Bendi was limited to aisles of 78" (1.98M). By redesigning the front axle to make it narrower and thinner and by designing a mast that has a narrower profile this 6" (150mm) aisle reduction was achieved.
Click here for the full text of this release, including pictures.

Dallas based Narrow Aisle Inc., announces increased lift capacity as well as 33% more runtime
The Flexi / DV8r offers a new feature on its Very Narrow Aisle Articulating Forklift. In addition to its unique design of front wheel drive and front wheel steer, the Flexi can now increase its lift capacities to 4500 lbs
Click here for the full text of this release, including pictures.

Compact four way (multidirectional) sideloader improves storage capability and reduces costs
The handling of long loads inside and out has become easier now with the introduction of the
Hubtex 2121-EL
multidirectional electric sideloader. Traditionally, indoor trucks with small solid tyres struggled on outdoor floors and the vibration created could affect the controls on the truck, increasing downtime.
Click here for the full text of this release, including pictures.

INTRUPA to exhibit at CeMat Asia 2005INTRUPA
, one of the world's largest manufacturers and wholesale distributors of replacement parts and accessories to the material handling industry will be exhibiting at CeMAT Asia 2005, November 28 -December 1, 2005,
in Hall E1, Booth K1-2.
Click here for the full text of this release, including pictures.



Dave Hoover: Don't be a hypocrite!


NEWARK, OH, United States

Everybody knows someone who says one thing and does another. How many of us tell our kids to do something to be safe, then show them another side when we don't think they are watching us? I know that telling my seven-year-old son to wear his seatbelt or motorcycle helmet is almost worthless without me buckling up and putting my helmet on as an example to him.

Click here for the full text of this Safety First feature.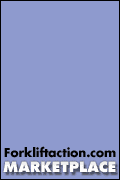 Fast Facts