Send this newsletter to an associate

This week, our newsletter launches a column that showcases products relevant to our industry. Product Watch can be found below our media releases and allows members to present their products in text and pictures in the newsletter. There is a short description of the product and a single picture in the newsletter but on the website, the full column containing up to 500 words of text and three pictures plus contact details, is displayed.

To feature your products in this exciting new column,
email info@forkliftaction.com or phone +61 7 3369 9090.




China to "outgrow Japan"
TOKYO, JapanKen'ichiro Takase is senior manager of the Japanese Industrial Vehicles Association (JIVA). He has spent 17 years of his professional life with JIVA and now takes charge of its statistics program, collating sales figures by truck type and capacity each month. Forkliftaction.com News reporter Christine Liew spoke to Takase at the JIVA office in Minato-ku, Tokyo, soon after he returned from the Industrial Truck Association's annual meeting in Rancho Mirage, California.
The size of the Chinese forklift market is expected to overtake the Japanese market next year, says Ken'ichiro Takase.
This year, the Japanese forklift market is projected to be about 80,000 units while the Chinese market is projected at more than 75,000 units.
"Chinese forklift sales in 2004 were 70,000 units and, in 2003, 68,000 units," Takase said.
"All our members try to focus on the Chinese market now. Some members are starting to establish their own factories in China, for example TCM, Nichiyu and Toyota. Nissan has established a sales company in Shanghai but doesn't have a factory there. Mitsubishi has had a relationship with Dalian Forklifts for a long time."
However, Takase is uncertain if Japanese forklift manufacturers will increase market share in China in the next five years.
"Of course members try to expand their businesses in China but domestic manufacturers are still dominant," he said. "I remember Mr Su Enyi, the managing director of China Industrial Truck Association saying Chinese manufacturers have 80 per cent of the market share. I can't say what percentage Japanese manufacturers have because I'm not sure."
To expand in China, Japanese manufacturers are dependent on the growing Chinese economy and an increase in living standards as Chinese end-users still opt for cheaper forklifts.
"Japanese manufacturers try to expand their sales in the mid-end and over mid-end markets but in China almost all customers are still at the lower end market.
"As time goes by we will have the chance to expand in China as customers have more interest in forklifts that are environmentally friendly or customer oriented," he said. "Chinese customers are now only interested in price.
"Our members don't want to sell cheap products because they have pride in their products," Takase said.
On the growing Eastern European market, he said Japanese manufacturers were still trying to establish dealer relationships there.
"Our total exports to Russia have grown by double digit over the past year but members have no relationship with other Eastern European countries," Takase said.
A Goldman Sachs report, by Dominic Wilson and Roopa Purushothaman, published in October 2003, said the economies of Brazil, Russia, India and China (BRICs) could collectively be larger than the G6 countries (USA, the United Kingdom, Italy, France, Germany and Japan) in US dollar terms in less than 40 years.
"The relative importance of the BRICs as an engine of new demand growth and spending power may shift more dramatically and quickly than expected … As today's advanced economies become a shrinking part of the world economy, the accompanying shifts in spending could provide significant opportunities for global companies."
The report said a key assumption underlying its projections was that the BRICs maintained policies and developed institutions that supported growth.
To view the Goldman Sachs report,
click here
.

Ferrari rails in biggest European order


ROVELETO di CADEO, Italy
Freightliner Intermodal has awarded CVS Ferrari a GBP6 million (USD10.5 million) contract for complete replacement of its box handling equipment fleet.
The order for nine F378.5 reach stackers, 10 F18EC empty container handlers and eight FYT220 tractors is the largest contract for CVS in Europe.
Freightliner managing director Peter Maybury said the investment would ensure the company provided reliable, efficient container transport services.
"Every day we handle around 2,500 boxes and this new equipment will help us move them between rail, road or store more efficiently," he said.
The new fleet will be supplied, on a maintenance inclusive basis, by CVS Ferrari UK distributor SHAD Fork Truck Ltd.
CVS area manager Paolo Tavola said Freightliner went through a long evaluation process before awarding the tender to CVS. The first machine was delivered in the northern hemisphere summer of 2005.
The machines will carry Freightliner's corporate green and yellow colours instead of CVS Ferrari's usual red livery.
Compared to Freightliner's old machines, the new ones are have lower fuel consumption engines, which produce clean exhaust emissions and are less noisy.
Freightliner Intermodal, a part of the Freightliner Group, claims to be UK's largest haulier of maritime containers. It moves more than one million standard container units (TEUs) a year.


Kalmar buys Indian agent


STOCKHOLM, Sweden
Kalmar is committed to playing an integral role in developing India's port industry with the acquisition of Indlift, its Indian agent since 2000.
Indlift will now be Kalmar's new subsidiary, Kalmar India.
Vijay Kumar, Indlift's previous owner, becomes Kalmar India's managing director. The company employs 18 staff and has operations in Mumbai, Khandla, New Delhi, Vizag and Bangalore.
Kalmar Industries president and CEO Christer Granskog said the acquisition fitted Kalmar's strategy of boosting its involvement in sales and services in its major markets.
"Kalmar has enjoyed a successful partnership with Indlift. The company's longstanding experience and dedication to customer service will form a basis from which Kalmar can establish its own operations in India," he said.
"India is opening up and becoming a key growth market for containers and heavy materials handling equipment and related services."
Total container volume in India is estimated to be more than four million TEUs this year, a number that has increased 10 per cent a year for the past few years, a Kalmar statement said.
Kalmar has about 200 machines, ranging from RTGs and reachstackers to terminal tractors and forklifts, working in India's ports and terminals industry.
In March 2005, Kalmar received one of its biggest single RTG orders from Gateway Terminals India Pvt Ltd, Mumbai (
Forkliftaction.com News #201
).


Opportunity with forklift manufacturing business
A small company manufacturing new cushion tired heavy lift trucks in
North America
is seeking an expression of interest from individuals or companies to partner in the growth of the company, create a Joint Venture, take an equity position or possibly acquire the company.
The company has a reputation for manufacturing very high quality products, is very well accepted in the marketplace with a full order book and generates excellent gross profit on a per unit basis.
Interested parties are asked to forward their details to the
Forkliftaction.com email address below
and the owners will contact you directly in return.
Please send your interest to business@forkliftaction.com


JLG brings compact telehandlers to North America


HAGERSTOWN, MD, United States
JLG Industries Inc plans the North American introduction of two compact telehandler models at the 2006 World of Concrete trade show from January 17 to January 20 in Las Vegas, Nevada.
In early 2005, JLG began production of the models at its Maasmechelen, Belgium, facility and initially targeted the European and Australian markets, typically for use in landscaping, agriculture and general construction applications.
"This class machine can fill out our product line in North America," said Mark Eckert, JLG North American telehandler product champion, from his office in Hagerstown. "We are taking something with a lot of European influence in the design."
One telehandler has a lifting height up to 23 feet (7.0 metres) with a maximum capacity of 6,600 lbs and a forward reach of 12.8 feet (3.9 metres). The other has a 5,700lb (2,586kg) lifting capacity and a 19 foot (6.0 metre) maximum lifting height.
For now, JLG will continue to build the two premium models in Maasmechelen and export them to North America.
The design includes improved operator visibility, a 140-degree carriage rotation and a mechanical quick switch for changing from forks to other attachments, such as a general-purpose bucket, a digging bucket or a truss boom.
The company markets telehandlers under the JLG, SkyTrak, Lull and Gradall brands but has not determined the North American branding for the two compact telehandlers.
A more typical North American telehandler for the construction market has a higher boom pivot for more height and farther reaches. JLG's typical 6,000lb-capacity telehandler, for instance, has a lifting height of 42-45 feet (12.8-13.7 metres) and one of the SkyTrak models has a 36 foot (11.0 metre) lifting height.
Each compact model is technologically advanced with more electronic components than most North American telehandlers, Eckert said.
JLG is not ready to disclose pricing for the models but intends to "be competitive with the rest of the machines in this size class", Eckert said.
In conjunction with the World of Concrete, JLG will inaugurate its trademarked Telehandler Skills Challenge. Contestants compete over a closed course using a JLG telehandler on a simulated job site. Entrants can apply online at
www.jlg.com/challenge2
.

ITA lauds Borre and Wuench for meritorious service


RANCHO MIRAGE, CA, United Statesby US correspondent Roger Renstrom
The Industrial Truck Association (ITA) has accorded full honours to Larry A Borre and Robert L Wuench at a banquet during the group's annual meeting in Rancho Mirage.
Borre was ITA president in 1998 and 1999 and Wuench in 2000 and 2001. A top executive representing each man's ITA member company, Nissan Forklift Corp North America for Borre and Mitsubishi Caterpillar Forklift America Inc for Wuench, presented them with cut glass eagle statues, ITA's meritorious service award.
During Borre's tenure and, in part, because of his extensive travel on behalf of the association, ITA and similar trade groups in Europe and Japan established the Alliance of Industrial Truck Organisations (AITO). The alliance enables top industry leaders to discuss items ranging from marketing statistics to international standards.
Under Borre, ITA established its website and conducted membership surveys dealing with advertising costs, leasing arrangements and the value of service parts. In addition, the US Occupational Safety & Health Administration began regulating forklift operator training.
Borre "devoted his entire career to prudent leadership resulting in continuous improvement of the materials handling marketplace", said David Baiocchi, president of JM Equipment Co Inc, of Modesto, California. Borre operated Barrett Industrial Trucks and continued with Nissan after Nissan acquired Barrett.
During Wuench's tenure as ITA president, the association undertook a major revision of its statistics software program, initiated near-total communications through email and the website, and successfully petitioned the American National Standards Institute to change its standard for off set loads.
ITA expanded contacts with sister associations in Europe and Asia by sponsoring activities during the Hannover Fair, completed arrangements under which members could use the ITA logo and inaugurated annual meeting format changes to allow greater time for networking between regular and associate members.


Marketplace notes
In the past weeks many dealers are recognising the real value of their ShopFront in the Marketplace.
Why?
For the first 10 days of this month, the dealer ShopFronts obtained 10,783 views.
Each day, over 1,000 visitors
obtain information and contact details from dealer ShopFronts.
And, during the past 6 months, dealers with +30 listed machines had an average of
108 ShopFront visits per month
.
All listings link to a dealer's ShopFront. Not only does it tell how you can get in contact with the dealer by phone, email and fax; this webpage is the dealer's showroom in a busy part of the Internet. The ShopFront contains corporate logo and photos, a clickable web address, contact details and physical address and a description of what the dealer offers.
For more information about your ShopFront or to get dealer access to the Marketplace, email
dealers@forkliftaction.com
.
Have a great week!
The Marketplace team -
marketplace@forkliftaction.com
– Phone: +61 7 3369 9090 – Fax: +61 7 3369 9096.

SMV UK offers heavy rental service


WARWICKSHIRE, United Kingdom
An independent UK distributor for SMV Konecranes wants to lift the esteem of heavy forklift customers with a new, specialised rental service that it claims is the country's first.
SMV UK has established SMV Rentals Ltd to offer a rental service dedicated to heavy forklifts with lift capacities of more than 10 tonnes. David Cooper, SMV UK managing director, said the company had invested in seven new 16 tonne machines, a "relatively new" 28 tonne forklift, and two used reach stackers to launch the service.
He said SMV Rentals would meet a currently unsatisfied demand in the UK.
"If you were a UK customer seeking a heavy machine to rent without long-term commitment you would struggle to find anyone with a suitable machine available. If you were lucky to find a supplier with availability, the machine is likely to be old, say 15 to 20 years old, uncomfortable to operate and with dirty smoke billowing from the exhaust.
"This area of the rental market has been a victim of 'buy cheap, rent expensive'."
Cooper said the new and "nearly new" machines were an attractive offer to customers.
"Would a customer prefer to drive a 15-year-old truck with stiff steering and dirty smoke or a new, modern machine for the same weekly rent?
"Reliability would be improved, drivers more productive, noise and emissions lower and customer esteem enhanced as a consequence."
Cooper said company policy dictated the fleet for rent would not be older than five years. Customers can rent machines from one week to an unlimited period. The new 16 tonne forklifts (SL16-1200B) are the latest B generation range SMV Konecranes, launched this year.
SMV UK was awarded top SMV Konecranes worldwide distributor for 2001 to 2004.


Briefs

TCM three-wheel gets G Mark
ZAVENTEM, Belgium
TCM's electric three-wheel FTB 6 series forklifts have been awarded the "G Mark of 2005", a Japanese good design award initiated by the Japanese Government.
As early as the 1950s, the Japanese Government instituted the award to encourage Japanese industries to innovate and upgrade a wide range of merchandise. The Japan Industrial Design Promotion Organisation now assumes the roles and functions of the government for the award.
Caterpillar to position for future glory
NEW YORK, New York
Caterpillar Inc CEO Jim Owens told a meeting of financial analysts and shareholders in New York last week that the company aims to hit USD50 billion in sales and revenues by 2010.
"We have set challenging but realistic goals for 2010 and beyond … It's about being number one in every endeavour we pursue, affirming our leadership in technology and innovation, and creating a great place to work," he said.
The company reported a 17 per cent increase for third quarter sales and revenues from USD7.659 billion for 2004 to USD8.977 billion this year. Sales and revenues for 2005 are forecasted to be up 20 per cent from 2004.

Fly popular in Southern Europe


HANNOVER, Germanyby European correspondent Luc de Smet
Italian manufacturer Carreffe srl has sold about 150 Levante Fly machines since it launched the product at the triannual Movint, an international industrial and mechanical handling exhibition in Bologna in May 2004.
Carreffe was at CeMAT 2005 to showcase the counterbalance electric forklift and stacker hybrid, among other products. "We are a small company but we can grow easily," a company spokesperson told Forkliftaction.com News.
The Levante Fly, an AC threewheeler that takes narrow aisles and has a stacking width of 2,745mm, a maximum load capacity of 1,200kg and a maximum lift height of 5.5m, has been popular in southern Europe.
It was developed in co-operation with the ZAPI group, an electronic speed controller manufacturer, in Poviglio, Italy, and CFR srl, in Modena, Italy, that built the motors.
"Our business for the future is products on demand. We can supply customised versions of the Fly," said Mauro Leoni, sales manager for Levante srl.
The Levante and Carreffe brands belong family group Carreffe srl owned by Alberto Fornasari. Carreffe, based in Ostiglia, northern Italy, and established in 1982, produces palletisers and electric stackers.
Carreffe plans to produce a self-loader stacker, the Innolift, under licence. The Innolift loads and moves palletised goods of up to 600kg, travels and lifts itself onto a van or trailer It was developed by Friendlift Oy, from Jokela, Finland.
Production is planned for January 2006 and first-year production is targeted at 120 units.


Send this newsletter to an associate

Product: Hyster Fortis H40-70FT

The sit-down counterbalanced IC, solid pneumatic tire Fortis H40-70FT ranges in capacity from 4,000 to 7,000 pounds (1,814 to 3,175 kg). This new series of lift trucks reduces operating costs by matching the right engine with the proper transmission for specific application needs.
Click here for more information on this product, including pictures.


Issue #6

Mobile phones are now a regular feature of life for many people all over the world and they have undoubtedly improved communications and enabled individuals to stay in touch. They are seen almost everywhere nowadays. Their very flexibility, however, means that there is a very practical safety aspect to this.

Click here for the full text of this Cargo Chat feature.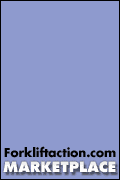 Fast Facts