Send this newsletter to an associate

Next week you will find a new column in this newsletter and on the Forkliftaction.com web portal. In the new column, PRODUCT WATCH you can feature the goods you make or distribute: any product you believe appeals to the materials handling professional.

You can describe the product and its applications in full detail. Include contact details, web address and up to 3 photos.

PRODUCT WATCH will be viewed by 60,000 industry professionals. Include your product for only USD 330 or Euro 270.
For more information, email info@forkliftaction.com, phone +61 7 3369 9090 or fax +61 7 3369 9096.





JLG to build Caterpillar telehandlers
McConnellsburg, PA, United Statesby US correspondent Roger Renstrom
In a blockbuster deal for its telehandler business, JLG Industries Inc has signed wide-ranging definitive agreements with global giant Caterpillar Inc.
JLG chairman Bill Lasky said the arrangement was the first time Caterpillar had established that type of global strategic alliance with any company.
Under a 20-year pact, JLG will design and produce a full line-up of Caterpillar-branded telehandlers for distribution exclusively through Caterpillar dealers. JLG agreed to acquire certain equipment, tooling and intellectual property for USD51.4 million.
JLG plans to invest an additional USD30 million over a transition year to develop the North American Caterpillar line and adjust two facilities for additional production. McConnellsburg will supply markets in North America and Latin America. Maasmechelen, Belgium, will supply Europe and elsewhere.
Rusty Dunn, Caterpillar corporate spokesman, said the markets differed. "We tried to serve the world with one design when there are regional differences."
Unlike units in North American use, European telehandlers have outriggers that must be put down and European telehandlers are smaller, Lasky said.
JLG will move relevant equipment to Maasmechelen from Caterpillar's Leicester, England, plant. Dunn said Caterpillar began manufacturing telehandlers in Leicester in 1994, but telehandlers did not fit Caterpillar's application profile.
"We see this alliance as a success of taking a much more disciplined view of where Caterpillar has core competencies and where we don't," Dunn said. "We excel at products that run through aggressive application profiles in the earthmoving business. JLG excels at the precision placement of men and materials in the air."
Among its lines, JLG produces and markets telehandlers under the JLG, Gradall, Sky Trak and Lull trademarks. After the transition, JLG anticipates its Caterpillar-branded telehandler line should have first-year sales of at least USD325 million.
McConnellsburg-based JLG employs 3,927 people and had sales of USD1.74 billion for the fiscal year ended July 31. Caterpillar, based in Peoria, Illinois, USA, reported 2004 sales of USD30.25 billion and, as of December 31, 2004, employed 76,920 people.
The deal should close by year's end.

Thomas Equipment buys Tovel
New Brunswick, Canada
Thomas Equipment Inc has signed a letter of intent to buy all the assets of 1221549 Ontario Ltd dba Tovel Manufacturing (Tovel).
Tovel, headquartered at Concord, near Toronto, Canada, manufactures Superlift vertical masts and Tovelazer telescopic handlers. The company initially manufactured mortar and plaster mixers.
In late 1970s it expanded operations by designing and manufacturing its first generation of heavy duty, two-wheel drive, vertical mast forklifts. The success of the TS6-44 and TS8-44 series has triggered demand for customised rough-terrain forklifts with greater weight and lift capacities.
Thomas has also reached an agreement in principal with Hyundai Heavy Industries Ltd (Hyundai). The agreement will expand its strategic OEM agreement with Hyundai to include the Korean forklift maker purchasing from the Tovel line.
Thomas CEO and president Clifford Rhee said the acquisition was compelling on many levels.
"First, it represents a solid value proposition for our shareholders. Second, adding this line of products to our OEM relationship with Hyundai will create additional synergies. Finally, the Tovel line of products will reinforce Thomas's existing distribution channels," he said.
Milwaukee-based Thomas Equipment Inc manufactures construction and industrial equipment, and potato harvesting and handling equipment.


Black Economic Empowerment co. buys TCM distributor
Johannesburg, South Africa
TCM distributor Criterion Equipment is South Africa's first major black-owned materials handling company after being bought by J&J Group.
J&J Group, a black economic empowerment (BEE) Johannesburg-based investment company, acquired Criterion from Murray & Roberts for R75 million (USD11.2 million) and will now own 90 per cent of the business. Its management team will have the remaining 10 per cent stake in Criterion.
Murray & Roberts CEO Brian Bruce said the sale of Criterion was part of the company's strategy to focus on the construction economy.
"We were keen to sell the business to an established company like J&J with whom we have developed a good partnership on other initiatives. We are also facilitating the deal by providing an element of vendor finance," Bruce said.
J&J Group COO Chris Jardine said Criterion's good management, solid track record and the growing materials handling industry influenced the group's decision to buy the company.
"Our approach to Criterion will be similar to the approach we adopt with our other investments, which is active participation and solid value-adding. We will grow Criterion's market share organically and by acquisition and will broaden the range of products.
"This acquisition is part of J&J's overall strategy in targeting investment in infrastructure and related businesses that, in our view, have growth potential," Jardine said.
Established in 1976, Criterion has been an agent for TCM forklifts since the 1990s. It has 11 branches and agencies in South Africa and agencies in various Southern African countries, like Namibia, Zambia, Zimbabwe, Mozambique, Swaziland and Lesotho.
Graham Callanan, managing director of Criterion Equipment, said: "BEE players have traditionally found this market difficult to penetrate because it requires significant capital outlay and geographic spread."


Opportunity with forklift manufacturing business
A small company manufacturing new cushion tired heavy lift trucks in
North America
is seeking an expression of interest from individuals or companies to partner in the growth of the company, create a Joint Venture, take an equity position or possibly acquire the company.
The company has a reputation for manufacturing very high quality products, is very well accepted in the marketplace with a full order book and generates excellent gross profit on a per unit basis.
Interested parties are asked to forward their details to the
Forkliftaction.com email address below
and the owners will contact you directly in return.
Please send your interest to business@forkliftaction.com


US demand for 2006 "basically flat"
Rancho Mirage, CA, United States
By US correspondent Roger Renstrom
Civilian forklift demand in the US and Canada in 2006 was forecast as "basically flat", Industrial Truck Association (ITA) president James Malvaso told the ITA's 54th annual meeting.
Speaking at a presidents' forum on doing business in an unsettled market, Malvaso said the ITA's 2005 projection for North American sales was 189,075; 2004 sales totaled 182,452.
Expressing a prevalent sentiment at the meeting, Malvaso, who is president and CEO of Raymond Corp, of Greene, New York, USA, said: "We don't understand the impact of China."
Ambrogio Bollini, president of the European Federation of Materials Handling's Industrial Truck Division and managing director of Cesab Carrelli Elevatori, of Bologna, Italy, said forklift sales in Europe increased to 286,774 last year from 258,745 in 2003. Europe accounted for 40.7 per cent of 2004's 704,210 global sales.
Demand was growing faster in Eastern Europe than Western Europe and percentage growth in China was increasing at a higher rate than any other market, Bollini said.
In Japan, electric counterbalanced trucks gained another 1.2 per cent of market share at the expense of internal combustion trucks (ICs). During 2004, electrics accounted for 29.6 per cent and ICs 70.4 per cent of the market, said Rikuro Tasaka, president of the Japan Industrial Vehicle Association and chairman of TCM Corp, of Tokyo, Japan. Japanese demand for forklifts was less than the available supply, Tasaka said. "In the future, supply may have to be reduced."
Nearly 300 delegates attended the meeting held from October 29 to November 1 in Rancho Mirage, California.

Marketplace notes Do you receive a weekly email with the new listings added in the Marketplace?
As a recipient of the Forkliftaction.com newsletter, you can also receive a weekly email which informs you of the newly added listings in the Marketplace.
Find the new listings per equipment type and per brand. One click leads you to more information directly in the Marketplace.
This week, over 200 new listings were added, including counter balance forklifts, all terrains, telehandlers, container handlers and reach stackers.
To activate this option, open
www.forkliftaction.com/marketplace/notifications.asp
, select 'New Listings' from the list of available options and click UPDATE.
Lost your password? Visit
www.forkliftaction.com/members/lostpassword.asp
and your password will be instantly emailed to you.
Or, simply send us your request to
marketplace@forkliftaction.com
.
Have a great week!
The Marketplace team -
marketplace@forkliftaction.com
– Phone: +61 7 3369 9090 – Fax: +61 7 3369 9096.


Jungheinrich to assemble in Qingpu, China
Hamburg, Germany
Jungheinrich AG will invest an initial EUR2 million (USD2.4 million) to establish an assembly plant in Qingpu, near Shanghai, China.
The company aims to start manufacturing battery-powered pedestrian-controlled pallet trucks in the Chinese plant in the northern hemisphere autumn of 2006 to meet Asia's warehousing equipment demand.
Growth in the Asian materials handling market was around 21 per cent in 2004, Jungheinrich said in a statement.
In 2000, Jungheinrich established a sales company in Singapore and one in Shanghai, China, in 2004. In 2004, Jungheinrich also began sourcing hand pallet trucks from its Chinese joint-venture partner, Ningbo Ruyi Stock Co Ltd, based in Ninghai, Zhejiang.
The new assembly plant will be in the Qingpu industrial zone, about 60km from Shanghai Pudong International Airport. Fifty people will be employed to assemble the pallet trucks. Completed low and high platform trucks will be supplied to Jungheinrich's Chinese sales organisation, the Asian market and non-European markets.

FLTA board member searches for a Climax
Alton, United Kingdom
Fork Lift Truck Association board member David Woods is searching for a very specific forklift – a Coventry Climax Model 30DA.
Woods wants to use the forklift in a cart marking ceremony, organised by the Worshipful Company of Carmen.
The guild, formed in 1517, reflects all modes of transport and the annual cart marking tradition sees the Lord Mayor of London mark vehicles that ply for trade in the City of London.
A forklift has never participated in the ceremony but Wood was told by the guild that a suitable vehicle may be considered in 2006.
"My reason for trying to find a 30DA is that it is the first machine that Acclaim Handling Ltd acquired as a fleet machine (Woods is managing director of Acclaim). The machine was one I had sold in the mid-1970s as a young Coventry Climax salesman," Woods said.
"It stayed in our business, on our hire fleet, until I stupidly scrapped it 10 years ago.
"This model therefore has high sentimental value to me. If I was able to acquire one I would rebuild it so it was effectively in new condition, use it for the ceremony and then donate it to the National Fork Truck Heritage Centre," he said.
If you can help Woods, email him at
david.woods@acclaimhandling.co.uk
or phone +44 1708 861414.


Advanced safety features for new Mitsubishis


Reading, United Kingdom
Mitsubishi Forklift Trucks has launched FBNT three-wheel and FBN four-wheel series 48 volt AC counterbalance trucks.
The trucks, which come in capacities of 1.6 tonnes, 1.8 tonnes and 2.0 tonnes, have a new generation control system that governs, among other features, an advanced safety feature called the Integrated Presence System (IPS).
IPS detects whether the driver is correctly seated and, if not, prevents all hydraulic movement. It also stops lowering, lifting, tilting and truck travel.
Another of the controller's key roles is adjusting acceleration, travel speed, lift and lower speeds and braking to suit the load, the application and the driver.
Ergonomic features include adjustable steering columns, fully adjustable seats with hip restraints and belts, and through-the-floor pedals that minimise leg strain.

Briefs TVH and Atlet co-operate
Waregem, Belgium
TVH Forklift Parts NV has signed a agreement with Atlet AB to supply the Atlet distribution network with spare parts for all kinds of non-Atlet forklift and warehouse trucks via the internet.
The web-based Atlet PartsStore, open to all authorised Atlet service outlets, will offer more than 10 million part numbers.
Terex wins waiver until February 2006
Westport, CT, United States
Terex Corp has obtained a waiver from its senior bank lending group allowing the company until February 15, 2006, to provide creditors with financial results for the year ended December 31, 2004, and the quarters ended March 31, June 30 and September 30, 2005 (
Forkliftaction.com News #228
).
The waiver allows Terex to spend up to an extra USD235 million to repurchase, redeem, prepay or otherwise acquire for value indebtedness incurred by Terex other than through the facility.
Forklifts help Katrina victims
Elk Grove Village, IL, United States
Hyundai Forklift USA has donated three new Hyundai forklifts to assist the US Federal Emergency Management Agency's (FEMA) cleanup efforts and support for Hurricane Katrina victims in New Orleans.
Two new HLF30C forklifts and one HLF25C cushion tyred forklift were donated to FEMA for use in its warehouse in New Iberia, Louisiana.
Chris Ortega, of Industrial Lift Truck, the Hyundai dealer in Lafayette, Los Angeles, coordinated the delivery.
Polish company makes process cranes
Hyvinkää, Finland
KCI Konecranes and Mostostal Chojnice SA have signed an agreement to contract manufacture process cranes primarily for the European market.
Established in 1973, Mostostal Chojnice is a leading Polish producer of steel structures. Its factory is in Chojnice town, close to Gydnia Port and the German border.
The factory has acted as a back-up manufacturing facility for Konecranes in many projects.

Gottwald delivers 5 WSG cranes to Italy


Dusseldorf, Germany
Gottwald Port Technology has delivered five wide span gantry (WSG) cranes to Busto Arsizio-Gallarate rail terminal near Milan in Italy, operated by the Swiss combined transport operator Hupac.
The five cranes of identical design are double-rail WSGs that perform the same tasks as the terminal's existing KSR and Aumund cranes. The cranes have a span width of 38 metres and are equipped with nine metre long cantilever arms.
The lifting height is 12.8 metres, enabling one-over-three container handling. The lifting capacity on the ropes is 57 tonnes while the telescopic spreader will allow 41 tonne loads to be moved. The cranes travel at 140 metres a minute and cargo is raised and lowered at up to 30 metres a minute.
Giorgio Pennacchi, Hupac group director of engineering, said he was pleased with the technology and performance of the cranes.
"Busto Arsizio-Gallarate is becoming increasingly significant as a rail hub where Italian container shuttle traffic and combined transport crossing the Alps converge," he said. "Thanks to the improved capacity provided by the new cranes, we will be optimally equipped to deal with further growth in combined transport."
Hupac group has nine companies in Switzerland, Germany, Italy and the Netherlands, 3,519 rail carriages, 13 locomotives and 10 directly-managed intermodal terminals.


Send this newsletter to an associate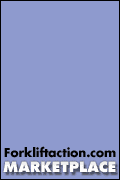 Fast Facts
1. KCI Konecranes Plc has entered into a memorandum of understanding with R STAHL AG concerning a possible acquisition of their material handling division.
2. Allixon International Corp has signed an agreement with Logistics Information Technology to further enhance RFID business in the Korean and global markets.
3. JCB has donated more than GBP500,000 (USD884,450) worth of machines to help earthquake-torn Pakistan and India.
4.
Omega Lift Manufacturing Inc. & VOSS Equipment
5.
Second Generation INTRUPA.NL Now Available