Send this newsletter to an associate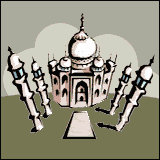 With the Indian government loosening up its controls on foreign trade and investment, the local and global forklift industry all want a share of the growing Indian forklift market. Read our feature article this week for more on the Indian forklift industry.

On the home front, the team has settled back into work after a highly enjoyable time at CeMAT in Hannover, Germany. If you were not present at the global intralogistics fair, we have compiled a special feature of our CeMAT experience for your enjoyment. Alternatively, relive your time at CeMAT through our photo gallery. We are still compiling photos for our gallery so do come back and check for more. If you have any photos to share with us, email info@forkliftaction.com.







Send this newsletter to an associate


Tip off Forkliftaction.com
Do you know something our readers should know? Write to
news@forkliftaction.com
or provide information anonymously
here
.


Jobs
1. Forklift technician - Full time
Portland, and Southern Oregon Positions, United States
2. Parts Manager-Forklift - Full time
Portland,Oregon, United States
3. Forklift Technician - Full time
Tyler, Texas, United States
4. Service Technician - Full time
Tampa, United States
5. Area Sales Manager - Full time
South Yorkshire, United Kingdom
6. Sales Manager - Full time
East Midlands, United Kingdom
7. Service Engineer - Full time
London, South & South East, United Kingdom
8. Key Account Manager X2 - Full time
South of England & South Wales, United Kingdom
9. Area Sales Manager - Full time
South, United Kingdom
10. Service Engineer - Full time
East Anglia, United Kingdom
11. Sales Representative - Full time
London & South of England, United Kingdom
12. Service Manager - Full time
Richmond, United States
13. Sales Co-ordinator - Full time
Commerce, United States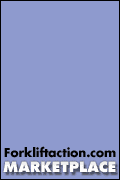 Fast Facts


Editorial Calendar
January
Explosion proof forklifts
February
Forklifts in the logging and timber industry
March
Industrial batteries and chargers
April
The forklift market in China
May
Reach stackers
June
Forklift tyres, wheels and castors
July
The German forklift industry
August
Container attachments
September
Truck mounted forklifts
October
Engines and drive trains
November
The forklift market in Canada
December
End of year review