Send this newsletter to an associate

Forkliftaction.com News offers forklift and materials handling industry associations a great way to get their news to the world. Fork Talk is a free column available to non-profit forklift and related industry associations to publish news and technical articles which may be of interest to the Forkliftaction.com community. If your association would like to use this service, contact our journalist, Christine Liew, by emailing news@forkliftaction.com.






Linde heads for North America


HANNOVER, Germany
Linde AG plans to reach a double digit market share in North America within three to five years. Currently the European market leader's share in the US market is below five per cent.
In an interview with Forkliftaction.com News's European correspondent Luc de Smet at CeMAT 2005, Linde managing director Georg Silbermann said: "Specialists know us, but we lack fleet and brand position. We must think and work bigger. Obviously there are some serious opportunities. The US market is estimated at 200,000 units for 2006."
Silbermann said Linde's vast range of trucks was an important differentiator in the market. Therefore, in addressing the American market, Linde would not focus on any industry in particular but would hit the market with its full range of trucks, some 80 to100 base models.
"If we want to grow there, we must offer standard classes from 1 to 6. We must meet US specifications and be present in the field."
In North America (Canada, Mexico and the USA) Linde currently has a network of 100 dealers with a total of 200 outlets. "With a market share of only below 5 per cent we must accept that they are multibrand," Silbermann said.
Linde was not looking for more dealers nor was it interested in acquiring existing dealerships. "We are satisfied with the market coverage our current set up can provide. We must feed our current dealers. Naturally we will encourage them to go mono-brand with the full range of Linde trucks," he said.
Linde has 200 people in North America. Two years ago it established a head office in South Carolina. Linked to the head office is an assembly/modification line with a warehouse and stock. It also has a training centre.
Current workshop production is 1,500 units, "but that can easily be brought up to 5,000 without major changes", Silbermann said. "The most critical thing is to have the right product that meets local specifications and the network."
Click here for full story and pictures.

New CeMAT "hits nail on the head"


HANNOVER, Germany
More than 50,000 people visited the first stand-alone global intralogistics fair in Hannover, Germany, from October 11 to October 15.
Sepp D Heckmann, Deutsche Messe AG managing board chairman, said:
"The decision we and the industry jointly made to separate CeMAT from Hannover Messe and rebrand it as a stand-alone, global event for the technical logistics sector hit the nail on the head."
CeMAT 2005 attracted an international audience, with 35 per cent of trade visitors coming from outside Germany. Of that percentage, 11.1 per cent came from Asia and 10.7 per cent from the USA. Around 1,000 exhibitors occupied 75,000 square metres of display space at CeMAT 2005, of which 43 per cent were from outside Germany. One-third of that number came from Europe.
Josef Morat, marketing and key account manager for OM Carrelli Elevatori SpA, Italy, said Deutsche Messe AG had marketed CeMAT "very well" around the world.
Mitsubishi Forklift Trucks spokesperson Arjan Barten said his company was satisfied with the new CeMAT. "We noticed that the number of "professional" visitors was higher than at other exhibitions in Europe," he said.
"We noticed [also] that with this compact setup it was possible for the visitor to visit each and every hall in a proper manner. We were also satisfied with the increased percentage of foreign visitors compared to CeMAT 2002."
Daniel Vanhemelrijck, Doosan Daewoo's sales & marketing manager for Europe, said the exhibition was the most important international exhibition for forklift business in Europe.
"Some people from our organisation and also our competitors were very sceptical about this change but even if we do not have the exact figures yet I think it was a successful exhibition," Vanhemelrjick said.
"The best example of this is the visitors at our booth from countries as far as Canada, the USA, and even Brazil and Guatemala and also the impressive presence of Chinese suppliers, visitors and photographers," he said.
Daniel Hanssens from OMG, an Italian forklift manufacturer, said his company took the opportunity to meet up with its European dealers.
"We made a lot of contacts who want to work as resellers in other countries," he said. "This is the first time we have [attracted] a lot of interest in this fair. In the past, we didn't have a lot of interested people."
"The end user now knows us like a big player on the market," Hanssens said.
Next week, Forkliftaction.com News will publish a second review of CeMAT 2005. Feel free to email us your CeMAT experience.


Bulk orders follow international show


SEOUL, Korea, South
The world's largest shipbuilder says its forklift segment has received orders to sell 125 forklifts after a strong showing at an international trade exhibition.
Hyundai Heavy Industries Co (HHI) said on its website it had received orders to sell the 125 forklifts, worth 2.5 billion won (USD2.4 million), after exhibiting at CeMAT 2005 in Hannover, Germany, from October 11 to October 15.
"HHI was able to secure this large scale order during the exhibition as a result of various marketing activities," the statement said.
HHI exhibited 10 forklifts, including new models like the three-ton electric forklift, HBF30-7H (80V), and a seven-ton diesel forklift, HDF70-7S.
The company predicted a surge in forklift sales following the positive reviews its products received at CeMAT 2005.
HHI says its forklift sales in Europe increased 45 per cent last year and it expects sales for the market to increase more than 35 per cent in 2005.

Commercial sale for US Army project
RICHMOND, Canada
General Hydrogen Corp has sold a hydrogen-powered Hydricity pack to ePower Synergies Inc, to be used in a new forklift as part of a US Army research project.
The Hydricity pack will be used in an 80-volt pneumatic-tyred Hyster forklift that is part of a US Army Construction Engineering Research Laboratory (CERL) project led by the University of North Dakota Energy & Environmental Research Centre (EERC).
Vehicle demonstration activities will take place at Grand Forks Air Force Base, in Grand Forks, North Dakota.
General Hydrogen president & CEO Frank Trotter said his company was working very closely with ePower on the broader evaluation project at the air base.
Bruce Wood, ePower president, said the EERC project involved demonstrating hydrogen fuelled technologies and developing a "field-portable process for producing hydrogen from a common fuel, JP-8 jet fuel", which is used in all military vehicles.
"One objective of this project was to evaluate the performance of a hydrogen fuel cell powered forklift against a conventional propane powered unit, therefore we specified a pneumatic-tyred forklift," Wood said.
Trotter said the forklift being used, an 80-volt Hyster, was unlike the usual 36- or 48-volt solid-tyred North American forklifts.
"Because it's a European-based vehicle, this sale will provide us very useful feedback and experience for our subsequent growth outside North America in the not too distant future," he said.



SALES AGENCIES / DISTRIBUTORS WANTED!
We are the leading supplier worldwide for wheels and castors made of
VULKOLLAN®
and polyurethane with modern production facilities in Germany. We are looking for agencies / distributors for the sale of our products in:

• North America / Canada
• Central America
• South America
• The Baltic States / Belarus / Ukraine
• South East Asia
• Russia
Please contact
Mr Bernd Dolk
, Sales Director Export, by e-mail:
Click here
to send Mr Dolk your company profile and information on your current business activities.
RAEDER-VOGEL • RAEDER- UND ROLLENFABRIK • GMBH & CO. KG
SPERLSDEICHER WEG 19 – 23 • 21109 HAMBURG • GERMANY
PHONE:
+49 40 75499-172 •
FAX:
+ 49 40 75499-253
Click here to visit us online...

Plaque installed in remembrance of forklift founder


SOFIA, Bulgaria
A plaque was installed on the doorway of Madara AD, a Bulgarian heavy truck plant, this week, to commemorate its founder, Moncho Behar.
Behar was also co-founder of Balkancar.
The Sofia News Agency reported floral wreaths were placed at the plant, in tribute to Behar's memory, by Madara AD's current owner, Valeri Simeonov, and the district governor of Dobritch, Krassimir Kostav.
Behar, who was the father of Sofia News Agency publisher Maxim Behar, died on March 4, after suffering a heart attack (
Forkliftaction.com News #199
).
After serving almost 20 years in Balkancar's top management, Behar served two terms as a commercial counsellor in the Bulgarian Embassy in Prague.
Shumen mayor Vesselin Zlatev and the municipal council chairperson Daniela Russeva attended the installation of the plaque.


Movers & Shakers

OLATHE, KS, United States
Former Jungheinrich Lift Truck Corp president
Dirk Von Holt
has joined Systems Material Handling Co as vice president of sales & marketing. He will be directly responsible for domestic, international and OEM sales, business development and marketing. Von Holt is a former Industrial Truck Association president.
PORTLAND, OR, United States
Bryan Kirkpatrick
has been named an associate for Marger Johnson & McCollom PC, an intellectual property law firm with offices in Portland, Oregon, and Vancouver, Washington. Kirkpatrick was previously a project engineer with Nacco Materials Handling Group for almost 10 years. He was most recently patent and technical intellectual property manager at Nacco.
NIAGARA, Canada
Heli Fork Truck Canada has appointed
Raymond Tremblay
as manager of dealer sales and development for the province of Quebec. His main responsibility will be to service existing dealers and continue to develop the dealer network throughout Quebec.

Marketplace notes
Having our own stand at the world's major materials handling trade show was a great opportunity for the Forkliftaction.com team.
Dealers and end users from Eastern Europe to Canada and US visited us on the stand, where we were able to demonstrate live some of the more innovative aspects of our latest initiative. We heard stories of deals being done and companies training staff so they could most effectively use our site to enhance their business opportunities in used equipment. We also received feedback about what users would like to have from us and how we are going.
Thanks to all those who gave us a bit of their time at Hannover, we really enjoyed meeting you and swapping stories; we have returned home encouraged to grow our internet portal.
Have a great week!
The Marketplace team -
marketplace@forkliftaction.com
– Phone: +61 7 3369 9090 – Fax: +61 7 3369 9096.


Port of Charleston orders 16 more Konecranes RTGs


HYVINKÄÄ, Finland
KCI Konecranes has received an order to supply 16 more rubber tyred gantry (RTG) cranes to the Port of Charleston, South Carolina, USA, between May and November, 2006.
The South Carolina State Ports Authority exercised an option for the RTGs at a cost of USD25.8 million. The additions will bring the Port of Charleston's fleet of RTGs from Hyvinkää-based Konecranes to 41. The port also owns two other RTGs.
Each Konecranes RTG has a lifting capacity of 50 tons, can stack containers in the yard one over five high and comes equipped with sway prevention and horizontal fine positioning systems.
The port authority has ordered four super-post-Panamax container cranes from Shanghai Zhenhua Port Machinery Co Ltd (ZPMC), of China, at a cost of USD33.2 million.
It has contracted with Gregory Poole Equipment Co, of Raleigh, North Carolina, USA, for conversion of 13 full container handlers to four-high stacking, two full container handlers, two empty container handlers and two lift trucks for chassis storage for USD2.6 million.
"We're committed to a strategic expansion of the Port of Charleston's container handling capabilities," Bernard Groseclose Jr, port authority chief executive officer, said in a statement. "These projects will give us new capacity and serve as the bridge to port expansion on the former Charleston Naval Complex."
The first phase of the navy base terminal is expected by 2011. Currently, in conjunction with ocean carrier customers, the port authority is evaluating designs for a three-berth 288-acre (117-hectare) terminal and possible investments for rail mounted gantry (RMG) container handling cranes and RTGs.
Container volume in Charleston increased 14 per cent to 1.97 million TEU for the fiscal year ended June 30.
KCI Konecranes manufactures reach stackers and forklifts through SMV Konecranes, which is part of Konecranes's special cranes business area.

Forklift driver finds ancient tomb
HANGZHOU, China
A forklift driver discovered a 1,700-year-old tomb in the east China province of Zhejiang this week.
Xinhua News Agency reported Chinese archaeologists have unearthed a tomb complex dating back to 220AD to 280AD. The complex was discovered by the forklift driver at the building site for a refuse dump.
The 1.6 metre-wide, two metre-deep and five metre-long tomb has already been excavated in the Dongqiao township of Ningbo.
"Figures embodying fish, beasts, dragons, phoenixes and money can be seen in the wall of the grave," said Ding Yofu, a member of the excavation team. "They are incredibly refined and clear cut."
Excavation is expected to be conducted in the surrounding 5,000 square metres, where archaeologists believe lie five more ancient tombs.


Send this newsletter to an associate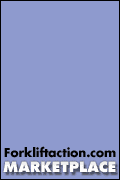 Fast Facts