Send this newsletter to an associate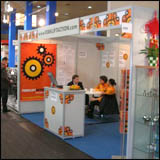 Great news for Forkliftaction.com advertisers. Our team of web developers has come up with a new reporting system that allows you to follow your advertising campaign 7 days a week around the clock. This new system automatically inserts your ads in our web pages and newsletter, both text advertisements (text ads and media releases) and graphic advertisements (banners). It keeps track of the ad views served and the number of clicks to your website or your email contact. All your advertising results on one page!

Now you can order a mix of advertising formats and view its total impact on our audience.
Contact us at marketing@forkliftaction.com for more information. With more than 16,500 industry professionals, your advertising investment with Forkliftaction.com is sure to bring solid results.




A step towards the "perfect forklift"


HANNOVER, Germany
Toyota Industries Corporation (TICO) has developed a prototype forklift powered by a fuel cell hybrid system.
TICO developed the fuel cell hybrid system with Toyota Motor Corporation (TMC), which developed the first fuel cell car prototype in 1996. The technology has been adapted to forklifts and TICO will take advantage of TMC's technology and share components with the automotive field.
The prototype, named Toyota FCHV-F, on display at CeMAT 2005 in Hannover, Germany, is equipped with a Toyota FC stack fuel cell and can carry a maximum 2,500kg load.
Toyota Industrial Equipment Europe product manager Benoit Meunier said fuel cell forklifts could save costs associated with truck usage.
"For diesel forklifts, when the price of diesel increases so does the cost of truck usage and, for electric forklifts, two batteries are needed for long shifts. The price of hydrogen is constant and not linked to the price of petrol," he said.
The fuel cell hybrid system also ensures constant power delivery, unlike electric forklifts, whose batteries must be periodically changed. This makes the forklift ideal for 24-hour shift work at large distribution centres.
Meunier said development of the prototype was one step towards the "perfect forklift".
"We don't want to wait 25 years before we see green trucks on the field. Perhaps this (a cleaner environment) could be done in other ways, for example, developing an engine with lower fuel consumption but we have to do what we can now to make the world a better place," he said.

Raymond says tough trucks unparalleled


GREENE, NY, United States
Raymond Corporation has introduced the 8000 series pallet trucks, claiming the range's durability is unmatched in the industry.
Warren Brower, Raymond marketing director, said the pallet trucks manufactured and assembled at Raymond's facility in Brantford, Ontario, Canada, were built to handle tough environments.
"We packed the 8000 series with extra steel in the platform, thick steel pull rods, pins, castings, forks and skid bars, and a reinforced battery box," Brower said.
The pallet trucks use Raymond's ACR system, which Raymond says minimises downtime and reduces ownership costs because it has fewer parts than DC systems. The ACR system features a low-maintenance motor to deliver and maintain a "high level" of performance as the forklift gets fully loaded and as the battery discharges.
Ergonomic features include a control handle and grab rail angled to fit the position of the hand and tactile, intuitive controls like thumb wheels. A cushioned platform with 525 square inches of foot space and convenient leaning points provides operator comfort.
The four models in the 8000 series are:
Model 8300 walkie - 6,000lb (2,721kg) single pallet capacity, 3.9mph unloaded and loaded travel speed.
Model 8400 end rider and Model 8500 center rider - 6,000lb (2,721kg) and 8,000lb (3,629kg) capacities, single/double/triple-pallet configurations, 9mph unloaded and 6.2mph loaded travel speed.
Model 8600 tow tractor - 10,000lb (4,536kg) towing capacity, 9mph unloaded travel speed.
The 8000 series is a whole new lineup of pallet trucks. The Raymond models 111XD, 112XD, 113XD and 114XD have been replaced by the 8000 series pallet trucks with the ACR System.


Meyer introduces a new concept


SALZGITTER, Germany
German forklift attachment manufacturer Hans H Meyer GmbH has introduced what it claims to be a new concept, a special 180 degree rotating paper roll clamp.
Manufactured in Hans Meyer's Salzgitter plant, the clamp's 180 degree rotator has a rotating valve that supplies hydraulic oil to its cylinders, eliminating use of a hose. It also has a modular design and all modules are easily accessible and can be changed from the front, Hans Meyer said in a statement.
Cartridge-shaped check valves on the clamp cylinders ensure that, when clamping, hydraulic pressure remains in the cylinder only. Hence the rest of the hydraulic system is without pressure, the statement said.
The cylinders are equipped with test connections that enable simple, exact checks of the clamping pressure.
High tensile bolts inside bushings equipped with grease nipples at the arm or back connection prolong the clamp's working time, Hans Meyer said.
The modular design enables a switch from clamps with fixed short arms to clamps with articulating short arms.

Marketplace notes

This week, Forkliftaction.com is talking and demonstrating to dealers in Hannover, Germany, from our stand in
CeMAT, Hall 11, Stand E20
.
It is good to see the keen interest from the dealers. Clearly the industry is ready to find new markets for used equipment. We are still available for you to preview the dealer benefits of the Marketplace.
Let us demonstrate how dealers can place their stock, manage their listings, add photos, access wholesale trading and find new business deals for their used equipment. Look out for the
orange
glow in Hall 11, Stand E20.
Have a great week!
The Marketplace team -
marketplace@forkliftaction.com
– Phone: +61 7 3369 9090 – Fax: +61 7 3369 9096.



CeMAT 2005 – A highlight for the international logistics sector World Fair for Intralogistics from 11 to 15 October 2005 in Hannover, Germany

- Over 900 registered exhibitors from over 30 countries
- Robotic Logistics Center
- Rich supporting program for added value
With close to 1,000 exhibitors,
CeMAT
is the world's leading information and communication platform for technical logistics. The world intralogistics market, which is set to grow further as part of the ongoing globalization process, is superbly represented at
CeMAT
.
The main display categories are:
• Industrial and forklift trucks and accessories
• Materials-handling technology and accessories
• Logistics management, computer systems, ID systems
• Lifting gear and platforms
• Shelving and shelving systems
• Packaging technology
• Complete systems
Click here to go to the Official CeMAT Website.

JLG angles for aid to reopen facility
McCONNELLSBURG, PA, United States
JLG Corp wants government assistance to reopen a closed Bedford, Pennsylvania, plant.
"We are engaged in discussions with JLG," Kevin B Ortiz, communications director with the Pennsylvania Department of Community & Economic Development, said last week.
JLG idled its Sunnyside Road facility in Bedford in 2001 and moved production of some scissor lift models to a Shippensburg, Pennsylvania, plant. "When we shut those facilities, that was the one we did not want to sell," JLG chairman Bill Lasky said late last month. "We knew we would have expansion needs down the road."
Lasky met Pennsylvania Governor Edward Rendell to discuss JLG's need for support in any reopening. "He values our business," Lasky said. "We look forward to the opportunity to go back there."
McConnellsburg-based JLG changed to more effective manufacturing processes in the relocation. "You can't equate the way we make scissors today in Shippensburg to the process and capacity we have in Sunnyside," Lasky said. "It would not be our intention to put the same products back in there. We would do some assembly and some component fabrication."
JLG's efficiency improvements equate to space savings. "We have become a USD1.7 billion company with 29 per cent less square footage that we had a few years ago," Lasky said.

Intermec RFID reader enters market
EVERETT, WA, United Statesby US correspondent Roger Renstrom
Intermec Technologies Corp, of Everett, USA, has introduced a multi-protocol IV7 Intellitag vehicle-mount radio frequency identification (RFID) reader with a capability to read EPCglobal Generation 2 RFID tags.
Intermec, a Unova Inc subsidiary, designed the reader for forklift applications. It has an internal power supply, heavy metal enclosure and vehicle shock and vibration resistance.
Kathrein-Werke KG, of Rosenheim, Germany, collaborated with Intermec to design forklift-mount antennas with fibreglass radomes. An IV7 can control four separate antennas.
Much of the development of the Intermec IV7 reader has occurred in Europe, apparently with an eye on that market. The IV7 reader appears to be at least 60 per cent larger than the RX1 reader, which LXE Inc, of Norcross, Georgia, USA, initially exhibited in September.
Illustrations supplied by Intermec show the IV7 mounted on a cab or truck frame rather than being attached to a load rest. Intermec's IV7 can operate with 12-60 volts of energy, while LXE's RX1 works with 10-80 volts.
The IV7 is designed to interface serially to a Windows-based, vehicle-mounted computer, such as the Intermec CV60. Also, the IV7 has a SmartSystems remote services delivery platform for communications to identify, track and manage supply chain assets.

Tag prices to remain constant


SYDNEY, Australia
The price of radio frequency identification (RFID) tags will remain stable for the next 12 months because new generation tags will be released to the market.
The Australian
newspaper reported the 2005 LogicaCMG RFID Hardware Survey revealed hardware vendors would keep prices constant, at around A$0.60 (USD0.45) for an unpowered, reusable tag to $A2.25 (USD1.70) for a powered tag.
"Over the next three to five years, prices for UHF tags and readers are likely to come down 60 to 70 per cent, with the price of an RFID reader at less than EUR100 (USD120)," the survey said.
LogicaCMG RFID solutions group director Paul Stam de Jonge said companies would benefit from choosing Gen2 tags, expected to be available next year.
The next generation tags would have larger memories, be two to three times smaller than present chips and read 10 times faster than Gen1 tags. Software upgrades for Gen1 tags to Gen2 specifications will be available.
Stam de Jonge expects the first half of 2006 to see the introduction of application-specific products based on new standards, including "off-the-shelf" RFID tags for metal objects and plastic crates, and forklift readers.


60 Hyster's For Sale

60 Used Hyster's for sale with capacity ranging from 5000 – 5500 lbs.
Built between 1998 – 2001, all in Excellent Condition with indoor cushion and pneumatic profile tires.
Three Stage Mast with Backrest standard, 42" Forks – Some with Side Shifts.
All machines ranging from 5000 – 10,000 hours, all with a fresh oil change + P&M Check out.
All units are offered in lots of 10 units minimum, we can supply up to 60 units a month.
Current Hyster Machines Offered:
24 – S50XM
24 – S55XM
6 – H50XM
6 – H55XM
"S and S Machinery Corp is one of the largest machine tool business ; we support machine tools for the Oil, Water and Hydraulic industries."S & S Machinery Corp
140-53rd st., Brooklyn, NY.
11232, U.S.A.
PH:
+1 718 492 7400
FAX:
+1 718 439 3930
Click here to visit S & S Machinery Website.
Click here to send S & S an email.

KCI Konecranes co-operates with Zaparozhcrane


HYVINKÄÄ, Finland
KCI Konecranes has acquired a EUR3 million (USD3.6 million) major shareholding in Ukrainian crane manufacturer Zaparozhcrane and signed an agreement to co-develop container handling technology for the Ukraine.
KCI Konecranes and its new partner Zaparozhcrane were selected by the Ukrainian Ministry of Transport and Iljicevski Marine Merchant Port (IMMP) to develop and supply new generation ship-to-shore container cranes and rail-mounted gantry cranes.
The agreement was signed this month at a Finnish-Ukrainian Business Forum in Kiev.
IMMP is about to undertake a major redevelopment in a bid to become the Ukraine's leading container terminal.
KCI Konecranes and Zaparozhcrane have had an on-going relationship since 1993, when KCI Konecranes began manufacturing cranes at Zaparozhcrane's Ukrainian factory. Seppo Hoppu, KCI Konecrane's director for Eastern European operations, believes the merger will greatly strengthen KCI's position in the region.
"This deal will strengthen our position in the fast growing markets in the Ukraine and Russia. Additionally we will get a very competitive manufacturing site for global markets," he said.

Wild chase for gun and forklift burglar
LEHI, UT, United States
A man suspected of damaging six businesses with a forklift and stealing a safe full of guns was chased by police through fences and fields before his capture.
The
Daily Herald
reported Ryan Ferguson, 30, will be charged with damaging six Lehi businesses and stealing a safe from Holmes Heating & Cooling containing guns worth about USD40,000. He also allegedly stole a computer, cell phones and other items from the businesses (
Forkliftaction.com News #229
).
Sergeant Jeff Swenson said police collected evidence that linked Ferguson to the burglary.
The chase took place after police watched his house one night. Ferguson fled on foot but police found him two blocks from his truck.
Swenson said 25 to 30 police dogs and several agencies were involved in catching Ferguson.


Send this newsletter to an associate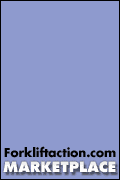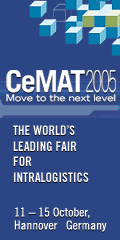 Jobs
1. Branch Manager - Full time
Greenville, United States
2. Service Technician - Full time
South Georgia and North Florida, United States
3. Systems Installer - Full time
Reno, NV, United States
4. Forklift Mechanic - Full time
Reno, NV, United States
5. UK Dealer Manager - Full time
National, United Kingdom
6. Health & Safety Specialist - Full time
Toronto, Canada
7. Health & Safety Co-ordinator - Full time
Kitchener, Ontario, Canada
8. Account Manager - Full time
Kansas City, United States
9. Outside Industrial Sales Rep - Full time
Louisville, KY, United States
10. Forklift Maintenance Technician - Full time
Lexington, KY, United States
11. Forklift Maintenance Technician - Full time
Cincinnati, OH, United States
12. Forklift Maintenance Technician - Full time
Evansville, IN, United States
13. Branch Service Operations Manager - Full time
Macon, United States