Dear reader,
WELCOME TO FORKLIFTACTION.COM, MATERIALS HANDLING ONLINE.
This is issue #149 - 18 March 2004 of the weekly newsletter for industry professionals.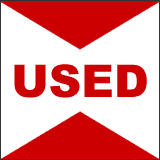 IMHX 2004 has virtually just ended, and already preparations are being made for NA2004, which opens on March 29 at the I-X Centre in Cleveland, Ohio.
Forkliftaction.com News will carry a preview of the show next week.
Forkliftaction.com's travellers have returned from the UK, and have brought back some great photos. See our special IMHX 2004 page for pictures.
Forkliftaction.com representatives will be at NA2004, so look out for the orange shirts. If you'd like to schedule a meeting to coincide with the show, contact marketing@forkliftaction.com.





1. USED MATERIALS HANDLING EQUIPMENT: PART TWO


GULLEGEM, Belgium
With an annual machinery turnover of 4,000 to 5,000 forklifts, TVH has a convincing argument for the tag "world's biggest used forklift wholesaler".
While the company is known as a leading supplier of forklift spare parts, and derives about 75% of its income from parts sales, TVH was established as a used forklift dealer in 1970.
Forkliftaction.com News chief reporter Damien Tomlinson spoke with Pascal Vanhalst, TVH forklift division general manager.
Click here to read the full article.
- TVH website -
2. FLS SUES CROWN IN DEALERSHIP WAR


TAMPA, FL, United States
Florida Lift Systems Inc (FLS) has added another layer of litigation in its escalating dealership dispute with Crown Equipment Corporation.
Crown wants to terminate FLS as a Crown dealer (Forkliftaction.com News #144) and allegedly is attempting to supplant FLS in the central Florida market.
The clash raises questions about the varying roles of original equipment manufacturers and regional dealers when marketing multiple brands.
In the new legal round, FLS has filed a civil suit against Crown and company store manager Gary Lunz alleging breach of contract, publication of false statements and business interference.
In the suit, filed on March 8, FLS alleged Crown was opening an authorised dealership or Crown-owned branch or dealership in Tampa "on or about March 12, 2004". No indication of such an opening was filed with the court at deadline.
"In opening its own company store, Crown is wrongfully attempting to solicit FLS's employees, managers and customers by utilising its monopolistic market power in Florida to intimidate FLS's employees, managers and customers into working for and doing business with Crown and by disparaging FLS's business operations," the suit says.
FLS has asked for a court judgement against Crown and recovery of damages.
FLS, a participant in the Florida forklift market since 1950, has annual sales in the mid-USD40 million range. The FLS relationship with Crown began in 1996 and is scheduled to run through to February 2005.
Separately, Crown filed US District Court lawsuits against FLS and Toyota Material Handling USA Inc (TMHU) on January 13 and February 4, respectively. The FLS case is pending in Dayton, Ohio, and the TMHU case in Toledo, Ohio.
Crown's litigation alleges FLS breached its dealership agreement with Crown and that TMHU caused FLS to breach the agreement.
"Crown's attempted termination of the dealer agreement is a mere pretext to be able to open a company store in Tampa, Florida, in direct violation of the terms of the dealer agreement," the FLS suit in Tampa said.
As previously reported, FLS began representing TMHU in Orlando in September 2002, before Crown's latest extension with FLS, and, at the time, Crown did not object to FLS adding TMHU products for Orlando. FLS expanded and became a TMHU dealer in Tampa on January 5, 2004.
John Maxa, Crown vice-president and general counsel, explained the corporation's position on the pending FLS termination in a memorandum to dealer principals last month: "(FLS) and Toyota were aware of the provisions of the Crown dealer agreement and, in complete disregard of the rights and obligations established by the ... agreement, they entered into a new dealer agreement (and) presented it to Crown as a done deal. Crown had no choice but to commence litigation to enforce termination of the dealer agreement with Florida Lift because of its clear breach."
On March 3, Crown agreed to extend the FLS termination date from March 16 to April 15 "to allow the parties to discuss a resolution" to the federal suit in Dayton, according to a letter by Charles Faruki, a Dayton attorney representing Crown, filed with the Florida suit.
Thomas Long and Scott Stigall, attorneys with a Tampa law firm, filed the Florida suit on behalf of FLS.
3. NTP FORKLIFTS WINS MAJOR DEFENCE CONTRACT


ADELAIDE, Australia
NTP Forklifts Australia has won a AUD10 million (USD7.4 million) contract to modernise and expand the materials handling capabilities of the Australian Defence Force (ADF).
The contract, the biggest in NTP's 20-year history, involves an initial order for 25 modified Manitou 7140 T rough terrain telescopic handlers, and maintenance and training.
Modifications include increasing ground clearance to allow the machines to work in up to one metre of water, wheel and tyre adjustments for working in soft sand, and flameproofing.
ADF lieutenant colonel Peter Cleasby-Jones said containerisation and the age of the current fleet made the expansion a necessity.
"We are confident NTP and Manitou will deliver according to our sometimes demanding requirements, wherever in Australia or overseas these machines may operate," he said.
NTP sales & operations director Nick Perdelis said the machines would be delivered at a rate of four a month from June.
"We're delighted to see the hard work come to fruition and look forward to working with (the ADF) in fulfilling the contract," he said.
- NTP Forklifts website -
4. LINDE OFFLOADS REFRIGERATION BUSINESS


WIESBADEN, United States
Linde AG has sold its refrigeration business to Carrier Corporation, based in Farmington, Connecticut, USA, for EUR325 million (USD396.4 million).
Linde president and chief executive Dr Wolgang Reitzle said the sale allowed Linde to focus on its materials handling and gas businesses.
"The sale of Linde Refrigeration is an important strategic move for us. We want to focus on gas & engineering and material handling, our high-earnings, high-growth business segments," he said.
Linde Refrigeration is Europe's number one in the commercial refrigeration business, with 6,300 employees and sales of EUR866 million (USD1 billion) in 2003.
- Linde website -
5. **ADVERTISEMENT** RUBBER TYRED GANTRIES TO CLEAR


MAKE: PACECO
MODEL: 150M
YEAR: 1982
CAPACITY: 40.64 tonnes
GAUGE: 22 metres
HEIGHT: Approx 20 metres
POWER SOURCE (Prime): Cummins 6 CT8-3
POWER SOURCE (Secondary): 65 KW DC Generator
SPREADER: Telescopic 20' / 40'
HOIST SPEED: 15 metres per minute
LOCATION: East Coast , Australia.
PRICE: USD60,000 for the lot - offers considered
MORE INFO?
Email: iogilvie@globequip.biz
Phone: +61-7-3256-0666
Fax: +61-7-3256-1071
6. OMNIQUIP PURCHASE BUOYS JLG SALES


McCONNELLSBURG, PA, United States
JLG Industries Inc had lower profits on higher acquisition-stoked quarterly sales and has moved to upgrade controls and procedures, which are currently under federal review.
JLG reported a profit of USD2.2 million on sales of USD230.5 million for its second quarter, which ended on January 31, against a profit of USD4.2 million on sales of USD144.0 million last year.
The significant increase in sales reflects the August 1 acquisition of the OmniQuip business unit of Textron Inc (Forkliftaction.com News #115).
JLG said it had cut 279 OmniQuip-related jobs out of 350 slated reductions, leaving 71 positions in limbo as of January 31. JLG incurred costs of USD2 million for involuntary employee termination benefits and was obligated for another USD8.1 million as of January 31.
JLG said its initial "integration of the OmniQuip acquisition is on track and ahead of an aggressive schedule". In a second phase, JLG intends to establish a common supply base and integrate the OmniQuip and JLG brands and marketing programs.
"With the economic recovery well underway in North America and a modest recovery projected in the Euro zone for calendar 2004, demand for our core access equipment is strengthening," JLG said. "Order patterns strengthened considerably for all product groups, and we remain cautiously optimistic that order patterns will continue to reflect increased fleet refreshment activity and customer confidence."
JLG had restated financial statements and taken steps to improve its disclosure controls and procedures, which "were found to be ineffective in identifying an accounting error", the company said. The error related to the timing of revenue recording for one transaction.
"The restatement results in an USD8.7 million reduction of revenue and USD1.8 million reduction in net income in the fourth quarter of fiscal 2003," which ended on July 31, JLG said.
JLG disclosed the restatement plan on February 18 and said on February 27 that the US Securities & Exchange Commission had begun an informal inquiry into the company's accounting and financial reporting.
- JLG website -
7. MOVERS & SHAKERS


HOUSTON, TX, United States
Jeff Rufener has been appointed vice-president of sales and Kent Eudy vice-president of marketing for Mitsubishi Caterpillar Forklift America Inc (MCFA). Their promotions to the executive team occurred as materials handling veteran Larry Wuench takes up a global strategy role for MCFA. Mr Rufener has served as counterbalance products director and in management roles involving national accounts and fleet sales and service. In his new position, Mr Eudy oversees product support, distribution services and Rapidparts, a wholly-owned MCFA parts subsidiary. He has held positions involving machine distribution, parts marketing and product development.
8. SMH, OMG DEVELOP ONE-OFF ORDER PICKING SOLUTION


LONDON, United Kingdom
UK materials handling supplier SMH Ltd has worked with a customer and a manufacturer to develop a one-off, low-level order picker.
SMH was approached last year by a major electrical retailer which needed a low-level order picker that could safely transport two people and as many items as possible.
After working with several prototypes, SMH approached OMG, the Italian manufacturer of warehousing equipment, with a design and an outline of the requirement. The result was a low-level order picker with three tonnes capacity, capable of transporting two people and 20 washing machines (pictured).
"We have now road-tested the truck at three of our customers main locations and it has gone down a storm," said Bob Harrison, SMH major accounts manager. "In fact, at one location they recorded an efficiency increase of 30%."
9. DIAMOND RAID DIGGER IN ACTION-PACKED AUCTION


ROCESTER, United Kingdom
The JCB digger used in the world's biggest-ever attempted jewel robbery is up for auction.
The famous 1992 3CX Sitemaster (pictured) still bears the scars of the damage it suffered during the amazing James Bond-style heist in 2000 when an armed gang bulldozed its way into London's Millennium Dome complex in an attempt to steal a GBP350 million (USD634.6 million) diamond collection.
Hurling smoke bombs and ammonia to create chaos, the thieves attempted to remove the heavily guarded exhibits and make a getaway in a high-speed powerboat moored on the River Thames.
But more than 100 police, disguised as cleaners, were lying in wait and the diamonds had been replaced with fakes.
The machine is one of 500 lots selling as part of JCB's regular surplus auction at JCB world headquarters at Rocester at noon on Tuesday, March 23.
Auctioneer John Hilton, of Bury & Hilton, said the machine was the most unusual item ever to come under the hammer at a JCB auction.
"It is still in the damaged state it was left in after the raid. There is a hole in the windscreen and the rear dipper is missing. Holes were also cut into the front bucket so the driver could see where he was going when he smashed through the fence," he said.
JCB took delivery of the machine from insurers once the court hearing surrounding the raid concluded in 2002.
- JCB website -


10. CONTAINER HANDLERS FOR SALE
FANTUZZI F42 CONTAINER HANDLER
42 tonne capacity
Cummins engine, Clark transmission
3-high container stacking
20-40 foot telescopic spreader
Excellent condition, Stevedoring spec

4 PGS M320 CONTAINER HANDLERS
32 tonne capacity
Volvo engine, Clark transmission
2-high container stacking
inverted and standard forks available
20 & 40 foot container frames
Low hours
Excellent condition, Stevedoring spec

These machines are available for immediate sale through Stellar Machinery Ltd.
For more information:
P: +64-9-837-4126
+64-274-935-695
F: +64-9-837-4449
E: stellar@ihug.co.nz
W: www.stellarmachinery.co.nz

Click here for pictures of the machines.
11. BT UK FORK-LIFT TRUCK DRIVER CHAMPIONSHIP 2004: AND THE WINNER IS
The final of the BT UK Fork-Lift Truck Driver Championship 2004 was held at IMHX 2004 at the NEC, Birmingham, on the 4th March.
The overall winner was James Owens of Tibbett & Britten, who was awarded first prize of a City Rover car, as well as a replica of the prestigious Storage Cup.
Achieving second place - and a cheque for 1000 - was Steven Bircumshaw, of Cadbury Trebor Bassett. Third place went to Michael Gilmartin of Sigma Kalon, with a prize of 500.

Click here for the full results online.


16. CARTON CLAMPS
New Cumberland, PA, United States
Closing: 24 March 2004 TBA - Contract: SP3100-4054-3158
17. 50 X TOWCARTS
New Cumberland, PA, United States
Closing: 15 April 2004 TBA - Contract: SP3100-04-T-0218


18. SERVICE TECHNICIANS - FULL TIME
Calgary, Alberta, Canada
19. PARTS MANAGER - FULL TIME
Portland Oregon, United States
20. SERVICE MANAGER - FULL TIME
Seattle Washington, United States
21. SINGAPORE-WAREHOUSE PRODUCT SPECIALIST - FULL TIME
Tuas, Jurong, Singapore
22. CUSTOMER SERVICE AND PARTS REPRESENTATIVE - FULL TIME
Portland, Oregon, United States
23. FORKLIFT TECHNICIAN - FULL TIME
Portland or Medford, Oregon, United States

FEEDBACK
We appreciate your feedback and will reply promptly. A form to register your comments is at: www.forkliftaction.com or simply email us at
info@forkliftaction.com. If forklifts are your business and you have news, press releases, photos or tender information to publish, we'd love to hear from you. Please email us at: info@forkliftaction.com.

COPYRIGHT
Forkliftaction.com News is copyright. Unauthorised reproduction is illegal. We are happy for you to onforward this newsletter to potential new subscribers. If you would like to discuss syndication of reproduction of our news on your website, please contact us at biz@forkliftaction.com