Dear reader,
WELCOME TO FORKLIFTACTION.COM, MATERIALS HANDLING ONLINE.
This is issue #147 - 04 March 2004 of the weekly newsletter for industry professionals.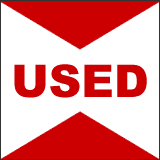 Forkliftaction.com News this weeks begins a series of features on the world market for used forklifts and materials handling equipment. This important market segment will be interesting for many Forkliftaction.com members - forklift buyers, users, dealers and even manufacturers.
Remember, timing your advertising to coincide with these popular issues is a great way to get attention for your products or services. Our next special feature on used equipment will be published on March 18. Contact info@forkliftaction.com for more information.





1. USED MATERIALS HANDLING EQUIPMENT - PART ONE: THE USA


JORDAN, MN, United States
The world market for used materials handling machinery is divided into world regions, and there is a marked definition between the retail and wholesale markets.
Welcome to part one of Forkliftaction.com News's special features on used equipment. This month we'll report on trends and issues in the world market, but today we focus on the used forklift and materials handling machinery market in the USA and, particularly, Continental Lift Truck.
Continued - click here

2. BIG ORDERS ROLL IN FOR SMV


MARKARYD, Sweden
Swedish heavy forklift manufacturer SMV Lifttrucks AB has received orders for more than 70 machines since January.

The company gave no reason for the high order intake, but said orders were for machines from 10 tonne forklifts to 45 tonne reachstackers, empty container handlers and SMV's Spectra model.

Orders include:
In the UK, Palline has ordered five machines: two SC4535TA reachstackers and three forklifts (16 tonne, 25 tonne and 32 tonne capacities).
P&O, in Belgium, has ordered 10 45-tonne reachstackers, one equipped with a combispreader, which is capable of lifting both containers and trailers.
For Wiencont, in Austria, SMV is awaiting delivery of a SC4531CA5 reachstacker with a combi attachment.
In Indonesia, PT BBM Jasa Trisari ordered three SC4531TA5 reachstackers.
Kumport, in Istanbul, Turkey, ordered a SC4531TA5 reachstacker.
Terminal 4 SA, in Buenos Aires, Argentina, placed a repeat order for an SC4531TA5 reachstacker.
Three 7/8 ECB90 empty container handlers are headed to Santos Brasil, in Brazil.
Del Monte, in Costa Rica, has ordered a SC108TA6 empty container handler.
Panama Ports Company has bought three 6/7 ECB90 empty container handlers and a SL28-1200A 28 tonne forklift.
In South Africa, Viamax has ordered two SC4531TA5 reachstackers, six SL18-1200A and three SL32-1200A forklifts.
One 32 tonne and three 25 tonne forklifts are on their way to customers in the Ukraine.
SMV has broken new ground in Saudi Arabia, sending a SC4531TA5 reachstacker and a SL20-1200A forklift to a customer there.

- SMV website -
3. **ADVERTISEMENT** PARTS & USED FORKLIFTS: TVH TERRITORY


TVH-Thermote & Vanhalst is the world's biggest supplier of used forklifts. With an average stock of 1600 machines, TVH supplies the widest range at very competitive prices. Stock can be viewed at our new website: www.tvh.be/stock.
TVH also has a massive range of forklift parts, with affiliate operations worldwide (TVH UK Ltd, TVH AUSTRALASIA, TVH FAR EAST, etc). The key to TVH's success is a stock of 280,000 different parts and knowledge of over 8 million others.
This year TVH will move to a new 60.000m covered premises, the biggest move in its history.
4. JLG IN SEC PROBE


McCONNELLSBURG, PA, United States
The US Securities & Exchange Commission has launched an informal inquiry into accounting and financial reporting practices at JLG Industries Inc.

The inquiry relates to JLG's restatement of its audited financial statements for the fiscal year ended July 31 and, possibly, for the quarter ended October 31 (Forkliftaction Newsletter #145).

JLG disclosed the restatement on February 18 and opened the door for additional scrutiny.

Standard & Poor's Ratings Services said on February 20 that it had placed JLG's BB- corporate credit, BB senior secured debt and other ratings on a Credit Watch listing with negative implications.

Notice about the SEC inquiry was circulated on February 27 after New York Stock Exchange trading closed for the day.

JLG intends to delay issuing its financial report for the second quarter ended January 31. For the previous fiscal year's comparable quarter, that report was issued on February 24, 2003.

- JLG website -
5. LINDE: OPERATING RESULT UP, NET PROFIT DIVES


WIESBADEN, Germany
In a prelude to an official announcement on March 15, Linde AG has revealed a full-year operating profit, before special items, of EUR671 million (USD811 million), up 3.5% on 2002's EUR648 million (USD783 million).

Net profit for the group was EUR108 million (USD131 million), down EUR132 million (USD160 million) from EUR240 million (USD290 million) in 2002.

- Linde website -
6. **ADVERTISEMENT** SURPLUS LINDE TRUCKS MUST BE SOLD


We have six Linde A13 narrow aisle electric turret trucks for urgent sale. These trucks are seven months old, and surplus to our materials handling requirements. All offers will be considered, and a discount is offered for a bulk buy.

Capacity:1350 Kg
Mast Height: 4960mm, 6210mm extended
Turning radius: 2080mm
Polyurethane tyres
Electric power steering
Centrally-controlled functions
Similar specs and photo: see Spec-Checker.

For more information, visit www.famcouae.com.
Contact Ayman Ismail Ahmed
Tel: +97142135223
Fax: +97142135523
Mobile: +971506684302
Email: ayman.ahmed@alfuttaim.ae
7. JUNGHREINRICH WEATHERS STORMY 2003


HAMBURG, Germany
Jungheinrich says it did not lose any ground in the world market last year, despite the weak economic environment.

In a preview report released ahead of the company's full-year financials announcement on April 20, Jungheinrich said its volume in Europe grew 2%, with greater demand for small warehousing equipment noted.

Total sales were expected to reach 2002 levels of EUR1.47 billion (USD1.83 billion), but the operating result was expected to be higher than 2002's EUR74 million (USD92 million).

Jungheinrich's projected figures did not include the burden from discontinuing its MIC SA business activities in France (Forkliftaction.com News #138). The closure would affect the annual financials by about EUR35 million (USD43.5 million), the company said.

- Jungheinrich website -
8. RECORD REGISTRATIONS FOR LOGISTICS FAIR


BRUSSELS, Belgium
A month ahead of the opening of logistics trade fair PROlogistics, organiser Axis has received a record number of registrations.

Axis claims PROlogistics is now the largest trade fair for the logistics world. On March 31, 450 exhibitors will open their stands for the three-day show in Brussels, Belgium.

"This trade fair will bring together everything current in supply chain management and warehouse equipment. As a result, the fair is attracting the whole industry as exhibitors and achieving its ambition of being the trade fair for the total supply chain," an Axis statement said.

EmPak, a two-day fair for packaging, labelling and coding, is being held alongside PROlogistics.

New for 2004 is a "Transport Village" in which several companies in the transport sector will exhibit. And, for the first time, there will be a full range of logistics software.

- PROLogistics website -
9. **ADVERTISEMENT** SWIVEL SEAT RELIEVES PAIN FROM REARWARD DRIVING!


The Huddle Group has introduced the "U-Turn" retrofitable pivot unit.
The "U-TURN" moves 15 degrees and has been clinically proven to significantly reduce the neck, shoulder and back strain due to the high percentage of backward driving.
Universal - fits most seat/truck combinations
15-degree pivot
Choice - "Both Way" or "One Way" pivot
Low profile - only adds 5/8" to height
Durable, heavy-duty construction
Huddle also has a full ergonomic seat (The Transport) incorporating both the U-Turn and Rebound. The "Rebound" suspension unit (for WBV and low-frequency vibration) is another popular product!
CONTACT: Huddle Group, 260-470-9838, or visit www.huddlegroup.com, or email: rovitt@huddlegroup.com.
10. PORT AUTHORITY HEAD CLEARED OF GRAFT CHARGES


TAGBILARAN CITY, Philippines
The Philippine Government has cleared Alfonso Cusi, head of the Philippine Ports Authority (PPA), of conflict of interest charges after he failed to declare ownership of a materials handling company that won a contract to rent a PPA property in Tagbilaran City.

The Presidential Anti-Graft Commission (PAGC) dismissed the case because the complainant, Virgilio Casison, failed to submit evidence to prove his allegations against Mr Cusi, who was appointed head of the PPA in 2001.

Mr Casison filed the case before the PAGC, claiming Mr Cusi's continued ownership of Starlite Marine & Industrial Services Corp was a conflict of interest.

Starlite won a 15-year lease contract to operate the PPA passenger terminal at the Port of Tagbilaran in 1998. At the time, Mr Cusi was president and incorporator of the firm.

11. JCB DEALERS GO FOR GROWTH


ROCESTER, United Kingdom
More than 750 delegates from 86 countries, representing several hundred JCB dealers from around the world, have descended on JCB HQ for an international conference.

JCB sales managing director Franoise Rausch said the conference's objective was to review sales goals and discuss ways of growing the business.

"This is a fantastic opportunity to share JCB's aims and aspirations for the future. There is huge potential out there for growth and the conference is an important forum for us all to share ideas on generating additional sales," he said.

JCB also honoured dealers' achievements. Gunn JCB, which has bases in Stoke-on-Trent, Altrincham, Preston, Ruthin, West Bromwich, Shrewsbury, Warwick, Hereford and Isle of Man, received an award in recognition of substantial growth in the past two years.

The conference, timed to coincide with IMHX 2004, concludes this week.

Meanwhile, JCB has added a 3.5-tonne version of its Teletruk to its existing 2.5-tonne and three-tonne models.

- JCB website -


12. SIMAX: TRADING IN PRE-LOVED LINDE FORKLIFTS
OUDENAARDE, Belgium
Simax Trading was established as a daughter company of Van den Dorpe heftrucks Linde to prepare ex-rental and traded Linde machines for their second life.
Michiel Baert: "With first choice of ex-rental and ex-lease Linde machines, this is the first place to look when considering a second-hand Linde forklift. We sell direct in Belgium, but our main business is through dealerships in Eastern and Western Europe. We rebuild Linde machines; we sell as-is and offer used and reconditioned spare parts and assemblies".
Contact: michiel@simax.be, telephone: +32(0)478 565099 or via the website: www.simax.be.

Click here for the full text of this release, including pictures.
13. FORKLIFTACTION.COM BUSINESS DIRECTORY - REVIEW YOUR LISTING
Forklift fleet owners and professionals can now use Forkliftaction.coms new Business Directory to contact suppliers and dealers anywhere in the world. This Business Directory contains contact and service information from more than 10,000 businesses worldwide, operating in and with the materials handling industry.
Officially launched as the Business Directory, it has been in test mode for 12 months with the working name of Materials Handling Index. This online directory now features an updated search interface, allowing users to search more accurately and faster.
The Business Directory permits the industry professional to find new business to business opportunities and to extensively display products and services in areas that previously were difficult to reach.
Every operator in the materials handling industry should ensure their company is listed and that details are correct.
Following the success of our weekly newsletter, which has a circulation of about 40,000 readers, the Business Directory offers access to the marketplace which further cements Forkliftaction.com as the online reference point for the global materials handling industry.
For more information, see www.forkliftaction.com/directory or email info@forkliftaction.com.


21. SALES MANAGER, REGIONAL MANAGER, FLEET MANAGER - FULL TIME
Middle Atlantic, Southeast, United States

22. SALES MANAGEMENT/FIELD SALES MNAGEMENT/SALES ASSOCIATE - FULL TIME
Northeast or Southeastern Geographical Areas to Include Mid Atlantic Coastal Area, United States

23. NATIONAL SALES/PRODUCT MANAGER/SALES MANAGEMENT - FULL TIME
Melbourne, Australia

24. OVER THE ROAD FORKLIFT TECH - FULL TIME
Georgia, Tenn, Fla, warmer then Michigan, United States


FEEDBACK
We appreciate your feedback and will reply promptly. A form to register your comments is at: www.forkliftaction.com or simply email us at
info@forkliftaction.com. If forklifts are your business and you have news, press releases, photos or tender information to publish, we'd love to hear from you. Please email us at: info@forkliftaction.com.

COPYRIGHT
Forkliftaction.com News is copyright. Unauthorised reproduction is illegal. We are happy for you to onforward this newsletter to potential new subscribers. If you would like to discuss syndication of reproduction of our news on your website, please contact us at biz@forkliftaction.com