Dear reader,
WELCOME TO FORKLIFTACTION.COM, MATERIALS HANDLING ONLINE.
This is issue #146 - 26 February 2004 of the weekly newsletter for industry professionals.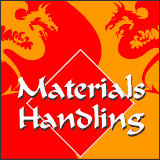 Welcome to Forkliftaction.com News. Today we include a special preview of IMHX 2004, Europe's biggest event this year.
A warm welcome to IMHX visitors and exhibitors reading our news for the first time. We hope you enjoy our news coverage and take advantage of our free membership. Forkliftaction.com team members will be roaming IMHX exhibits. Don't hesitate to say hi and ask any questions or pass on your news.
This edition also includes the final part of our feature on the Chinese materials handling market. This series has been the most popular yet, with hundreds of new and existing members clicking through to read all about this exciting market.
Enjoy it!





1. IMHX 2004: HOLD ONTO YOUR HATS


BIRMINGHAM, United Kingdom
IMHX 2004 officially opens at 9.30am on Tuesday, March 2, at the main entrance to Hall 20 of Birmingham's National Exhibition Centre.

>From then, Europe's biggest materials handling event in 2004 takes off, with a whirlwind of shows, seminars, flashing lights, music, multimedia, demonstrations and the all-important promotions girls across 20,000 square metres of floor space.

For forklift buyers and users, IMHX 2004 is a dream come true. Exhibition director Richard Hease said more than 90% of UK forklift suppliers would be represented among the 350 exhibitors, and figures suggested 92% of all forklifts sold in the UK this year would be supplied by IMHX-exhibiting companies. Management, IT, logistics, transport, accessories and auxiliary suppliers are also well represented.

Forklift suppliers represented include Atlet; Barloworld Handling; John Bradshaw; BT Rolatruc; Euro Daewoo UK; Finning Materials Handling; Hyster Europe; JCB Industrial; Jungheinrich UK; Kalmar; Linde UK; MasterMover International; Narrow Aisle UK; Nissan Motor; Still GB; Toyota Industrial Equipment (UK); Translift Engineering; Wilmat Handling; Yale Europe Materials Handling; and Yale Materials Handling UK.

"Visitors will certainly benefit from having such a high number of competing suppliers in one place," Mr Hease said. "IMHX 2004 is clearly the place to be if you are interested in specifying materials handling equipment this year."

The seminars program at IMHX 2004 is one of the classiest in recent memory. Named the "Knowledge Zone", a pair of presentation theatres will offer show attendees a range of theoretical sessions.

Three theatres will focus on legislative issues, case studies, new products, and general forum discussions. Topics to be covered include:

Employment Law - the Information & Consultation Directive
What is the purpose of the directive? What is the deadline for compliance? How will it work? Could existing structures suffice? To what extent does the employer have to take on board the views of employees?
Working Time Regulations
What types of workers are affected by the Horizontal Amending Directive? What protection applies to truck drivers and others in the distribution industry? How does the opt-out work? What are the latest developments in Europe?
Thorough Examination of Fork-Lift Trucks: BITA
Find out about the new UK standard for Thorough Examination from the British Industrial Truck Association. Hear how you can most effectively meet the requirements of LOLER 98 and PUWER 98 on health & safety and the use of forklifts.

For the first time, the show, will include a "Property Village", designed for exhibitors in property provision and development, a "Cleaning Village", showcasing warehouse equipment cleaning machinery and supplies, and an "IT Village", for software solutions.

One event that will have attendees' attention is the BT UK Fork Lift Truck Driver Championships, established in 1963, which will run for the full three-day show. The championships, hosted by BT Rolatruc, will test reach truck and counterbalance forklift drivers over the first two days, with the grand final staged on day three.

Forkliftaction.com is proud to co-sponsor the BT UK Fork Lift Truck Driver Championships. Such events promote forklift safety, and Forkliftaction.com is glad to be a supporter. Look out for our logo at the competition.

IMHX 2004 is supported by the British Materials Handling Federation (BMHF), which is the parent of such bodies as the Association of Loading & Elevating Equipment, the Automated Material Handling Systems Association, BITA, the Construction Equipment Association, the International Powered Access Federation, and the Storage Equipment Manufacturers' Association.

Paul Michael, IMHX 2004 show director, said: "The support of the BMHF will benefit the success of IMHX 2004 considerably. The 2001 event was excellent, but 2004 will be even better, with the greatest range of exhibitors from all sectors of the UK handling and storage industry."

Forkliftaction.com representatives will attend the show. Watch out for our trademark orange shirts as team members wander through the exhibition. We hope to visit each exhibitor, but if you see us, say hi!
- IMHX website -
2. MATERIALS HANDLING IN CHINA: PART TWO


BEIJING, China
The Chinese materials handling industry is an exciting prospect for the world market. The world's biggest nation is one of the biggest consumers of forklifts and materials handling products.
On February 12, Forkliftaction.com News published chief reporter Damien Tomlinson's interview with Linde-Xiamen Forklift Truck Corporation general manager Heinrich Winzl, a pioneer in the western world's rush to access the Chinese market. Click here to read it.
In part two, Forkliftaction.com looks at Chinese national forklift companies. While the size of the market means confusion over distinguishing the players, the market leader is obvious.

3. NACCO IMPROVES FORKLIFT PERFORMANCE


MAYFIELD HEIGHTS, OH, United States
Nacco Industries Inc improved forklift profits and sales during 2003 but says cost-pressure difficulties may exist ahead.

During 2004, the wholesale operation of Nacco Material Handling Group (NMHG) projected a further modest strengthening of global forklift markets.

"High product development and introduction costs are expected to continue, while manufacturing restructuring costs are anticipated to decline," the company said.

NMHG wholesale reported full-year 2003 operating income of USD22.4 million on sales of USD1.62 billion, compared to the 2002 income of USD21.5 million on sales of USD1.42 billion.

NMHG said the improvement reflected increased volumes in all markets, favourable currency movements and a shift in mix to higher-priced forklifts in the USA, South America and Europe.

NMHG, which markets Hyster and Yale forklifts, shipped 70,406 machines last year and 64,437 in 2002. The company's worldwide backlog increased to 19,830 units at December 31, compared to 18,800 at the end of 2002.

In the fourth quarter, however, unfavourable foreign currency movements caused an after-tax impact of USD6.9 million for NMHG's wholesale operation, and continuing unfavourable trends posed a challenge, the company said.

"We import a great deal of product from the [United Kingdom] and Europe" particularly from Nacco plants in Craigavon, Northern Ireland, and Nijmegen, the Netherlands, Nacco chairman Al Rankin said during a conference call. "If the strength of those currencies continues, our costs are going to increase as they (did) in the fourth quarter."

NMHG aims to fabricate equipment in the region of sale, but sourcing from Craigavon and Nijmegen for final assembly in the United States has become more costly.

Mr Rankin anticipated cost pressures could lead to supplier price increases and said Nacco would "need to look advisedly at price increases as we move forward", particularly if the British pound sterling, the euro and the Japanese yen continued to perform strongly.

NMHG's retail segment reported a 2003 operating loss of USD6.0 million on sales of USD162.6 million, compared to a 2002 loss of USD9.2 million on sales of USD172.2 million.

Nacco said the lower loss was attributable to benefits realised from prior disposal of unprofitable dealerships and higher net income in the Asia-Pacific region. Nacco aims during 2004 "to achieve and sustain at least break-even results" for its wholly-owned dealerships.
- Nacco Industries website -
4. KALMAR LANDS BIG DEALS WORLDWIDE


LJUNGBY, Sweden
Kalmar has secured substantial orders around the world in the past year.

SA Stevedores, in Durban, South Africa, has expanded its Kalmar fleet with five additional 15-tonne forklifts equipped with detachable counterweights. The company is hiring all machines from Saficon, Kalmars South African dealer.
P&O Durban has bought four medium Kalmar forklifts.
Kalmar has sold three new forklifts to Ningbo Port, close to Shanghai.
Container manufacturer Shunde Shun and the port of Tianjin have both purchased a Kalmar five-high stacking empty-container handlers.
Medway Ports in the UK has bought four Kalmar machines for its mixed cargo handling operations. The trucks are the first in the UK with Kalmars new Flexcab and Dana 13000 power train.
Kalmar has delivered 10 heavy-duty forklifts to ports in the Mediterranean. Two are going to the Port of Sokhna in Egypt, and several light forklifts are heading for Syria.
International Paper, in the US, one of the world's largest sawmill and paper conglomerates, has bought its first Kalmar machine following a trial.
Tool Logistics, a member of Germanys Gluns Group, has bought six Kalmar forklifts for inventory management and offloading chipboard in Saarland. Klausner Holz, another German timber company, has ordered six 15-tonners to handle its lumber.
Austria's Mayr-Melnhof has ordered seven Kalmar trucks with a lifting capacity of 16 tonnes to service operations in the Czech Republic.
The UKs Tarmac Concrete, part of global mining and mineral specialist Anglo American plc, has increased its fleet of 10-tonne Kalmar trucks with the purchase of another seven machines.
Turkish steel producer Idas has bought six 15-tonne forklifts to handle large steel wire coils. Kalmar is also supplying 13 forklifts to ISPAT Hamburger Stahlwerke.
UK fertiliser manufacturer ABP Fertiliser has chosen four nine-tonne Kalmar forklifts to handle large sacks of fertiliser.
Ford, Opel, BMV, Daimler-Chrysler and Audi have bought a total of eight electric-powered forklifts in the last year.
Kalmar has secured a deal with Norwegian National Defence for a series of 16-tonne forklifts with appropriate attachments for military airports in Gardemoen and Bod.
Norwegian brewery Ringns has chosen a Kalmar machine to move beer and soft drinks. The company has taken delivery of a forklift with a vertically-adjustable cabin.

The significant number of new orders reflected Kalmar's track-record in tackling diverse and complex assignments, said Kalmar Industrial Systems sales & marketing director Mikael Rietz.

"We've made (several) significant breakthroughs in interesting markets. Kalmar is supplying more forklifts to new and returning customers," he said.

- Kalmar Industries website -
5. **ANNOUNCEMENT** CHECK YOUR BUSINESS DIRECTORY LISTING


Materials handling manufacturers and suppliers, forklift fleet owners and professionals are advised to check their free listings in Forkliftaction.com's new Business Directory.
Now in its third week since being launched, this global materials handling directory, has seen more than 650 visitors browsing its pages, looking for products and services, looking for you.
Our research department has received dozens of requests for changes to directory information for various companies. It would be a shame if your company missed a new deal because your phone number was incorrectly listed.
To check if your information is correct, use the Business Directory's Are You Listed? page to perform a quick check that your business is in the directory.
Forkliftaction.com's team has gathered company information from all over the world, using various sources, so it's likely your company's in the directory, and you didn't know it! This is just one of the free services that has made Forkliftaction.com the world's busiest materials handling website.
Contact research@forkliftaction.com if your listing needs updating.

6. SAFETY FIRST: DAVID HOOVER


NEWARK, OH, United States
As a father of two children I am constantly looking for ways to motivate my kids to be polite, helpful and safe. I have found a great motivational tool: positive reinforcement.

The old saying "you catch more flies with honey than vinegar" seems to hold true. If I really want to shape their behaviour, I get them working towards a positive reward such as a later bedtime or more play time and then make a big deal out of it when they "earn" the reward.

I also use negative reinforcement, such as reducing play time, but only as a last resort. Normally the positive works better and lasts longer.

You're probably wondering what this has to do with safe forklift operations. Let me explain.

If you were called into your manager's office tomorrow and told "you are doing a decent job, I think we'll keep you around another year", how would you feel? If you had worked hard and done your best, you might feel disappointed, unappreciated and maybe even angry, right?

That is exactly how many highly-skilled forklift operators feel today. I come across people like this all the time: they are smart, extremely skilled and make their companies run like well-oiled machines, but nobody seems to notice.

Year in and year out they stack and store materials safely and efficiently, which makes their company profitable, but who cares? No wonder morale is so low in many companies and industries today.

Here are some ideas to motivate your forklift operators:

1) Hold a safe operation award (like the "million mile awards" some companies give truck drivers). Make it tough to achieve but not impossible, so only the best achieve it (not the guy who hits the building column every day). Put up some cash or a prize and recognise winners in the company newsletter or at a function. Recognition is a very powerful positive reinforcement, maybe even more so than money.
2) Organise a forklift rodeo (I prefer the words "forklift skills challenge", but that's just me). This might be just your company or you might include everyone in your industrial park. Set up real life courses, such as trailer loading, stacking, and manoeuvring, and grade operators' safe operation and efficiency with an emphasis on safety. Award trophies and recognise the winners by getting them in the local paper or on local TV. Everyone likes to show their skills and this gives forklift operators a chance to do just that.
3) Get operators' input on how to improve safety and reduce materials handling expenses. Put up cash rewards and incentives for great ideas. If the company is going to save $10,000 as a result, I think you can cough up $250 for the idea. This will make operators feel they are part of your team.

If you have other unique ways your company positively reinforces safe forklift operation or rewards drivers, please let me know and I'll put together a list for a future article.

David Hoover is president of Forklift Training Systems Inc, a US safety company specialising in site and forklift safety training, training trainers, custom program development and cutting-edge forklift safety products. Contact David Hoover
7. RECORD ATTENDANCE FOR ARCHIES


BIRMINGHAM, United Kingdom
More than 500 people turned out at the Birmingham Hilton Metropole for the Fork Lift Truck Association's (FLTA) night of nights, the annual Awards for Excellence 2004.

An unprecedented 10 awards were presented across various categories. Here are the winners:

Apprentice of the Year: Richard Taylor, Jofson Ltd;
Services to the Fork Lift Truck Association: Brian Nealon, Bendigo Mitchell Ltd;
Services to the Fork Lift Truck Industry: Gil Male, Health & Safety Executive, engineering plant group;
Design Achievement: Narrow Aisle Ltd;
Supplier of the Year: Translift Engineering Ltd;
Safety: Health & Safety Executive;
Environment: Still Materials Handling Ltd and B&B Attachments;
Ergonomics: Crown Lift Trucks;
Innovation: Toyota Industrial Equipment;
Lifetime Achievement Award: Peter Eckersley, Linde Material Handling.

FLTA chairman Richard Baxter said the Archies, named after the solid bronze statuettes of Archimedes presented to the winners, were recognised as the industry's highest accolade.

"For any individual, group or organisation winning an Archie, enormous prestige awaits. The great progress being made in raising industry standards, as reflected in the quality of the winners and nominees, is very encouraging," he said.
- FLTA website -
8. NIPPON YUSOKI TO WIND UP SUBSIDIARY


KYOTO, Japan
Nichiyu forklifts manufacturer Nippon Yusoki Co Ltd will wind up its wholly-owned sales and maintenance subsidiary, Hamamatsu Nichiyu, in the Shizuoka prefecture, by the end of March.

The move, reported by the Japanese News Digest, was aimed at strengthening Nippon Yusoki's management operations. Hamamatsu Nichiyu, based in Hamamatsu, was established in 2001.

Nippon Yusoki's subsidiary Nichiyu Shizuoka, headquartered in Numazu, would take over the operations of Hamamatsu Nichiyu.

Nippon Yusoki also plans to establish a marketing subsidiary in Shanghai, China, in March. It will be the third Nippon Yusoki subsidiary in China.

- Nippon Yusoki website -
9. FORKLIFT SAFETY COMPANY EXPANDS


SYDNEY, Australia
Melbourne, Australia-based aftermarket forklift safety products supplier Fork-SAFE International has expanded to Sydney and New Zealand.

Managing director Richard Jeney told Forkliftaction.com News the new Sydney office was headed by Bruce Kretchmer, a forklift sales veteran of 20 years.

"With this new local support, we've extended our stand in the industry as the major aftermarket supplier to forklift manufacturers," he said.

Fork-SAFE has also appointed Targeted Transport Training Ltd (T3), headed by Barry McIntosh, as its New Zealand distributor. Fork-SAFE products are now available throughout New Zealand.

- Fork-SAFE website -


10. CONCRETE GRINDING LTD: SEE US AT IMHX
Concrete Grinding Limited is displaying its full compliment of services at IMHX 2004 in Birmingham, UK on March 2-4 2004. See us at stand 20/C26.
Concrete Grinding Limited, specialists in upgrading the floor flatness of narrow racking aisles in new and existing VNA warehouse/storage units, have released the Laser Grinder, a laser-guided concrete grinding machine.
The Laser Grinder very effectively grinds aisles to the required flatness, while being clean, quick and non-intrusive. Designed to operate in operational warehouse facilities, floors are upgraded to ensure a safe and efficient VNA facility with little disruption.
Click here for our full article and pictures.
CONTACT US:
Tel: +44 (0) 1484 600080
Fax: +44 (0) 1484 600095
Email: information@concrete-grinding.com
Web: www.concrete-grinding.com
11. COMBILIFT GOES LIVE AT IMHX
Combilift is going live at this year's IMHX. By exhibiting in the halls and staging demonstrations in the outdoor area, Combilift visitors will experience the manoeuvrability and versatility of the trucks at close range.

"Seeing the trucks at work gives a realistic view of their capabilities," comments Combilift MD Martin McVicar. "We will also exhibit our multi-directional sideloader and an electric-powered Combilift."

See us at IMHX stand 20 D42 & Outside Area

FOR MORE INFORMATION:
T: +353 47 80500 (Head office)
1877COMBI56 (USA only)
F: +353 47 80501
E: info@combilift.com
W: www.combilift.com

Click here for the full text of this release, including pictures.
12. CHAINTECH LINKS EUROPE
Chaintech U.K. Limited is a leading European supplier of chain to the materials handling industry.
We will be at IMHX 2004 exhibiting our wide range of chain products, including Leaf Chain, Roller Chain, Conveyor Chain and other chain-related items.
We will be using the occasion to announce our new Low Maintenance Anti Corrosive Leaf Chain called Zi-Co.
You can find us on stand E70 in Hall 20 or contact us via:
Telephone: + 44 (0) 1676 535437
Fax: + 44 (0) 1676 535436
E-mail: info@chaintechuk.co.uk
Website: www.chaintechuk.co.uk

Click here for the full text of this media release, including pictures.
13. BRAMBLES AUSTRALIA SELECTS WEBB/ELWELL-PARKER AGVS FOR 25-TONNE STEEL COIL HANDLING SYSTEM
FARMINGTON HILLS, Michigan, United States
Jervis B. Webb Company will supply Brambles Industrial Services an Automatic Guided Vehicle (AGV) System to move steel coils at BlueScope (formerly BHP) Steel's facility at Port Kembla, New South Wales, Australia.

The system will handle coils up to 25 metric tonnes. The first AGV is scheduled for testing and completion in March. This is the second Webb/Elwell-Parker AGV project completed for BlueScope. Jervis B. Webb Company has partnered with Elwell-Parker for numerous heavy-duty AGV projects in the primary metals industry.

For more information please visit:
www.jervisbwebb.com
www.elwellparker.com
www.brambles.com

Click here for the full text of this media release, including pictures.


FEEDBACK
We appreciate your feedback and will reply promptly. A form to register your comments is at: www.forkliftaction.com or simply email us at
info@forkliftaction.com. If forklifts are your business and you have news, press releases, photos or tender information to publish, we'd love to hear from you. Please email us at: info@forkliftaction.com.

COPYRIGHT
Forkliftaction.com News is copyright. Unauthorised reproduction is illegal. We are happy for you to onforward this newsletter to potential new subscribers. If you would like to discuss syndication of reproduction of our news on your website, please contact us at biz@forkliftaction.com