Dear reader,
WELCOME TO FORKLIFTACTION.COM, MATERIALS HANDLING ONLINE.
This is issue #142 - 29 January 2004 of the weekly newsletter for industry professionals.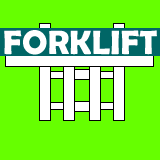 If you receive Forkliftaction.com News direct, you also have access to many resources online, including an equipment catalogue, a news archive, a business directory, open tenders and more.
To log in, simply go to www.forkliftaction.com and enter your email address and password at the top of the page. Make sure you click the "Remember Me" box, and you won't have to log in ever again. Once you have your password and have logged into the website, you can change your newsletter preferences and personal details on the My Account page, and have complete access to all Forkliftaction.com content.
Enjoy.





1. THE WORLD ATTACHMENTS MARKET - PART TWO


BRISBANE, Australia
Welcome to Forkliftaction.com's second and final part of this month's series on the market for forklift attachments. We've tried to cover as much of this huge market segment as possible, with the help of several industry experts and other sources. Thank you to the experts who lent a hand, and thanks to the companies that took advantage of the opportunity to share the spotlight by advertising their products and services. Click here to read the feature.
2. JCB TO BUILD ENGINES AT NEW PLANT


CHURCH BROUGHTON, United Kingdom
JCB is forging ahead with plans to produce diesel engines with the acquisition this month of a multi-million pound manufacturing plant.

JCB, which announced plans to build engines last August, has bought a 160,000 square-foot (14,865 square metre) facility at Dove Valley Park at Church Broughton, Derbyshire. A new company, JCB Power Systems Ltd, has been formed to manufacture engines at the new facility.

JCB chief executive John Patterson said the company would move into the plant immediately, and start low-volume production late this year.

"This facility is ideal in all respects for JCB's needs. It has excellent links with existing JCB factories in Rocester, Uttoxeter and Cheadle, which was one of the main reasons we chose this site," he said.

"While the factory is bigger than our initial production needs, it provides us with the capability to expand in the future as we manufacture more and more engines."

The site will employ more than 100 people. The existing engine design, development and purchasing teams would remain at JCB's world HQ in Rocester, the company said.

- JCB website -
3. AED: OUTLOOK POSITIVE FOR 2004


OAK BROOK, IL, United States
The big conclusion from the Associated Equipment Distributors' (AED) 85th annual meeting & CONDEX show was that 2004 would be a year of growth.

Registrations for the event, in Orlando, Florida, from January 8 to January 10, climbed 20% and exhibitors increased 10% from last year's convention. Equipment distributors and manufacturers from the USA, Canada and abroad met to discuss issues and opportunities facing the industry.

"The 2004 annual meeting surpassed last year in every category we measure," said Toby Mack, AED executive vice-president. "As happy as we were about the excellent participation at the show, we were most gratified by the very positive outlook for 2004 expressed by everyone who attended."

Plans are already in progress for the 2005 AED annual meeting & CONDEX in San Antonio from January 27 to January 29.

- AED website -
4. CROWN OPENS DALLAS/FORT WORTH BRANCH


GRAND PRAIRIE, TX, United States
Crown Equipment Corporation has opened a factory-owned branch in Grand Prairie, TX, to serve the Dallas-Fort Worth market.

Crown this month bought Shannon Corporation, the former Crown Grand Prairie dealer. Mark Heitkamp has relocated from Crown's Pittsburgh, PA, branch to head the new branch.

The newest Crown branch will handle materials handling equipment sales, rentals, parts and service for Crown forklift products. The branch would also sell general warehouse and materials handling equipment like racks, shelving, and dock equipment, the company said.

Crown has appointed Andre Lauber and Bruce Salsbury as sales managers, Andy Faust as parts manager and Paul Wright as service manager at Grand Prairie.

- Crown website -
5. **FORK TALK** MHEDA SPONSORS PROFESSOR


CHARLOTTE, NC, United States
The Material Handling Equipment Distributors' Association (MHEDA) will sponsor Dr Barry Lawrence to serve as a committee member for the College Industry Council on Material Handling Education (CICMHE).

Dr Lawrence is an associate professor with the Department of Engineering Technology & Industrial Distribution at Texas A&M University, and a director of the Supply Chain Systems Laboratory of Texas A&M.

CICMHE is an independent organisation that prepares and provides information and teaching materials and conducts various events in support of material handling education and research. The council is composed of college and university educators, primarily teaching engineering-based subjects.

MHEDA accepted CICMHE's invitation to sponsor a professor to serve on the committee. Dr Lawrence would be MHEDA's representative, the association said.

- CICMHE website -
6. SAFETY FIRST: DAVID HOOVER


NEWARK, OH, United States
Is forklift certification too easy? Is the materials handling industry rife with poorly trained, under-qualified forklift operators? Contributing safety expert David Hoover asks the questions.
7. MOVERS & SHAKERS


McCONNELLSBURG, PA, United States
JLG Industries Inc has appointed David L Pugh to its board of directors. The appointment expands the JLG board to nine members. Mr Pugh is chairman and chief executive of Applied Industrial Technologies Inc, of Cleveland, OH, a distributor of industrial products and fluid power products and systems.

IRVINE, CA, United States - Toyota Material Handling USA (TMHU) has appointed Steve Bourdon as territory manager for the US south central region, including Nebraska, Kansas, Oklahoma, Texas, Colorado and New Mexico, and portions of Arkansas, Missouri and Wyoming. Since 1990, Mr Bourdon was a finance manager for Toyota Financial Services (TFS). He worked with many of the same TMHU dealers he now represents as territory manager.

8. TOYOTA LAUNCHES ELECTRIC TOW TRACTOR FLOOR-RUNNERS


IRVINE, CA, United States
Toyota Material Handling USA (TMHU) has introduced two new Floor-Runner models, inspired by requests from the automotive plants of Toyota Motor Corp (TMC).

The CBT4 sit-down electric tow tractor has a towing capacity of 8,800 pounds (3,960 kilograms), and the CBT6 can tow 13,200 pounds (5,940 kilograms).

Auto plants wanted a highly manoeuvrable sit-down electric tow tractor. Many facilities use stand-up tow tractors, including some with internal combustion power sources that are not environmentally friendly. Making units suitable for automotive facilities drove the designers to develop the new tractors.

"We worked closely with our customers to ensure the new Floor-Runners were specifically designed to meet their needs," said Cesar Jimenez, TMHU electric product planning manager.

The Floor-Runner has a heavy-gauge, unitised steel frame and an optional heavy-duty front bumper. The hood can be modified to accommodate a fast-charging battery system.

Development took about a year and included extensive field testing at the Fremont, CA, site of New United Motor Manufacturing Inc. Demonstrations have occurred at several automotive facilities.

Inclusion of a standard 48-volt electrical system is intended to assure the availability of ample Floor-Runner power to handle the types of loads and carts found in automotive facilities.

The Floor-Runners also include ergonomic options, a tilt steering column and a quick-release tow hitch accessible from the operator's seat. Fingertip controls are on the electric shift lever, and a low step height eases entry and exit.

- TMHU website -


9. KAUP: ONLINE CALCULATION PROGRAMME FOR RESIDUAL CAPACITIES
ASCHAFFENBURG, Germany
KAUP's new website features a forklift residual capacity calculator. Part of the calculation programme is the technical data of all relevant forklifts currently on the market.

>From the homepage (www.kaup.de) click on "Res. Capacities" under Contacts & News. Follow the on-screen prompts and the residual capacity will be calculated after choosing the required forklift.

Warnings appear when the capacity of the forklift is higher than the capacity of your attachment, or if ISO Classes do not fit.

See www.kaup.de for more information.

Click here for the full text of this release, including pictures.
10. BOLZONI-AURAMO LAUNCHES NEW HOOK-ON SIDESHIFTER
PIACENZA, Italy
BOLZONI-AURAMO hook-on sideshifters have always been market leader, popular due to excellent engineering, simplicity and rugged construction.
The new Model HN features significant improvements:
21% better visibility;
integrated mobile upper hook and fork carriage bar;
9% lighter;
Thicker upper and lower sliding pads;
Upper and lower sliding pads equipped with greasers;
Adjustable lower hooks for easy fitment;
Handling hook fixed to upper bar;
Equal sideshifting speed in both directions.

For further information, contact Annalisa Castellini on +39-0523-5555-11, via e-mail on info@bolzoni-auramo.com, or see www.bolzoni-auramo.com.

Click here for the full text of this release, including pictures.
11. TOYOTA RANKED GLOBAL LIFT TRUCK LEADER BY TOP MATERIAL HANDLING PUBLICATION
IRVINE,CA, United States
Toyota has been recognized as the largest worldwide lift truck supplier by Modern Materials Handling, based on annual sales of over $3.1 billion. In the magazine's yearly top 20 ranking, Toyota earned the top position, ahead of competitors from North America, Asia and Europe. Toyota Material Handling, U.S.A., Inc. (TMHU), the company's U.S. group, also is the number one selling lift truck supplier in the U.S. and contributes over 25 percent of Toyota's worldwide sales.

FOR MORE INFORMATION:
Visit www.toyotaforklift.com
Email toyotaforklift@tmhu.com
Call +1-800-226-0009

Click here for the full text of this release, including pictures.

FEEDBACK
We appreciate your feedback and will reply promptly. A form to register your comments is at: www.forkliftaction.com or simply email us at
info@forkliftaction.com. If forklifts are your business and you have news, press releases, photos or tender information to publish, we'd love to hear from you. Please email us at: info@forkliftaction.com.

COPYRIGHT
Forkliftaction.com News is copyright. Unauthorised reproduction is illegal. We are happy for you to onforward this newsletter to potential new subscribers. If you would like to discuss syndication of reproduction of our news on your website, please contact us at biz@forkliftaction.com