Dear reader,
WELCOME TO FORKLIFTACTION.COM, MATERIALS HANDLING ONLINE.
This is issue #140 - 15 January 2004 of the weekly newsletter for industry professionals.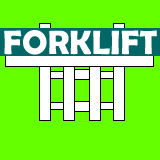 Welcome to the first edition of Forkliftaction.com News for 2004. We wish you the very best for the year to come. This year is shaping as a very exciting one for the world materials handling industry, and Forkliftaction.com will be right there reporting the latest developments to you. It's also an exciting year in the development of the Forkliftaction.com portal, but more on that later...

NOTE: Due to a server outage over the new year, it is possible that some new member registrations have not been stored correctly. If any new members did not receive today's newsletter directly, please register again or contact info@forkliftaction.com.





1. THE WORLD ATTACHMENTS MARKET - PART ONE


PORTLAND, OR, United States
Welcome to Forkliftaction.com's first feature article on the world market for forklift attachments. Forkliftaction.com's journalists highlight the major developments during 2003 in this important market segment.

The world of forklift attachments is dominated by three major players: US-based Cascade Corporation out in front, followed by the Italian Bolzoni Auramo Group and Germany's Kaup GmbH.

Clearly the biggest market development of 2003 was Cascade Corporation's USD6.5 million acquisition of Italian attachments company Roncari Srl, which primarily makes standard and specialised attachments, in October.

Click here to read the complete article online.
2. JLG INVESTS IN FRANCE


McCONNELLSBURG, PA, United States
JLG Industries Inc has agreed to buy the remanufacturing inventory and equipment of Acces Industrie, in Tonneins, France, for EUR2 million (USD 2.49 million).

JLG said it had signed a letter of intent and the transaction was expected to close early this year.

Under the deal, JLG will sublease from Acces a 2,500-square-metre (27,000-square-foot) facility built in 2001 for maintenance and repair of aerial work platforms. JLG also leases a 7,400-square-metre (80,000-square-foot) facility in Maasmechelen, Belgium, housing boom lift, scissor lift and telehandler operations.

JLG saw "a significant opportunity in Europe for reconditioning services as an alternative to new machine purchases", said Israel Celli, JLG vice president of international sales, marketing & customer support.

The pending transaction "builds on our successful JLG Equipment Services remanufacturing model in North America". For the year ended July 31, 2003, sales in Europe accounted for USD145.0 million, or 19%, of JLG's total business.

Founded in 1996, Tonneins-based Acces operates more than 20 rental agencies in France, Spain, Luxembourg and Portugal.
- JLG website -
3. **FORK TALK** AWARDS 2004 A MUST FOR MUSIC LOVERS


ALTON, United Kingdom
Awards 2004, the Fork Lift Truck Association's (FLTA) Annual Awards for Excellence, will feature not only the best in forklift design, but also the best in music.

Kicking off the evening in dramatic style will be the band Weapons of Sound, opening the Oscars-style ceremony with its unique brand of high-energy percussion.

Following a gala dinner, dancing will begin in earnest to the sounds of Stax of Soul and Soul Review. One of the most successful bands in the north west of England, Stax of Soul is a 10-piece that includes a rhythm section, a four-piece brass section, and great vocals.

Completing the line-up will be DJ Danny Searle with his acclaimed top of the pops mix that reviews the classics and many forgotten favourites from the 60s to the present.

Tickets are selling fast for the annual awards for excellence & dinner dance, which is at the Hilton Metropole in Birmingham on Saturday February 7, so book now.
- FLTA website -
4. NICHIYU TO DOUBLE JAPANESE SALES


KYOTO, Japan
Nippon Yusoki Co Ltd, which manufactures Nichiyu forklifts, expects to double Japanese sales of its three-wheel battery electric forklift models to 300 units this year.

Demand for three-wheel battery forklifts was expanding due to their ability to rotate easily in narrow spaces, the company said. From today, Nichiyu will sell five models, featuring energy-saving power control systems, with capacities from one to two tonnes.

The forklifts' prices vary between JPY2.18 million (USD20,500) and JPY3.05 million (USD29,000) a unit.

Nippon Yusoki, established in 1937, is listed on the Tokyo and Osaka stock exchanges. Headquartered in Kyoto, the company makes forklifts, order pickers, pallet trucks and towing tractors and has offices in Japan, the Netherlands, Australia, Singapore and China.

Nippon Yusoki has two plants in Japan and one in China, and reported JPY49.5 billion (USD466.7 million) in sales for the year ended March 2003.
- Nippon Yosuki website -
5. SAFETY FIRST: WAYNE CHORNOHOUS


VANCOUVER, Canada
Most forklift instructors understand sit-down counterbalance construction and how the basis for the "stability triangle" can be explained and plotted.

Click here for the full text of Wayne's column.
6. MERGED MOFFETT CREATES 40 JOBS


DUNDALK, Ireland
Forklift manufacturer Moffett Engineering has announced a EUR6 million (USD7.6 million) expansion that will create 40 jobs at its Dundalk operation.

The expansion follows the merger this year of Moffett and Dutch sister Kooi, both part of the Partek Cargotec Group, according to an Irish Times report. Both brands would continue to be offered.

The expansion would see the establishment, over the next three years, of a centralised component centre, producing masts for truck-mounted forklifts in Ireland, the Netherlands and the USA. A painting facility would also be opened in Louth, Ireland.

Moffett Ireland general manager Keith Quigley said the decision to locate the new "centre of excellence" in Dundalk was a vote of confidence for the town.

"Our component production will almost double and our paint facility will rival those in the automotive industry," he said.

Moffett had traditionally enjoyed strong sales in the US and UK, while Kooi was stronger in Germany and the Netherlands. A merger made common sense, Mr Quigley said.

"The strengths of both organisations have been joined to ensure the customers will benefit most," said Kooi general manager Dick Vroonland.
- Partek Cargotec website -
7. LINDE TO SELL REFRIGERATION BUSINESS?


WIESBADEN, Germany
Linde AG may offload its refrigeration business. The company severed ties with Linde Refrigeration, granting it independent legal status, on January 1.
The new company, Linde Kltetechnik GmbH & Co KG, based in Cologne-Srth, has a workforce of 6,300 and facilities in Europe, South America and Asia.
- Linde website -
8. KING MICHAEL - FORKLIFT DRIVER


JERILDERIE, Australia
A medieval historian says an Australian forklift driver is the rightful King of England.

Dr Michael Jones says Queen Elizabeth's claim to the throne is false because her ancestor, Edward IV, was illegitimate. The crown should have passed through the Plantagenet line, which today ends with Michael Abney-Hastings, 62.

Dr Jones told the BBC that Edward IV, who reigned from 1461 to 1483, was conceived while his parents were 160 kilometres apart. His father, Richard Duke of York, was at war near Paris, while his mother, Lady Cicely Neville, was in Rouen, where she was said to be having an affair with a local archer.

Mr Abney-Hastings, who lives in Jerilderie, 640 kilometres (400 miles) south-west of Sydney, said it was "very unlikely" he would go to London and demand entry at Buckingham Palace.

Picture courtesy of the BBC.


9. TOTALL: INNOVATION + QUALITY = HIGH PERFORMANCE
, United States
Totall Forklift Attachments are designed to enhance the capability of any standard forklift.

Over 35 years, Totall has solved material handling problems with unique equipment such as the original patented "Layer Picking Clamp". This four-sided clamp is used to lift single or multiple layers of products, eliminating manhandling during pallet re-stacking.

Another innovation is the "High Visibility Rotator" with a corrosion-resistant ring-gear used extensively in fish and food processing plants where corrosion cannot be tolerated. Check out our affordable Stainless Steel Rotator!

For information on any of our products please visit our website www.totall.net.

Click here for the full text of this release, including pictures.
10. THE NEXT GENERATION OF MULTI PALLET HANDLERS - KAUP T 429
ASCHAFFENBURG, Germany
ASCHAFFENBURG, Germany - Multi Pallet Handlers have revolutionized transport of palletised goods.
In 1983 KAUP tested double pallet handlers; last year MPH number 10,000 was dispatched.
The new attachment has substantial advantages, including:
1.) Improved visibility;
2.) Large wear and tear profiles;
3.) Teflon spray for greasing;
4.) Forks screwed to profiles. All forks are identical and interchangeable; and
5.) Feature thousand-fold proofed sideshift components of the P 2 sideshifter.

Raise your efficiency: get your Multi Pallet Handling manual now! Click here

Click here to read the full text of this release, including pictures.
11. MULTI PALLET HANDLERS, TO HANDLE SEVERAL PALLETS AT A TIME
PIACENZA, Italy
Bolzoni Auramo multi-pallet handlers save time for stocking and vehicle loading/unloading. Bolzoni Auramo has developed a wide range of pallet handlers for the market.

SINGLE/DOUBLE PALLET HANDLER
TRIPLE PALLET HANDLER
2-4 PALLET HANDLER

These models share:
- excellent visibility;
- fork movement synchronism;
- bolted forks;
- load backrest for high loads;
- ability to bring closer two flanked pallets; and
- available with constant separate side shift.

For further information, contact Annalisa Castellini at +39-0523-5555-11, via e-mail at info@bolzoni-auramo.com, or see www.bolzoni-auramo.com.

Click here for the full text of this release, including pictures.
12. A.T.I.B. - THE HANDS OF YOUR FORKLIFT
DELLO, Italy
With more than 30 years' experience in the production of forklift attachments and masts, A.T.I.B. is the right choice for all your handling requirements.
We offer you a great range of products at competitive prices, and an efficient after sales service.
Please contact us via our website: www.atib.com.

Click here for the full text of this release, including pictures.

FEEDBACK
We appreciate your feedback and will reply promptly. A form to register your comments is at: www.forkliftaction.com or simply email us at
info@forkliftaction.com. If forklifts are your business and you have news, press releases, photos or tender information to publish, we'd love to hear from you. Please email us at: info@forkliftaction.com.

COPYRIGHT
Forkliftaction.com News is copyright. Unauthorised reproduction is illegal. We are happy for you to onforward this newsletter to potential new subscribers. If you would like to discuss syndication of reproduction of our news on your website, please contact us at biz@forkliftaction.com