Dear reader,
WELCOME TO FORKLIFTACTION.COM, MATERIALS HANDLING ONLINE.
This is issue #134 - 13 November 2003 of the weekly newsletter for industry professionals.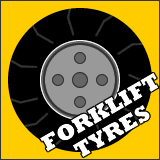 Welcome to Forkliftaction.com's second and final article on the world market for forklift tyres, wheels and castors. Forkliftaction.com's editorial team has tackled the enormous task of showcasing the world market for forklift tyres, drawing information from sources worldwide. Special thanks to the industry professionals who helped compile this report. Thanks also to advertisers who took advantage of Forkliftaction.com's marketing packages to have their companies and products share the spotlight in this special series.

Next month Forkliftaction.com's special feature highlights the forklift market in the United Kingdom. Contact Penryn Maddrell for information about advertising.





1. TYRES, WHEELS & CASTORS: PART TWO


LUXEMBOURG CITY, Luxembourg
Welcome to part two of Forkliftaction.com's coverage of the world market for forklift tyres, wheels and castors.

The forklift tyre, originally a moulded piece of rubber, has evolved into a complex piece of equipment affecting efficiency, budgets, health and safety.

The world market for forklift tyres is an amazing mixture of nationalities, fierce but healthy competition and billion-dollar revenues. Estimates are that more than 10 million industrial tyres, wheels and castors are sold every year.

Click here for the full text of this special feature.
2. LOGISTICA 2003 - A GREAT SUCCESS


UTRECHT, Netherlands
Logistica 2003, the triennial Dutch fair on logistics, held from November 11 to November 15, has been hailed a success by organisers and visitors.

Organisers told Forkliftaction.com News that 30,000 people visited the fair over the five days. The number of exhibitors was not available.

The fair opened with a Logistica award for innovation, presented to Meijer Special Equipment for its rollerforks, which are forks made with built-in rollers that can pick up slip sheets.

Meijer, a specialist in telescopic forks, donated the EUR10,000 (USD11,900) prize to the War Child charity.

On the closing day, forklift driver Anno Boer, who works at Omnia Plaatvloeren, was crowned driver of the year 2003 after winning a skills competition.

Clark Lift Nederland account manager Martin Jonkers told Forkliftaction.com News that his company had sold 30 Chinese-built Heli forklifts since taking on the Dutch distributorship in April.

Clark Lift found Heli through the Chinese company's Belgian distributor, Motor Products, which had sold 120 of the machines in two years.

Mr Jonkers predicted that if sales continued at the current rate for two years, the company's sales split would be 60% Heli and 40% Clark.
- Logistica website -
3. VULKOLLAN C (ELECTRICALLY CONDUCTIVE): NEW FROM VULKOPRIN


Vulkoprin manufactures high-quality wheels, castors, rollers and tyres. Vulkollan is the company's line of heavy-duty forklift wheels, featuring high load capacity and resilience to wear and tear, oil and grease.

Following intensive research, Vulkoprin has launched Vulkollan C (Conductive), a revolutionary new electrically-conductive Vulkollan that conforms to standards EN12527 to EN12533 and ISO 2878.

Vulkollan C features adds electricity conduction to the advantages of Vulkollan, with non-marking black tread and a hardness between 92 - 95 shore A.

Read our full media release or visit us at www.vulkoprin.be, email info@vulkoprin.be or phone +32 51 403 806.
4. LINDE 3Q RESULTS RELEASED


WIESBADEN, Germany
Linde's materials handling division has reported sales of EUR2.143 billion (USD2.552 billion) for the nine months to September 30, down slightly on the EUR2.149 billion (USD2.559 billion) reported last year.

At EUR738 million (USD878.8 million), third-quarter sales increased by 4.4% on last year's EUR705 million (USD840 million).

Gross earnings finished at EUR89 million (USD106 million), 5.3 % down on the EUR94 million (USD112 million) nine-month result in 2002. But 3Q earnings lifted 2.8% from EUR36 million (USD43 million) last year to EUR37 million (USD44 million).
- Linde website -
5. DON'T PAY PEANUTS, YOU MAY GET MONKEYS


SYDNEY, Australia
A Crown executive has warned that small-scale forklift repair businesses have pushed the industry into "caveat emptor" (buyer beware).

Glenn Pulley, executive director at Crown's Asia-Pacific head office, said the cheapest hourly rate often turned out to be the most costly in lost production and occupational health and safety risk.

"While many service technicians run perfectly able businesses in this industry, the majority of problems stem from undercutting competition to take clients away from manufacturers' maintenance plans," he said.

"Although we can assume external maintenance providers generally have good skill and intentions, they often operate outside the technical direction of the companies that build lift trucks and are regulated only by their own actions."

Mr Pulley said companies faced potential lawsuits if their service technicians were not reputable. "One-man bands" often had no assets and could not pay damages.

"Anyone can pour oil or grease nipples, but servicing a lift truck is more than that," he said. "Price should definitely not be the deciding factor when choosing a service technician."
- Crown Australia website -
6. **ADVERTISEMENT** CONTAINER HANDLING FORKLIFTS REDUCED TO CLEAR


Caterpillar V900B - 2 available
Three-high stacking capacity
20-40ft top lift
Low mount air-conditioned cabin
Full service history
Location: USA
Hyster H44.00 C
Four-high lifting capacity (96)
20-40ft top lift
Air-conditioned cabin with work lights
Recent full refurbishment
Location: Australia
~ All machines can be shipped to your closest port
~ Click here for photographs
Machines must be sold!!
Call or email us to discuss pricing.
EMAIL: jelliott@globequip.biz.
PHONE: +61-7-3256-0666
FAX: +61-7-3256-1071
7. SAFETY FIRST: IT'S A GAS


VANCOUVER, Canada
The most common fuel for internal combustion (IC) forklifts is propane. It is a great fuel, but can kill, maim or burn if not handled properly.

Click here for the full text of Wayne's column.
8. BOMAN ACQUIRES GRAY LIFT


LOS ANGELES, CA, United States
Boman Forklift has acquired the Santa Fe Springs operation of Gray Lift Inc.

Boman spokesman Leslie Boatwright told Forkliftaction.com News that the companies entered acquisition talks in August, after Gray Lift announced it would no longer service southern California.

The acquisition was announced on October 31, but the purchase price was not revealed. Most of Gray Lift's staff, including the company's mechanics, were retained.

Both companies sell and service reconditioned forklifts, and both have similar product lines, which meant the acquisition was smooth, Ms Boatwright said.
- Boman forklift website -


9. EUROTEK: INDUSTRIAL TYRE LEADER
LOWESTOFT, United Kingdom
EUROTEK TYRES LTD is a leading supplier of industrial tyres to the materials handling industry worldwide.
EXCLUSIVE distributor of ALL-PRO resilient and press-on band solid tyres, and stocking MAXXIS tyres and the RADER-VOGEL range of polyurethane wheels, tyres and castors.
Also stocking the innovative AIRTRAK pneumatic shaped tyre, designed to reduce vibration. Click here for details.
See our website for more information.
CONTACT:
Eurotek Tyres Ltd
P: +44 (0)1502 532233
F: +44 (0)1502 508273
E: info@eurotektyres.com
W: www.eurotektyres.com

Click here for the full text of this release, including pictures.
10. THE WONDERFUL WORLD OF WATTS
LYDNEY, United Kingdom
Watts Industrial Tyres, the UK's leader in solid industrial tyres, has launched several joint ventures in China, Brazil and Sri Lanka, securing its world market presence.

Watts exports solids, pneumatics, wheels, polyurethane, custom-made compounds and puncture-proofing systems to 60 countries, and has US, French and German subsidiaries.

Watts's offers competitive OEM packages and supports these with an "OE fast-track system" for unforeseen demands. Watts recently achieved ISO 9001:2000 accreditation, and is developing products for the agricultural, construction and earthmoving markets, a new era in its history.

See www.industrialtyre.com.
Tel. no. +44 (0) 8700 600 170
Fax no. +44 (0) 1594 842 429
e-mail industrial@watts-tyres.co.uk

Click here for the full text of this release, including pictures.
11. THE DUTCH ARE COMING
CAPELLE AAN DEN IJSSEL, Netherlands
Bandengroothandel Mast BV is looking for companies to distribute CARGOMASTER and LIFTGUARD solid and pneumatic forklift tyres.

We've begun a rapid expansion and are looking for new business relationships in areas where we aren't currently represented.

Although we've served the industry for more than 35 years, we have never put a dealer on every corner. Instead, we have focused on long-term relationships with a select number of importers.

If you're interested in starting a business relationship with our company, please email w.mast@cargomaster.nl.

For more information on our products, visit www.cargomaster.nl and www.liftguard.com.

Click here for the full text of this release, including pictures.

FEEDBACK
We appreciate your feedback and will reply promptly. A form to register your comments is at: www.forkliftaction.com or simply email us at
info@forkliftaction.com. If forklifts are your business and you have news, press releases, photos or tender information to publish, we'd love to hear from you. Please email us at: info@forkliftaction.com.

COPYRIGHT
Forkliftaction.com News is copyright. Unauthorised reproduction is illegal. We are happy for you to onforward this newsletter to potential new subscribers. If you would like to discuss syndication of reproduction of our news on your website, please contact us at biz@forkliftaction.com