Dear reader,
WELCOME TO FORKLIFTACTION.COM, MATERIALS HANDLING ONLINE.
This is issue #132 - 06 November 2003 of the weekly newsletter for industry professionals.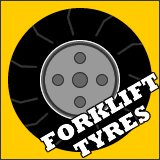 Welcome to part one of Forkliftaction.com's special focus on forklift tyres, wheels and castors. This important cog in the materials handling industry is covered here in the first of two special editorials about the sector. This edition focuses on the tyre sector; part two, out on November 20, highlights the world market for wheels and castors. Thanks to those advertisers which have taken the opportunity to have their products share the spotlight of this feature. Contact Penryn Maddrell to advertise in the November 20 edition.


1. TYRES, WHEELS & CASTORS: PART ONE


LONDON, United Kingdom
Tyres, wheels and castors... Where would we be without them? They are the things every materials handling-related business relies on for its daily bread.

Welcome to Forkliftaction.com's feature on the world market for forklift tyres, wheels and castors. The first of this two-part series will focus on issues facing the forklift tyre market. Stay tuned for part two, our wheels and castors feature editorial, on November 20.

Click here for the full text of this special feature.
2. FINNING, LEX HARVEY INTEGRATION ON TRACK


VANCOUVER, Canada
Finning International Inc's materials handling assets in the United Kingdom and the Lex Harvey operations continue to come together.

"Integration of the Lex Harvey operations into our existing operations is proceeding on plan, and the financial performance of our operations has been very encouraging," said Anthony Guglielmin, Finning vice president and corporate treasurer.

"Looking to 2004, we expect the Lex operations to be fully integrated into our Finning (UK) operations under the leadership of Tom McCloy, divisional director, materials handling."

Strategically, "the forklift operation in the UK is an integral part of our global strategy to increase our presence in the more stable rental business", Mr Guglielmin said.

The May acquisition increased Finning's total UK operations by 25%. Finning UK employs 2,500 people at 14 branches and nine depots.

While Finning does not disclose segment financial data, the Vancouver-based firm reported profit of CAD36.6 million (USD27.1 million) on record sales of CAD925.0 million (USD683.7 million) for the third quarter ended September 30.
- Finning website -
3. BT BLAMES CURRENCY FOR SALES DROP


MJLBY, Sweden
BT Industries has posted net sales of SEK8.552 billion (USD1.087 billion) for the nine months to September 30, down 5% from SEK8.999 billion (USD1.144 billion) in 2002.

Orders received fell 7% to SEK8.761 billion (USD1.114 billion). The company blamed the decrease "entirely" on currency exchanges, particularly a weak US dollar. At comparable exchange rates, orders received rose 2% and sales increased 4%.

The US market saw a demand upswing in the third quarter, but the nine months was weaker than in 2002. Net sales fell 13% but, expressed in US dollars, rose 4%. In western Europe, sales fell from SEK5.166 billion (USD656.6 million) to SEK5.114 billion (USD650 million). In eastern Europe and Oceania, sales grew 12% from SEK830 million (USD105.5 million) to SEK943 million (USD119.9 million).

BT chief executive Per Zaunders said the recovery in the world economy had been slower than expected, but market volume appeared to have increased.

"Demand increased in North America in the third quarter, but the increase was most noticeable in Oceania and Eastern Europe," he said. "We anticipate our industry will cautiously gain ground, though at a slower pace than we previously thought."
- Download BT's report -
4. KOMATSU TO SET UP SHOP IN CHINA


SHANGHAI, China
Komatsu Forklift Co will establish a subsidiary in Shanghai, China, early next year.

According to the Nikkei Business Daily, Komatsu's Chinese arm will be staffed by 10 and have a capitalisation of USD400,000. Staff will increase as the operation expands.

The business would sell diesel-powered forklifts manufactured by German partner Linde AG in China under the Komatsu brand name. It would also sell Komatsu and Linde forklifts imported from Japan and Germany.

Komatsu told the newspaper it aimed to sell 1,500 forklifts a year by 2005.
- Komatsu website -
5. **ADVERTISEMENT** VULKOLLAN C (ELECTRICALLY CONDUCTIVE): A NEW VULKOPRIN PRODUCT


Vulkoprin manufactures high-quality wheels, castors, rollers and tyres. Vulkollan is the company's line of heavy-duty forklift wheels, featuring high load capacity and resilience to wear and tear, oil and grease.

Following intensive research, Vulkoprin has launched Vulkollan C (Conductive), a revolutionary new electrically-conductive Vulkollan that conforms to standards EN12527 to EN12533 and ISO 2878.

Vulkollan C features adds electricity conduction to the advantages of Vulkollan, with non-marking black tread and a hardness between 92 - 95 shore A.

Read our full media release or visit us at www.vulkoprin.be, email info@vulkoprin.be or phone +32 51 403 806.
6. MHI, CATERPILLAR STRIKE ENGINE DEAL


TOKYO, Japan
Mitsubishi Heavy Industries Ltd (MHI) has started supplying 3.3-litre, four-cylinder diesel engines to Caterpillar Inc and Caterpillar's UK affiliate, Perkins Engines Co.

Under an agreement with the two firms, MHI would supply 15,000 engines, a Kyodo News International report said.

The engines, used in MHI's own forklifts and bulldozers, would be used in Caterpillar's construction line from now on. The engines would also be marketed through Perkins' distribution network for use in construction machinery, and as industrial engines.
- MHI website -
7. MOVERS & SHAKERS


HOUSTON, TX, United States
NINOMIYA APPOINTED NEW MCFA PRESIDENT

HOUSTON, TX, USA - Mitsubishi Caterpillar Forklift America Inc (MCFA) has appointed Hideaki Ninomiya as president, replacing Tadashi Sotoike.

Mr Ninomiya, who left Mitsubishi Heavy Industries Ltd in Japan to take up the position, was an active participant in the negotiations that led to the formation of the MCFA joint venture in 1992.


CHANGE OF GUARD AT JUNGHEINRICH MOOSBURG

HAMBURG, Germany - Jungheinrich Moosburg sales director Gnter Tronich has replaced technical director and management board spokesman Anton Pischl, who has retired.
8. SUMITOMO-NACCO TIE-UP IN THE SPOTLIGHT


MAYFIELD HEIGHTS, OH, United States
Sumitomo Nacco Materials Handling Co Ltd, the joint venture between Sumitomo Heavy Industries Ltd (SHI) and Nacco Industries Inc, has been singled out as an example of successful cross-border business collaboration by a leading US industry magazine.

IndustryWeek.com said research showed the "vast majority" of JVs failed within four to seven years. Few survived 10 years, and less lasted longer than 15 years.

"How, then, to explain the ongoing relationship of Nacco and Sumitomo - an alliance that has thrived for more than three decades?" the report said.

The report said the JV began when Yale and SHI partnered in 1968. Sumitomo entered the forklift business to calm the cyclical nature of its core crane and heavy machinery business, and Yale was looking for a platform to enter the Japanese market.

Everything changed when Eaton Corporation, Yale's parent, spun the company off and sold it to Nacco in 1984. This created the potential for conflict but, apart from changing its name from Sumitomo-Yale Co Ltd to Sumitomo Nacco Materials Handling Co Ltd, the JV proceeded with little change.

Nacco's acquisition of Hyster Co in 1989 was another potential hiccup, but an agreement was reached on distribution and manufacturing in an unorthodox series of meetings which dealt with cultural and language difficulties using a whiteboard to note key points and resolutions.

"Ultimately, the most fundamental explanation of the durability of the partnership comes down to the participants' mutual respect and willingness to find common ground on potentially divisive or even destructive issues," the article said.

"In a decidedly less-than-perfect world, those may well be the critical factors in ensuring the success of any joint venture."
- Read IndustryWeek.com's article -
9. PATRICK GOES ALL THE WAY WITH UNMANNED STRADDLES


BRISBANE, Australia
Following successful trials at Patrick's Port of Brisbane berth, Patrick has ordered 14 Kalmar ESC straddle carriers that will be equipped for unmanned operations.

Patrick spokesman Howard Wren said expansion of the "autostrad" concept came after 12 months of commercial operation with five retro-fitted Kalmar CSC straddle carriers.

"The first year with the unmanned straddles has been extremely good. The operation has met all our expectations, specifically in the areas of productivity, safety and cost efficiency," he said.

The autostrad carriers move, brake and steer, and pick and place containers, unmanned. Patrick has refined navigation using radar, lasers, GPS and a tasking and traffic management system.

The straddles feature anti-collision lasers and anti-collision bumpers. Anything that comes within a specified distance will stop the machine. Similarly, if the straddle hits something, it stops immediately.
- Kalmar Industries website -


10. SOLIDEAL: EARTH'S BEST TYRES
LUXEMBOURG CITY, Luxembourg
Solideal International offers a one-stop shop to forklift OEMs and users for pneumatic, resilient and press-on tyres and wheels.
Solideal products are available in a range of patterns and sizes, including non-marking, standard and premium versions, to suit every application.
All Solideal tyres, of which 1.6 million are produced a year, are produced from natural compounds to ensure the highest levels of tear and chunk resistance.
Employing more than 4000 people worldwide, Solideal's comprehensive distribution network spans all developed markets.

For more information, see www.solideal.com.

Click here for the full text of this release, including pictures.
11. THE REVOLUTIONARY SOLUTION
HARTVILLE, OH, United States
Trelleborg Wheel Systems has again revolutionized the industrial tire world with its new resilient tire, developed using advanced manufacturing techniques and compounds developed exclusively by Trelleborg.

Redesigning the traditional Soft Shoe tread pattern, these new tires have:
Deeper lugs for longer life
A flat profile, optimizing stability
A re-designed base/cap interface for improved ride, making this tire the truest rolling resilient around

With their innovative design, increased performance, optimized stability and groundbreaking consistency, these are the resilient tires of the 21st century.

CONTACT:
Trelleborg Wheel Systems Americas, Inc.
tel: +1 330-877 4800
fax: +1 330-877 2346
http://www.trelleborg.com/industrial

Click here for the full text of this release, including pictures.

FEEDBACK
We appreciate your feedback and will reply promptly. A form to register your comments is at: www.forkliftaction.com or simply email us at
info@forkliftaction.com. If forklifts are your business and you have news, press releases, photos or tender information to publish, we'd love to hear from you. Please email us at: info@forkliftaction.com.

COPYRIGHT
Forkliftaction.com News is copyright. Unauthorised reproduction is illegal. We are happy for you to onforward this newsletter to potential new subscribers. If you would like to discuss syndication of reproduction of our news on your website, please contact us at biz@forkliftaction.com