Dear reader,
WELCOME TO FORKLIFTACTION.COM, MATERIALS HANDLING ONLINE.
This is issue #130 - 23 October 2003 of the weekly newsletter for industry professionals.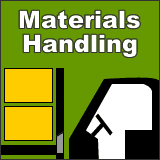 This week's edition wraps up Forkliftaction.com's showcase of the Australian forklift market. This special feature series has been an enormous success, and will become a reference to the Australian market in the future. The Australian feature is just one of many sectors of the world forklift market to be highlighted in coming months. November is tyres, wheels & castors month, and advertising space is filling quickly. If you would like your company highlighted in association with these features, email our marketing department today. Penryn Maddrell








1. **NEWSFLASH** CASCADE BUYS RONCARI


PORTLAND, OR, United States
Cascade Corporation has finalised its acquisition of Italian attachments producer Roncari Srl.
Cascade said on September 11 that it had signed a preliminary agreement to acquire all outstanding shares in the company. The completion of the acquisition was announced today.
Cascade, in a brief statement, said it paid USD6.5 million cash to buy Roncari, which has annual revenues of about USD12 million.

Cascade's Roncari acquisition was announced just before publication deadline. See next week's issue for a detailed look at the sale and what it means for the companies involved and the wider market.
2. THE AUSTRALIAN FORKLIFT MARKET: PART TWO


CANBERRA, Australia
This week Forkliftaction.com News presents the second and final instalment of its feature on the Australian forklift and materials handling industry.

Thank you to the Australian companies that contributed to the editorial showcase of the industry down under. And thanks to the advertisers that took advantage of the spotlight on Australia to market their companies and products.

In this special feature, chief reporter Damien Tomlinson sat down with Howard Grant, secretary of the Australian Industrial Truck Association (AITA), which this year celebrates 42 years of official representation, to discuss the industry.

An advocate and representative of forklift manufacturers, suppliers and ancillary companies, the AITA has been at the forefront of developments in the Australian market since its inception in 1961.

Click here for the full text of this special feature.
3. MORRIS SUES KONECRANES FOR UNFAIR COMPETITION


OAK CREEK, WI, United States
Morris Material Handling Inc has sued KCI Konecranes International PLC for "egregious and systematic violation" of intellectual property and "acts of unfair competition".

The suit was filed on October 7 in the US District Court in Milwaukee, Wisconsin. The complaints include infringement and unfair competition related to federal, state and common-law trademark protections; false advertising; and fraudulent representation under a Wisconsin statute.

Plaintiffs include privately-held Oak Creek-based Morris Material Handling, subsidiaries SPH Crane & Hoist Inc, of Milwaukee, MHE Technologies Inc, of Wilmington, Delaware, and affiliated licensor Harnischfeger Technologies Inc, also of Wilmington.

Morris was founded in the 1880s as an operating division of Harnischfeger Corp, in Milwaukee, and, during the mid-1990s, was known as the P&H Crane Division. In March 1998, Harnischfeger sold 80% of the division, which adopted the Morris identity.

Morris has an exclusive licence from Harnischfeger to use the P&H trademark in the industrial crane and hoist business.

Publicly-traded KCI Konecranes, based in Hyvink, Finland, has major global overhead crane and hoist operations, including its US unit, fellow defendant KCI Konecranes Inc, of Springfield, Ohio. The parent company had profit of EUR24.6 million (USD25.8 million) on 2002 sales of EUR713.6 million (USD748.1 million) and, at December 31, employed 4,441 persons.

Morris alleges Konecranes and affiliates misused the P&H trademark in Canada in September 1999, misused the Morris trademark in Canada in December 2001 and distributed inappropriate marketing material and passed off non-P&H aftermarket parts as genuine P&H parts in April 2003.

Morris said it complained in letters to Konecranes management. In response, Konecranes "denied undertaking any wrongful conduct", the Morris suit said. "Defendants and their affiliates have continued to misuse and misappropriate plaintiffs' intellectual rights, all for the purpose (of) diverting business and customers" from Morris to Konecranes. Numerous examples are cited in the litigation.

The suit identifies three Konecranes-related websites on which Morris trademarks are listed.

Morris has requested a jury trial and intends to pursue an award for punitive damages and "actual damages to be proven at trial", the suit said. Initially, Morris wants the court to prevent Konecranes from continuing the alleged actions.

The suit said Konecranes' US market expansion had included purchases of "Shepard Niles, Crane Manufacturing and Kranco". In addition, Konecranes "has aggressively but unsuccessfully attempted to purchase all or portions of the Morris Group on several occasions since 1997", according to the suit.

Konecranes had not responded to the suit before deadline.
- Morris website -
4. **ADVERTISEMENT** PLAN YOUR FORKLIFTACTION.COM ADVERTISING


FORKLIFTACTION.COM helps you plan your advertising by providing this list of special features slated to appear in Forkliftaction.com News in the coming months.

Contact Penryn Maddrell for more information.

November 2003: Forklift Tyres, Wheels & Castors
December 2004: Materials Handling in the United Kingdom
January 2004: Forklift Attachments & Accessories
February 2004: Materials Handling in China
March 2004: Used Materials Handling Equipment

More features will be added in the coming months.

- Contact us for more information -

5. JCB DEALER NETS GBP2.5 MILLION ORDER


FARNHAM, United Kingdom
Greenshields JCB has landed a GBP2.5 million (USD4.2 million) contract to supply 80 telehandlers and rough terrain forklifts to Kent Sweepers, a national sales and hire company.

The order comprises Loadall 535-95, 537-135, 540-70 and 540-170 telehandlers, and 926 rough terrain forklifts. Kent Sweepers managing director Len Smith said the new machines would strengthen Kent's fleet nationwide.

"We like to keep to one brand so we have uniformity and most of our people have worked on and have expertise in JCB machines. The latest deal is to meet the demands of our depots throughout the UK. We decided to go with JCB as the customer identifies with them and historically we have used JCB," he said.

A Greenshields JCB spokesman said: "Kent Sweepers is one of the biggest independent companies we deal with and a long-standing customer which has constantly invested in our machines. Kent Sweepers' fleet now consists solely of JCBs."
- JCB website -
6. BIA LANDS NINE-STRADDLE KALMAR SALE


ANTWERP, Belgium
Hesse-Noord Natie has ordered nine Kalmar Edrive ESC straddle carriers for its River Schelde terminals.

The order, placed through Kalmar's Belgian dealer, Bia NV, is for five ESCs with normal spreaders and four with extendable twin-lift spreaders with a 50-tonne lift capacity.

The order is a vote of confidence for the new twin-lift spreader and the ESC straddle carrier, which combines an electrical drive system with the robust construction of Kalmar's CSC straddle carrier.

Hesse-Noord Natie first bought two ESCs for testing last year. The company already operates almost 50 Kalmar straddle carriers. Neither the estimated delivery time nor the contract value was released.
- Bia website -
7. BRIEFLY...


MANILA, Philippines
International Container Terminal Services Inc (ICTSI) plans to acquire one quay crane and four rubber-tyred gantry cranes (RTGs) to augment its capacity.
The company also intends to buy new mobile cargo handling equipment to expedite internal yard movement. ICTSI also announced a USD100 million expansion plan for its Baltic Container Terminal in Gdynia, Poland.


BIRMINGHAM, UK - People intending to visit IMHX 2004 in Birmingham next March can now register free online. Simply go to www.imhx.co.uk and click on the "REGISTRATION NOW OPEN" banner.
IMHX 2004 follows the successful inaugural event in 2001. Occupying five major halls, IMHX will feature more than 200 materials handling and storage companies, plus free seminars and the forklift driver of the year competition.


8. NEW LCD IGNITION SYSTEM FROM KEYTROLLER
MELBOURNE, Australia
Dunham Instruments and KEYTROLLER, INC. have released the KEYTROLLER LCD Model 501 LCD screen.
Shift checklists can now be automated, and safety items must be checked before starting.
Supervisors can access events like shock/abuse, speeding, overheating, oil pressure, maintenance, hours, speed % limit, % of memory used and operator name.
KEYTROLLER LCD comes with scalable security and prevents untrained operators from starting vehicles, makes abusive operators accountable and monitors engine conditions.
Installation is simple for any IC or electric vehicle.
For more information see www.keytroller.com, phone 03 9876 4784 or email info@dunhaminstruments.com.au.

Click here for the full version of this release, including pictures.

9. LOOK AFTER YOUR FORKS
BRISBANE, Australia
Fork Safety 101: A simple process to ensure your crew's safety.

One of the keys to safe forklift operation begins with inspecting forks for wear. Did you know that a 10% reduction in fork thickness results in a 20% capacity reduction?

Follow the easy steps in Cascade's Fork Inspection Kit to ensure safety and keep you in compliance with safety laws. Call your forklift dealer for a kit, which includes a poster, measuring calliper, safety checklist and clipboard.

See www.cascorp.com or just call us on 1800 CASCADE (227 223) within Australia or +61-7-3373-7300.

Click here for the full text of this release, including pictures.
10. FORKPRO AUSTRALIA - LIFTING FORKLIFT SAFETY & PRODUCTIVITY
SYDNEY, Australia
Maintaining maximum productivity with maximum safety is a delicate balancing act, but one Australian company makes it easy.

Forkpro Australia advises OH&S and purchasing managers, forklift operators and others on subjects including forklift compliance management, operator safety and license accreditation.

Heading up Forkpro is Todd Brennan, a 20 year industry veteran who has held key positions with one of the world's leading forklift manufacturers.

"Of special importance with plant equipment is understanding the requirements of today's performance-based OH&S legislation", he says.

For more information, call +61-2-4294-8187 or email enquiries@forkpro.com.au.

Click here for the full text of this release, including pictures.
11. STYLE, SIMPLICITY, ELEGANCE AND STRENGTH
CLAYTON SOUTH, Australia
The above is the only way to describe the new Fork-CAM Colour Series Camera.

The new case boasts stylish curved designs, greater strength with higher resistance to impacts, and a better seal to protect the camera from the harsh elements of heavy industry.

The high quality of the auto-iris wide-angle lens gives unprecedented clarity, only found in a Fork-CAM.

Read about this new design and the other range of products available from Fork-SAFE International, and download the latest specifications at: www.forksafe.com

Fork-SAFE International
3/15 James Street Clayton South
1300 723 326

Click here for the full text of this release, including pictures.
12. NEW RETROFIT PIVOT AND SUSPENSION FOR FORKLIFTS
FORT WAYNE, Indiana, United States
The Huddle Group has developed the "U-Turn" pivot system, which fits between any seat and the deck of a forklift to provide a 15 degree rotation while driving backwards. This minimises twisting but keeps feet on the pedals and knees inside the cage and away from controls. The optional "REBOUND" suspension system has been clinically proven to attenuate harmful low frequency vibrations.
Both of these products, are included in Huddle's affordable T-700 Transport seat, which also includes other ergonomic features.

For more information, phone +1 260 470 9838, email rovitt@huddlegroup.com or visit www.huddlegroup.com.

Click here for the full version of this release, including pictures.
13. BUDDY - PROTECT YOUR ASSETS & EMPLOYEES
MELBOURNE, Australia
Buddy is an established product from Ozweigh Innovations.
~ Keyless ignition, preventing theft;
~ Reports on operator and shift usage, impact damage, servicing and engine monitoring;
~ Offers operator-specific and zoning speed control. Load weighing accuracy to 1%;
~ Send messages to individual trucks or the entire fleet;
~ Downloads and stores reports automatically;
~ Prompts to update operator permits, licences and retraining;
~ Prints reports and generates emails to managers.

ALL THIS = COST BENEFITS TO YOUR COMPANY

CONTACT Colin White: Email ozweighaus@bigpond.com, phone +61-3-9431-6575 or fax +61-3-9439-3437.

Click here for the full text of this release, including pictures.


19. CONVEYORS AND INSTALLATION
Albuquerque, New Mexico, United States
Closing: 30 October 2003 4:00pm - Contract: 501-61-03
20. MAINTENANCE OF APPROX 250 VARIOUS MHE
Bremerton WA, United States
Closing: 02 December 2003 TBA - Contract: N00406-04-R-5007
21. CONTAINER HANDLING PLANT
Mulhouse, France
Closing: 28 October 2003 12:00am - Contract: CPV: 34144730
22. LIFTING AND HANDLING EQUIPMENT AND PARTS
Saint-Cloud, France
Closing: 17 November 2003 3:00pm - Contract: CPV: 29220000
23. LIFTING TRUCKS
Velizy Cedex, France
Closing: 02 December 2003 3:00pm - Contract: CPV: 29221510
24. LIFTING, HANDLING, LOADING OR UNLOADING MACHINERY
Rome, Italy
Closing: 30 October 2003 1:00pm - Contract: CPV: 29221800
25. LIFTING AND HANDLING EQUIPMENT
Lille, France
Closing: 24 November 2003 TBA - Contract: CPV: 29221000
26. HAND LIFT TRUCK QTY 46
Mechanicsburg PA, United States
Closing: 19 December 2003 TBA - Contract: N0010403RLH52

FEEDBACK
We appreciate your feedback and will reply promptly. A form to register your comments is at: www.forkliftaction.com or simply email us at
info@forkliftaction.com. If forklifts are your business and you have news, press releases, photos or tender information to publish, we'd love to hear from you. Please email us at: info@forkliftaction.com.

COPYRIGHT
Forkliftaction.com News is copyright. Unauthorised reproduction is illegal. We are happy for you to onforward this newsletter to potential new subscribers. If you would like to discuss syndication of reproduction of our news on your website, please contact us at biz@forkliftaction.com