Dear reader,
WELCOME TO FORKLIFTACTION.COM, MATERIALS HANDLING ONLINE.
This is issue #128 - 09 October 2003 of the weekly newsletter for industry professionals.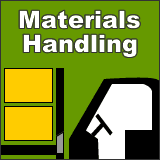 Welcome to part one of this month's focus on "Materials Handling in Australia". This two-part editorial series is designed to showcase the industry "down under" and give the world a bird's eye view of Australia's materials handling professionals and how they sell forklifts. Several Australian companies have taken advantage of this spotlight edition to showcase their own companies and products. If you missed out, never fear. Part two of the Australian feature appears on October 23. Contact Penryn Maddrell for more information on advertising in this special edition.





1. **SPECIAL FEATURE** AUSTRALIA ALREADY BOOMING AS WORLD RECOVERS


SYDNEY, Australia
While the world is only now beginning to shrug off the worldwide economic shutdown attributed to September 11 and the subsequent war on terror, the Australian materials handling industry has been booming for well over a year.

In what appears to be a snub to the world's problems, the Australian market has happily continued to grow, with all manufacturers contacted by Forkliftaction.com reporting growth both in sales and market share.

While Australia represents only a fraction of the world market for industrial forklifts and materials handling machinery, this self-contained market has operated separately from the world market for many years.

Continued... Click here to read more of this special feature.
2. AUSA ON THE CHARGE IN JAPAN


TOKYO, Japan
AUSA is confident of capitalising on renewed growth in the Japanese economy after a strong showing on the Japanese exhibition circuit this year.

TOYO, AUSA's distributor in Japan, has received solid interest in AUSA's four-wheel-drive CE 7 forklift.

AUSA export manager Claudio Hoyos said despite the large number of manufacturers in Japan, the Spanish company was "surprising all" with its results.

Mr Hoyos said rental companies and distributors had "shown a keen interest" in the forklift, and in AUSA's street sweeping machine. In response, AUSA's local personnel had embarked on an intense demonstration tour of the country.

TOYO general manager Ken Ohno said he was confident AUSA's Japanese presence would grow. The company's vehicles "have features better than those of even the best machines on the market in Japan".
- AUSA website -
3. JLG AHEAD OF SCHEDULE FOR PRODUCTION INTEGRATION


McCONNELLSBURG, PA, United States
JLG Industries Inc has begun producing Sky Trak telehandlers at its facility in McConnellsburg.

JLG is moving the manufacturing operation from the OmniQuip facility in Port Washington, Wisconsin.

The first Sky Trak unit assembled in McConnellsburg was a Legacy Model 6036 telehandler with a lift capacity of 6,000 pounds (2.7 tonnes) and a maximum lift height of 36 feet (11 metres).

JLG acquired OmniQuip from Textron Inc on August 1, completed the last Sky Trak machine in Port Washington on September 17 and started production in McConnellsburg ahead of schedule on September 25.

"In less than two months, we have successfully completed the groundwork for additional assembly lines in our McConnellsburg facility," said Peter Bonafede, senior vice president of manufacturing.

"This puts us in a prime position to complete the transfer of telehandler production, including Sky Trak, Lull and military-specific models, from the Port Washington facility by the end of January 2004."

JLG chairman Bill Lasky said moving the operations would increase the McConnellsburg site's capacity utilisation to 63% from 5%. Initially, JLG anticipated the integration process would take 14 months.
- JLG website -
4. MANITOU PROFITS DOWN SLIGHTLY


PARIS, France
French forklift maker Manitou posted a EUR22.5 million (USD26.6 million) net profit for the first half of 2003, down 1.8% from EUR22.9 million (USD27 million) in the first half of last year.

Manitou's operating profit fell 2.6% to EUR34.3 million (USD40.5 million), and group turnover fell 7.3% to EUR329.5 million (USD389 million).

Manitou, in its financial report, said it would reach its target of a 7% turnover increase for the second half.
- Manitou website -
5. BRIEFLY...


SINGAPORE, Singapore
The materials handling industry has been declining for the last six years due to reduced demand from private and public construction, says John Wilson, managing director of Arian Engineering Corporation.
Mr Wilson said the market was "slow", with fewer requirements for cranes, forklifts, and other materials handling equipment. "Demand has been relatively flat this year, except for the government's mass railway transit project."


STOCKHOLM, Sweden - Kalmar Industries' paper handling forklifts are attracting attention from potential buyers after performing well in the harsh conditions of the paper handling world.

Five machines were delivered to Assi Domn Frvi, one of Sweden's leading board mills, in June (Forkliftaction.com News #126). That was followed by an order from Stora Enso and SCA in Germany.


MONTERREY, Mexico - Five forklift manufacturers - Hyster, Nissan, Prime Mover, Raymond and Toyota - were represented at last week's TEMAC Expo in Monterrey, Mexico, despite the show being an exhibition of machine tools.

The good showing from the materials handling industry has prompted TEMAC organisers to plan a show combining machine tools and materials handling machinery in Mexico City in 2005.
6. THIRSTY THIEVES IN DARING BEER HEIST


QUEANBEYAN, Australia
Thieves have used forklifts to steal 700 cartons of beer in a daring heist.

According to Foodweek, the beer, worth more than AUD20,000 (USD13,800), was stolen from a Carlton & United Breweries (CUB) warehouse late last month.

The thieves, whom police described as "a well-organised group", used two CUB forklifts to lift 10 pallets of beer, including 580 cartons of Melbourne Bitter and Victoria Bitter, onto a truck.

Police were baffled as to how the thieves achieved the theft without tripping security systems, the report said.


7. TOYOTA: WORLD'S NO. 1 FORKLIFT SUPPLIER
SYDNEY, Australia
Toyota is the world's leading forklift supplier, according to results published by Modern Materials Handling.

The company had revenue of USD3.1 billion in 2002. Linde was second with USD3 billion. The next three best were NACCO (USD1.6 billion), Jungheinrich (USD1.5 billion) and Crown (USD984 million).

Toyota recently grouped its Toyota, Raymond and BT Industries forklift businesses as Toyota Industries Corporation (TICO) of Japan. Subsequently, Toyota Industries Corporation Australia Pty Ltd was established to distribute TICO equipment.

For more information, see www.toyotaindustrial.com.au or call 1800 425 438.

Click here for the full text of this media release, including pictures.
8. A SMORGASBORD OF FORKLIFT SAFETY PRODUCTS
MELBOURNE, Australia
Ozweigh Innovations offers an extensive range of aftermarket forklift safety products designed and manufactured in Australia.

~ Speed Control Systems: Set & Forget limits forklifts' speeds. Zoned control allows variable speed settings for 63 zones, for safer speed management in pedestrian zones.
~ Driver Access Systems: Keyless entry systems to prevent unauthorized access to forklifts and pallet trucks. A more sophisticated version addresses operator damage, productivity and OHS regulations.
~ Mobile Weighing: A range of digital scales that are simple to operate and easy to maintain.

CONTACT Colin White: Email ozweighaus@bigpond.com

, phone +61-3-9431-6575 or fax +61-3-9439-3437.

Click here for the full text of this release, including pictures.
9. KEYTROLLER RELEASES
MELBOURNE, Australia
The KEYENABLER system uses a wireless starter relay. Operators receive an input code and when accepted, the START button can be pushed.

Model 700 includes the keypad and wireless relay. Model 701 includes event monitoring. Downloading these events is accomplished by connection to a PC or with the new CYBERKEY option, which downloads multiple vehicles.

KEYENABLER is available nationwide through forklift, equipment and boat dealers and sells for under AUD500 plus installation and GST.

For more information visit www.keytroller.com or contact Dunham Instruments on 03 9876 4784 or email info@dunhaminstruments.com.au.

Click here for the full text of this release, including pictures.
10. STAY INFORMED WITH FORK-SAFE INTERNATIONAL
MELBOURNE, Australia
With the changing nature of OH&S legislation, it's no wonder companies are turning to the industry leader in forklift safety solutions for answers.

Fork-SAFE International provides a complete package tailored to your requirements, with solutions for speed limiting, pedestrian warning systems, driver ID and other packages.

Being Australian-based, Fork-SAFE International can make your forklift operations safer, increase productivity and reduce stock damage. Fork-SAFE International is more than safety solutions, it's the industry standard for your workplace.

We're Serious about Safety.

CONTACT:
Email: sales@forksafe.com
Phone: 1300 723 326
Web: www.forksafe.com

Click here to for the full text of this release, including pictures.


12. SPECIAL PALLETS
Bremerton WA, United States
Closing: 15 October 2003 TBA - Contract: N00406-04-T-0013
13. PUMP, FUEL, METERING USED ON 10,000 LB. CAPACITY FORKLIFT TRUCK
Warren, MI, United States
Closing: 17 November 2003 TBA - Contract: DAAE07-03-R-T191
14. ROUGH TERRAIN TELESCOPIC BOOM MATERIAL HANDLER
McConnell AFB, KS, United States
Closing: 20 October 2003 TBA - Contract: FA4621-04-Q-0003
15. LIFTING AND HANDLING EQUIPMENT. CRANES
San Donato Milanese, Italy
Closing: 16 October 2003 TBA - Contract: CPV: 29221000
16. HARBOUR CRANES
Aken ( Elbe )., Germany
Closing: 24 October 2003 TBA - Contract: CPV: 29221411

FEEDBACK
We appreciate your feedback and will reply promptly. A form to register your comments is at: www.forkliftaction.com or simply email us at
info@forkliftaction.com. If forklifts are your business and you have news, press releases, photos or tender information to publish, we'd love to hear from you. Please email us at: info@forkliftaction.com.

COPYRIGHT
Forkliftaction.com News is copyright. Unauthorised reproduction is illegal. We are happy for you to onforward this newsletter to potential new subscribers. If you would like to discuss syndication of reproduction of our news on your website, please contact us at biz@forkliftaction.com