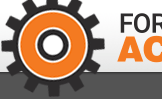 Are you interested in this position? Click the CONTACT ISSUER button to enquire about or apply for this job.

Ft-Myers, United States
Parts/service associate - Full time



Company:
All World Lift Truck Company,LLC
Industry type:
Materials handling
Start date:
January 2019




Description:
Be in charge of our Ft-Myers operation of parts and service. A one person show, looking up parts, taking service calls, dispatching technicians, also handle rental calls.

Requirements / Skills:
Knowledge in parts a must, computer skills a must, work well without supervision, work well with people. A self starter, a leader that can take charge of this territory and opportunity.